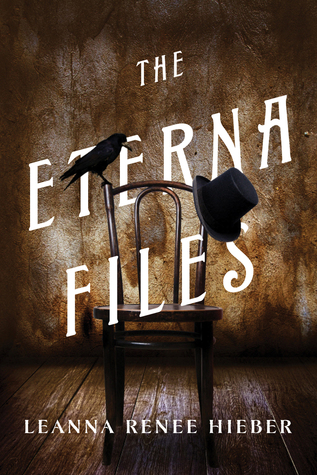 Welcome to
The Eterna Files,
written by Leanna Renee Hieber, "the brightest new star in literature"(True-Blood.net)
London, 1882: Queen Victoria appoints Harold Spire of the Metropolitan Police to Special Branch Division Omega. Omega is to secretly investigate paranormal and supernatural events and persons. Spire, a skeptic driven to protect the helpless and see justice done, is the perfect man to lead the department, which employs scholars and scientists, assassins and con men, and a traveling circus. Spire's chief researcher is Rose Everhart, who believes fervently that there is more to the world than can be seen by mortal eyes.
Their first mission: find the Eterna Compound, which grants immortality. Catastrophe destroyed the hidden laboratory in New York City where Eterna was developed, but the Queen is convinced someone escaped--and has a sample of Eterna.
Also searching for Eterna is an American, Clara Templeton, who helped start the project after the assassination of Abraham Lincoln nearly destroyed her nation. Haunted by the ghost of her beloved, she is determined that the Eterna Compound--and the immortality it will convey--will be controlled by the United States, not Great Britain.
LEANNA RENEE HIEBER's first novel,
The Strangely Beautiful Tale of Miss Percy Parker
, won two Prism Awards from RWA's Fantasy, Futuristic & Paranormal Chapter: Best Fantasy Romance and Best First Novel and is currently in development as a Broadway musical, with Hieber writing the script. Her YA novel,
Darker Still
, was a Scholastic Highly Recommended Title, an INDIE NEXT selection, and a finalist for the Daphne du Maurier Award.
After falling in love with her YA series. I jumped at the chance to read this new adult one! I am very thankful to the publisher for providing both book one and book two.
So this book one was pretty good. I loved the alternate history. The paranormal aspect was fabulous. This one did feel slightly like it was a book two. And if there is a prequel floating around somewhere I think I would have loved to read it first. The other issue was that of Rose and Clara really did feel the same on many levels. They even sounded the same for me. So it would have been nice if they wouldn't have had the same tone in their POVs.
Other than those two things this book was a home run. I love how the author can weave a world and story in such detail.
"All opinions are 100% honest and my own."
a Rafflecopter giveaway
Disclaimer: Thanks to Goodreads and Amazon for the book cover, about the book, and author information. Buying via these above links allows my site to get a % of the sale at no cost to you. This money gets used to buy items for giveaways. In accordance with FTC guidelines regarding endorsements and testimonials for bloggers, I would like my readers to know that many of the books I review are provided to me for free by the publisher or author of the book in exchange for an honest review. I am in no way compensated for any reviews on this site. All donations are to help keep this site running via costs from shipping, .com charges, and other giveaways.
Comments are DELICIOUS! and now that were using this new format for comments the TOP 3 Commenters will all win bookish goodies each month! So that is just one more reason to comment! This is open to everyone! So get commenting!
Don't forget to check out our Facebook, Twitter, Instagram, and Pinterest!
@CrossroadReview
Save
Save
Save
Save