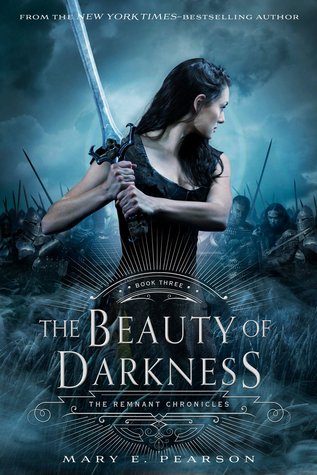 Lia and Rafe have escaped Venda and the path before them is winding and dangerous - what will happen now? This third and final book in The Remnant Chronicles is not to be missed.
Bestselling author Mary E. Pearson's combination of intrigue, suspense, romance and action make this a riveting page turner for teens.
Mary E. Pearson
is the author of eight novels for teens, including
The Kiss of Deception
,
The Heart of Betrayal
, and the acclaimed Jenna Fox Chronicles. She writes full-time from her home in Carlsbad, California.
So this book is going to have 3 ratings. The fact is that I really can't just give it one. I almost wish that this series would have been 4 book as it would have given the author more time do so some of these other amazing plot points that are brought up in this book.
The Beginning. The first half of this book:
WAS AMAZING!!! It was everything I was hoping for in this conclusion to this wonderful series. I was pretty much hiding in the bedroom away from my kids so I could read faster with no interruptions. It was just so good.
The Middle Parts of this book is where it all started going to crap. That wonderful love triangle thing going on just pretty much hit the crapper. (Sorry) The characters were reduced to ash as far as I'm concerned. The romance dried up and well it just pretty much started sucking.
2 Stars I almost want to give it 1
The end was a disaster if you ask me. By the time I got to the end I was pretty fed up with everyone. The ending didn't feel very satisfying and at this point I don't even know if I really want to buy this book.
NOTES: This is def. a book you want to read along with someone else. That way you have a support system. This book was fairly on the depressing side and not in a good way. Im not sure what in the world happened between the amazingness of book and now this book. But it really made me feel like the author gave up on her characters or just didn't know what to do with them. But it makes me very sad.
"All opinions are 100% honest and my own."
Disclaimer: Thanks to Goodreads and Amazon for the book cover, about the book, and author information. Buying via these above links allows my site to get a % of the sale at no cost to you. This money gets used to buy items for giveaways. In accordance with FTC guidelines regarding endorsements and testimonials for bloggers, I would like my readers to know that many of the books I review are provided to me for free by the publisher or author of the book in exchange for an honest review. I am in no way compensated for any reviews on this site. All donations are to help keep this site running via costs from shipping, .com charges, and other giveaways.
Comments are DELICIOUS! and now that were using this new format for comments the TOP 3 Commenters will all win bookish goodies each month! So that is just one more reason to comment! This is open to everyone! So get commenting!
Don't forget to check out our Facebook, Twitter, Instagram, and Pinterest!
@CrossroadReview
Save
Save
Save
Save