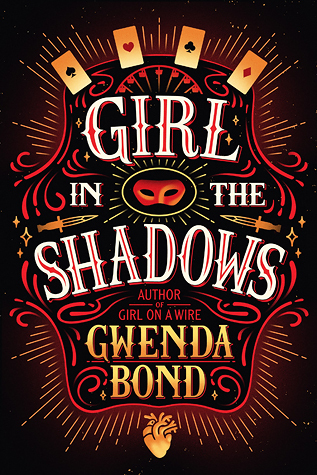 Eighteen-year-old Moira Mitchell grew up in the shadows of Vegas's stage lights while her father's career as a magician soared. More than anything, Moira wants to be a magician too, but her father is dead set against her pursuing magic.
When an invitation to join the Cirque American mistakenly falls into Moira's possession, she takes action. Instead of giving the highly coveted invitation to its intended recipient, Raleigh, her father's handsome and worldly former apprentice, Moira takes off to join the Cirque. If she can perform alongside its world-famous acts, she knows she'll be able to convince her dad that magic is her future.
But when Moira arrives, things take on an intensity she can't control as her stage magic suddenly feels like…real magic. To further distract her, Raleigh shows up none too pleased at Moira's presence, all while the Cirque's cocky and intriguing knife thrower, Dez, seems to have it out for her. As tensions mount and Moira's abilities come into question, she must decide what's real and what's an illusion. If she doesn't sort it out in time, she may forever remain a girl in the shadows.
I'm an author of young adult books. My latest are Lois Lane: Fallout, which brings the iconic comic book character front and center in her own YA novel, and Girl on a Wire, about a daredevil heroine who discovers magic and mystery lurking beneath the big top. Coming in 2016 are Lois Lane: Double Down and Girl in the Shadows, a new novel of the Cirque American. It's possible that I escaped from a classic screwball comedy.
I live in a hundred-year-old house in Lexington, Kentucky, with my husband author Christopher Rowe, and our menagerie.
Who doesn't love a character who, even though is told not to do something, still does it because it's her dream? I wish I was brave enough to do just that! Plus, there's magic. Um...heck yeah! Really the only thing I didn't like was the romance. As you probably know by now, I HATE insta-love! Why do all the good books have it? But overall, go read this book! I promise you'll enjoy it!
"All opinions are 100% honest and my own."
Disclaimer: Thanks to Goodreads and Amazon for the book cover, about the book, and author information. Buying via these above links allows my site to get a % of the sale at no cost to you. This money gets used to buy items for giveaways. In accordance with FTC guidelines regarding endorsements and testimonials for bloggers, I would like my readers to know that many of the books I review are provided to me for free by the publisher or author of the book in exchange for an honest review. I am in no way compensated for any reviews on this site. All donations are to help keep this site running via costs from shipping, .com charges, and other giveaways.
Comments are DELICIOUS! and now that were using this new format for comments the TOP 3 Commenters will all win bookish goodies each month! So that is just one more reason to comment! This is open to everyone! So get commenting!
Don't forget to check out our Facebook, Twitter, Instagram, and Pinterest!
@CrossroadReview