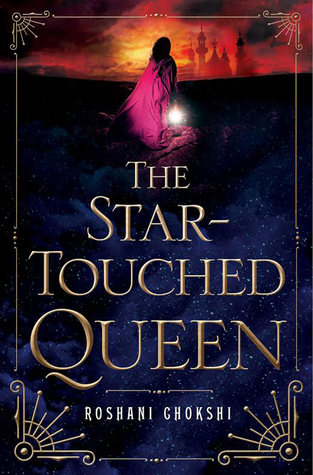 Fate and fortune. Power and passion. What does it take to be the queen of a kingdom when you're only seventeen?
Maya is cursed. With a horoscope that promises a marriage of death and destruction, she has earned only the scorn and fear of her father's kingdom. Content to follow more scholarly pursuits, her whole world is torn apart when her father, the Raja, arranges a wedding of political convenience to quell outside rebellions. Soon Maya becomes the queen of Akaran and wife of Amar. Neither roles are what she expected: As Akaran's queen, she finds her voice and power. As Amar's wife, she finds something else entirely: Compassion. Protection. Desire…
But Akaran has its own secrets—thousands of locked doors, gardens of glass, and a tree that bears memories instead of fruit. Soon, Maya suspects her life is in danger. Yet who, besides her husband, can she trust? With the fate of the human and Otherworldly realms hanging in the balance, Maya must unravel an ancient mystery that spans reincarnated lives to save those she loves the most…including herself.
Roshani Chokshi comes from a small town in Georgia where she collected a Southern accent, but does not use it unless under duress. She grew up in a blue house with a perpetually napping bear-dog. At Emory University, she dabbled with journalism, attended some classes in pajamas, forgot to buy winter boots and majored in 14th century British literature. She spent a year after graduation working and traveling and writing. After that, she started law school at the University of Georgia where she's learning a new kind of storytelling.​ The Star-Touched Queen is her first novel.
I really wasnt sure if I was going to love this one. But what I found was a beautiful breath taking story about a girl who finds that she is much stronger than she thought she was. Maya goes from being the outcast of her family to being a star-touched queen and the journey that takes her there is magnificent!
I would love to see more of this world and its creatures! This really reminded me of A Court of Roses and Thorns in the fact that much of this new world is hidden from her. Only to be revealed later on.
There is so much I want to say about this book but just can't form it into words. The world building will blow you away, sucking you into the most beautiful descriptions and deceptions!
This is one of my fav books of 2016 and I was so happy to be able to read it!
Quotes
Well I was going to post some quotes here but I'm kinda dead! So go sang a copy of this book and check out these pages.
Page 25- would you like to know the difference between us and everyone else?
Goes on to page 26.
Page 69-I make this bond to you and blood not flowers
If I am going to be honest with myself (as I should be), I found the first part of this book to be a little lacking. It was boring at times and filled with info dumps. While I generally love world building, I found this one tedious. You meet Maya while she's living under her father's rule. She was born with a dark horoscope that states she will be paired with Death; this causes everyone to avoid her and treat her poorly. It comes up one day that she will be married off to a kingdom that her father is warring against and she is less than thrilled. It's during the ceremony she meets Amar, the king of Akaran. He whisks her off to escape the war that is being threatened and right away Maya is drawn to this new world. But while she is living in this new kingdom and living her new life secrets are everywhere. Lies and deception develop and change this story into one of redemption and rescue.
I'm not even sure how I feel about Maya. Her character didn't do much for me. She was pretty unremarkable and bland. For the first part of the book she was unsure about anything and overly cautious when it came to get new empire. The second half of the book she was better; more animated and caring. But that still wasn't enough to not be bland in my opinion.
I pretty much feel the same about Amar. For the first half of the book he had to hide everything from Maya, so even you didn't know what was going on. It was all secrets, secrets. It wasn't until the second part of the book that the plot surrounding Amar went somewhere, where everything was explained. There really weren't any swoon-type parts in this, either. Maybe towards the very end, but that's it.
All in all, I wasn't really a fan. It was a pretty quick read but that's about the only thing that it had going for it. I wouldn't really recommend unless you love to be confused.
"All opinions are 100% honest and my own."
Disclaimer: Thanks to Goodreads and Amazon for the book cover, about the book, and author information. Buying via these above links allows my site to get a % of the sale at no cost to you. This money gets used to buy items for giveaways. In accordance with FTC guidelines regarding endorsements and testimonials for bloggers, I would like my readers to know that many of the books I review are provided to me for free by the publisher or author of the book in exchange for an honest review. I am in no way compensated for any reviews on this site. All donations are to help keep this site running via costs from shipping, .com charges, and other giveaways.
Comments are DELICIOUS! and now that were using this new format for comments the TOP 3 Commenters will all win bookish goodies each month! So that is just one more reason to comment! This is open to everyone! So get commenting!
Don't forget to check out our Facebook, Twitter, Instagram, and Pinterest!
@CrossroadReview