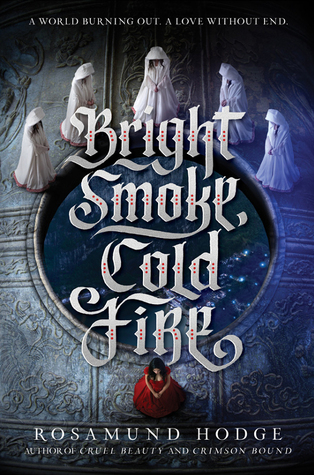 When the mysterious fog of the Ruining crept over the world, the living died and the dead rose. Only the walled city of Viyara was left untouched.
The heirs of the city's most powerful—and warring—families, Mahyanai Romeo and Juliet Catresou share a love deeper than duty, honor, even life itself. But the magic laid on Juliet at birth compels her to punish the enemies of her clan—and Romeo has just killed her cousin Tybalt. Which means he must die.
Paris Catresou has always wanted to serve his family by guarding Juliet. But when his ward tries to escape her fate, magic goes terribly wrong—killing her and leaving Paris bound to Romeo. If he wants to discover the truth of what happened, Paris must delve deep into the city, ally with his worst enemy . . . and perhaps turn against his own clan.
Mahyanai Runajo just wants to protect her city—but she's the only one who believes it's in peril. In her desperate hunt for information, she accidentally pulls Juliet from the mouth of death—and finds herself bound to the bitter, angry girl. Runajo quickly discovers Juliet might be the one person who can help her recover the secret to saving Viyara.
Both pairs will find friendship where they least expect it. Both will find that Viyara holds more secrets and dangers than anyone ever expected. And outside the walls, death is waiting. . .
Rosamund Hodge grew up as a homeschooler in Los Angeles, where she spent her time reading everything she could get her hands on, but especially fantasy and mythology. She received a BA in English from the University of Dallas and an MSt in medieval English from Oxford. She now lives in Seattle, Washington, with seven toy cats and a plush Cthulhu. She is also the author of
Cruel Beauty
;
Gilded Ashes
, a Cruel Beauty novella; and
Crimson Bound
. Visit her online at www.rosamundhodge.net.
This is not my favorite book from Hodge. I loved the other two devoured them in a day each. But this one I just ugh. So heres my review.
World building I was addicted to this world!! I love me some zombies and well it was amazing!!!!!
Where I had the issue was the story. It was way hard to get through. Part of it I was just board out of my mind. The writing style she did in this was I just wasnt used to and well I really didn't like it at all.
So this one although the ending was a lot better than the start. The start and middle parts were just lacking that story to suck you in. I think it didn't help that this was from the POV of those around Romeo and Juliet so that was a little wried right off.
"All opinions are 100% honest and my own."
a Rafflecopter giveaway
Disclaimer: Thanks to Goodreads and Amazon for the book cover, about the book, and author information. Buying via these above links allows my site to get a % of the sale at no cost to you. This money gets used to buy items for giveaways. In accordance with FTC guidelines regarding endorsements and testimonials for bloggers, I would like my readers to know that many of the books I review are provided to me for free by the publisher or author of the book in exchange for an honest review. I am in no way compensated for any reviews on this site. All donations are to help keep this site running via costs from shipping, .com charges, and other giveaways.
Comments are DELICIOUS! and now that were using this new format for comments the TOP 3 Commenters will all win bookish goodies each month! So that is just one more reason to comment! This is open to everyone! So get commenting!
Don't forget to check out our Facebook, Twitter, Instagram, and Pinterest!
@CrossroadReview