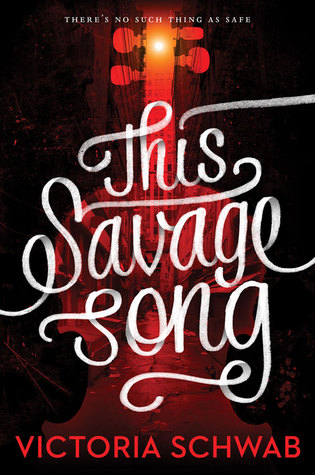 There's no such thing as safe in a city at war, a city overrun with monsters. In this dark urban fantasy from author Victoria Schwab
,
a young woman and a young man must choose whether to become heroes or villains—and friends or enemies—with the future of their home at stake. The first of two books.
Kate Harker and August Flynn are the heirs to a divided city—a city where the violence has begun to breed actual monsters. All Kate wants is to be as ruthless as her father, who lets the monsters roam free and makes the humans pay for his protection. All August wants is to be human, as good-hearted as his own father, to play a bigger role in protecting the innocent—but he's one of the monsters. One who can steal a soul with a simple strain of music. When the chance arises to keep an eye on Kate, who's just been kicked out of her sixth boarding school and returned home, August jumps at it. But Kate discovers August's secret, and after a failed assassination attempt the pair must flee for their lives.
Victoria Schwab
is the acclaimed author of several novels for young adults and adults, including
The Archived
and
Vicious
. Victoria lives in Nashville, TN, but she can often be found haunting Paris streets and trudging up English hillsides. Usually, shes tucked in the corner of a coffee shop, dreaming up stories.
I am not one to read the dust jackets before I read a book for the most part. So when I started this book I was WAY confused. After I decided to read the dust jacket. Things made a lot more sense.
This book is told in two POVs. It's another book about creatures/ monsters. One type is all shadows, the next which is close to what a vampire is looks like a human but you could still it wasn't. Then the third looks totally human.
I really loved the monsters in this one. Each one as pretty new and it was nice to see something that wasn't like everything else. Even if the second monster was like a vampire. It was refreshing.
The characters were all good. It starts out with Kate the heroine trying to get herself expelled from another school because she wants to go home. She was head strong and had her own flaws. She was a great character and I really loved reading about her.
August is a monster who doesn't want to be one. I really loved him. He wasn't sure about who he really was for the most part. He was very internal vs. outward. And he was also a joy to read. He really stood up for himself and those he loved. And grew so much over this book.
The story itself was amazing. You got the back story you needed without it feeling like info dumping. It was well paced after it got started and unfolded. Like a well groomed flower. This one doesn't have any real romance between the two MCs so that was slightly disappointing as I was really hoping for it. I really loved how the world became to be.
Although I did like this book I wouldn't call it one that you need to read or die. For me it was a solid 4 star read that I will def check out the next book in the series. It didn't so much as leave on a cliffhanger but it did leave things unsettled. So if you love dystopian's and monsters o my then check this one out!
Book in a Pinch
Creatures and what it means to be Human
Go Into This One Knowing
No romance, Slight Cliffhanger
"All opinions are 100% honest and my own."
Disclaimer: Thanks to Goodreads and Amazon for the book cover, about the book, and author information. Buying via these above links allows my site to get a % of the sale at no cost to you. This money gets used to buy items for giveaways. In accordance with FTC guidelines regarding endorsements and testimonials for bloggers, I would like my readers to know that many of the books I review are provided to me for free by the publisher or author of the book in exchange for an honest review. I am in no way compensated for any reviews on this site. All donations are to help keep this site running via costs from shipping, .com charges, and other giveaways.
Comments are DELICIOUS! and now that were using this new format for comments the TOP 3 Commenters will all win bookish goodies each month! So that is just one more reason to comment! This is open to everyone! So get commenting!
Don't forget to check out our Facebook, Twitter, Instagram, and Pinterest!
@CrossroadReview