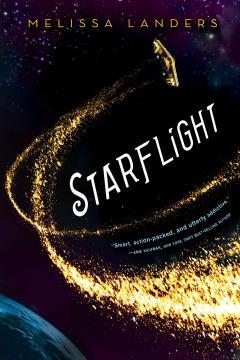 Life in the outer realm is a lawless, dirty, hard existence, and Solara Brooks is hungry for it. Just out of the orphanage, she needs a fresh start in a place where nobody cares about the engine grease beneath her fingernails or the felony tattoos across her knuckles. She's so desperate to reach the realm that she's willing to indenture herself to Doran Spaulding, the rich and popular quarterback who made her life miserable all through high school, in exchange for passage aboard the spaceliner Zenith. When a twist of fate lands them instead on the Banshee, a vessel of dubious repute, Doran learns he's been framed on Earth for conspiracy. As he pursues a set of mysterious coordinates rumored to hold the key to clearing his name, he and Solara must get past their enmity to work together and evade those out for their arrest. Life on the Banshee may be tumultuous, but as Solara and Doran are forced to question everything they once believed about their world—and each other—the ship becomes home, and the eccentric crew family. But what Solara and Doran discover on the mysterious Planet X has the power to not only alter their lives, but the existence of everyone in the universe...
Melissa Landers (melissa-landers.com) is a former teacher who left the classroom to pursue other worlds. A proud sci-fi geek, she isn't afraid to wear her Princess Leia costume in public-just ask her husband and three kids. She lives outside Cincinnati in the small town of Loveland, "Sweetheart of Ohio."
This one could be summed up as A Day in the Life of Kaylee (prob not spelled right) As it really does remind me of the show Firefly. There is nothing that Solara can't fix and well I really loved that. I think if these two characters met they would become fast friends.
This is a well paced story about redemption and finding out who you are and what your made of. Esp. in the sight of impending death. I know that we will get a companion book to this one but I hope that the author goes beyond that and gives us a book for each set of characters who are on the ship. It would make for one hell of a series.
So the ending is good the action really picked up in the last few chapters which was ok. I kinda wish the builded ending would have happened sooner. But this is def. a solid 4 star book in my view and I'm happy I read it as I'm sure ill revisit these characters in the future.
The story itself was very good I loved that there wasnt any aliens which was both weird and well felt kinda right. My fav character would have to be the Sugar Glider lol I know weird. I would love to know more about Cassia which is who book two is in. So I'm very excited to see more about her story.
Book in a Pinch
Space with no aliens meets Firefly
Go Into This One Knowing
Space, Romance, Action, No Love Triangle, No Cliffhanger
"All opinions are 100% honest and my own."
Disclaimer: Thanks to Goodreads and Amazon for the book cover, about the book, and author information. Buying via these above links allows my site to get a % of the sale at no cost to you. This money gets used to buy items for giveaways. In accordance with FTC guidelines regarding endorsements and testimonials for bloggers, I would like my readers to know that many of the books I review are provided to me for free by the publisher or author of the book in exchange for an honest review. I am in no way compensated for any reviews on this site. All donations are to help keep this site running via costs from shipping, .com charges, and other giveaways.
https://www.facebook.com/CrossroadReview