Welcome to this weeks meme for Sample Sunday! Each week we will share the first page to an ARC that we have! We hope that you enjoy this meme! If so let us know in the comments.
This week we have one that we were also on the tour for. Were (Jessica and Endy) are very excited to read this one!!!! You can see that post back on Sept. 5th as its already done. (I'm writing this on Aug. 29th so we haven't read it yet lol)
Ok so this week we have Holding Up the Universe I decided to give you the entire first chapter since it really didn't cut off on the first page like most of these. I also think it will get you to want to read this. So check it out!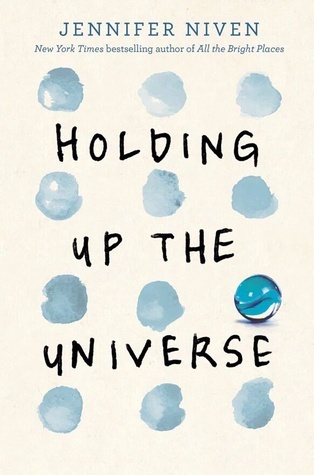 Everyone thinks they know Libby Strout, the girl once dubbed "America's Fattest Teen." But no one's taken the time to look past her weight to get to know who she really is. Following her mom's death, she's been picking up the pieces in the privacy of her home, dealing with her heartbroken father and her own grief. Now, Libby's ready: for high school, for new friends, for love, and for EVERY POSSIBILITY LIFE HAS TO OFFER.
In that moment, I know the part I want to play here at MVB High. I want to be the girl who can do anything.
Everyone thinks they know Jack Masselin, too. Yes, he's got swagger, but he's also mastered the impossible art of giving people what they want, of fitting in. What no one knows is that Jack has a newly acquired secret: he can't recognize faces. Even his own brothers are strangers to him. He's the guy who can re-engineer and rebuild anything in new and bad-ass ways, but he can't understand what's going on with the inner workings of his brain. So he tells himself to play it cool:
Be charming. Be hilarious. Don't get too close to anyone.
Until he meets Libby. When the two get tangled up in a cruel high school game—which lands them in group counseling and community service—Libby and Jack are both pissed, and then surprised. Because the more time they spend together, the less alone they feel. . . .
Because sometimes when you meet someone, it changes the world, theirs and yours.
Jennifer Niven delivers another poignant, exhilarating love story about finding that person who sees you for who you are—and seeing them right back.
Jennifer Niven is the author of the
New York Times
and international bestseller
All the Bright Places.
She has also written four novels for adults—
American Blonde, Becoming Clementine, Velva Jean Learns to Fly,
and
Velva Jean Learns to Drive
—as well as three nonfiction books—
The Ice Master, Ada Blackjack,
and
The Aqua Net Diaries,
a memoir about her high school experiences. She grew up in Indiana and now lives with her fiancé and literary cats in Los Angeles. For more information, visit JenniferNiven.com, GermMagazine.com, or find her on Facebook or Twitter.
Libby
If a genie popped out of my beside lamp, I would wish for these three things: my mom to be alive, nothing bad or sad to ever happen again, and to be a member of the Martin Van Buren High School Damsels, the best drill team in the tristate area.
But what if the Damsels don't want you?
Its 3:38 am; and the time of night when my mind starts running around all wild and out of control, like my cat, george, when he was a kitten. All of a sudden, there goes my brain, climbing the drapes. There it is, swinging from the bookshelf. There it is, with its paw in the fish tank and its head underwater.
I lie on my bed, staring up into the dark, and my ind bounces across the room.
What if you get trapped again? What if they have to knock down the cafeteria door or the bathroom wall to get you out? What if you dad get married and then he dies and you're left with the ew wife and stepsiblings? What if you die? What if there is n heaven and you never see your mom again?
I tell myself to sleep.
I close my eyes and lie very still.
Very still.
For minutes.
I make my mind lie there with me and tell it. Sleep, sleep, sleep. What if you get to school and realize that things are different and kids are different, and no matter how much ou turn, you will never be able to catch up to them?
I open my eyes.
My name is Libby Strout. You've probably heard of me. You've probably watched the video of me being reduced form my own house. At last count, 6,345,981 people have watched it, so there's a good chance you're one of them. Three years ago, I was America's Fattest Teen. I weighed 653 pounds at my heaviest, which means I was approximately 500 pounds overweight. I haven't always been fat. The short version of the story is that my mom died and I got fat, but somehow i'm still here. This is in no way my father's fault.
Two months after I was rescued, we moved to a different neighborhood on the other side of town. These days I can leave the house on my own. I've lost 302 pounds. The size of two entire people. I have around 190 left to go, and I'm fine with that. I like who I am. For one thing, I can run now And ride in the car. And buy clothes at the mall instead of special-ordering them. And I can twirl. Aside from no longer being afraid of organ failure, that may be the best thing about now versus then.
Tomorrow is my first day of school since fifth grade. My new title will be high school junior, which, lets face it, sounds a lot better than America's Fattest Teen. But it's hard to be anything but TERRIFIED OUT OF MY SKULL.
I wait for the panic attack to come.
Disclaimer:
"All opinions are 100% honest and my own."
Thanks to Goodreads and Amazon for the book cover, about the book, and author information. Buying via these above links allows my site to get a % of the sale at no cost to you. This money gets used to buy items for giveaways. In accordance with FTC guidelines regarding endorsements and testimonials for bloggers, I would like my readers to know that many of the books I review are provided to me for free by the publisher or author of the book in exchange for an honest review. I am in no way compensated for any reviews on this site. All donations are to help keep this site running via costs from shipping, .com charges, and other giveaways.
Comments are DELICIOUS! and now that were using this new format for comments the TOP 3 Commenters will all win bookish goodies each month! So that is just one more reason to comment! This is open to everyone! So get commenting!
Don't forget to check out our Facebook, Twitter, Instagram, and Pinterest!
@CrossroadReview
Save
Save