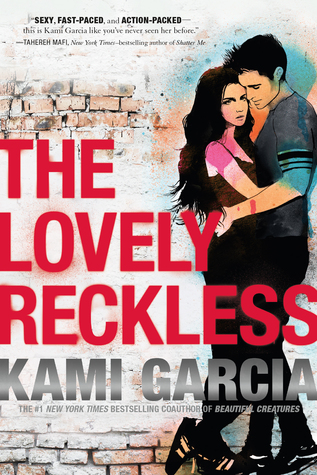 I've become an expert at avoiding things that could hurt me—which means I will figure out how to stay away from Marco Leone.
Seventeen-year-old Frankie Devereux would do anything to forget the past. Haunted by the memory of her boyfriend's death, she lives her life by one dangerous rule: Nothing matters. At least, that's what Frankie tells herself after a reckless mistake forces her to leave her privileged life in the Heights to move in with her dad—an undercover cop. She transfers to a public high school in the Downs, where fistfights don't faze anyone and illegal street racing is more popular than football.
Marco Leone is the fastest street racer in the Downs. Tough, sexy, and hypnotic, he makes it impossible for Frankie to ignore him—and how he makes her feel. But the risks Marco takes for his family could have devastating consequences for them both. When Frankie discovers his secret, she has to make a choice. Will she let the pain of the past determine her future? Or will she risk what little she has left to follow her heart?
Kami Garcia is a #1 New York Times bestselling and Bram Stoker–nominated author and the coauthor of the Beautiful Creatures and Dangerous Creatures novels. Her solo series, the Legion, includes the instant New York Times bestseller Unbreakable and its sequel, Unmarked.
Kami was a teacher for seventeen years and coauthored her first novel on a dare from seven of her students. If she isn't busy watching Supernatural, Kami can teach you how to escape from a pair of handcuffs or bake a Coca-Cola cake. She has never raced a car, but there is still time. Kami lives in Maryland with her family and their dogs, Spike and Oz.
The title of this book really fits the story well. Frankie is out of control and very reckless esp. when she meets bad boy Marco. A little instalove later and they are hitting it off. This wasnt a bad book but it wasnt an OMG you have to read this now or die!!! I did like it but I don't think it will appeal to everyone. The entire situation about Frankie and the death of her boyfriend (he was murdered) was fairly weird. I almost felt like I was dropped into the middle of a story vs. one that had just started.
I really didn't connect with any of the characters however, I did feel for Frankie and think she just really needed help vs. being shoved with her dad. I mean he is an undercover cop, who lives in a really bad end of town. WHY would you agree to have your daughter there? I mean really!
Over all the story didn't give me those feels that you think of when you read a contemporary. But it was still pretty good. If you loved this authors other books then I'm sure you will love this one.
"All opinions are 100% honest and my own."
a Rafflecopter giveaway
Disclaimer: Thanks to Goodreads and Amazon for the book cover, about the book, and author information. Buying via these above links allows my site to get a % of the sale at no cost to you. This money gets used to buy items for giveaways. In accordance with FTC guidelines regarding endorsements and testimonials for bloggers, I would like my readers to know that many of the books I review are provided to me for free by the publisher or author of the book in exchange for an honest review. I am in no way compensated for any reviews on this site. All donations are to help keep this site running via costs from shipping, .com charges, and other giveaways.
Comments are DELICIOUS! and now that were using this new format for comments the TOP 3 Commenters will all win bookish goodies each month! So that is just one more reason to comment! This is open to everyone! So get commenting!
Don't forget to check out our Facebook, Twitter, Instagram, and Pinterest!
@CrossroadReview
Save
Save
Save
Save