Welcome to Day #7 of the Die Young With Me Blog Tour!

To celebrate the release of Die Young With Me by Rob Rufus (9/20/16), blogs across the web are featuring exclusive content from Rob and 10 chances to win a copy of Die Young With Me, as well as two chances to win a Punk Rock Prize Pack in the Grand Prize Giveaway!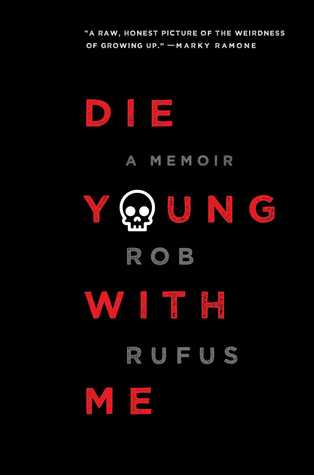 In the tradition of John Green's The Fault in Our Stars and Me and Earl and the Dying Girl comes the incredibly moving true story of a teenager diagnosed with cancer and how music was the one thing that helped him get through his darkest days.

Punk's not dead in rural West Virginia. In fact, it blares constantly from the basement of Rob and Nat Rufus—identical twin brothers with spiked hair, black leather jackets, and the most kick-ass record collection in Appalachia. To them, school (and pretty much everything else) sucks. But what can you expect when you're the only punks in town?

When the brothers start their own band, their lives begin to change: they meet friends, they attract girls, and they finally get invited to join a national tour and get out of their rat box little town.

But their plans are cut short when Rob is diagnosed with a rare form of cancer that has already progressed to Stage Four. Not only are his dreams of punk rock stardom completely shredded, there is a very real threat that this is one battle that can't be won.

While Rob suffers through nightmarish treatments and debilitating surgery, Nat continues on their band's road to success alone. But as Rob's life diverges from his brother's, he learns to find strength within himself and through his music. Die Young With Me is a raw, honest account of a brave teen's fight with cancer and the many ways music helped him cope through his recovery.
About the Author:
Rob Rufus is a musician and writer living in Nashville. His band, Blacklist Royals, has released two full-length albums and played in sixteen countries over the past five years. Rob has written articles for
Modern Drummer, Amp Magazine, Digital Tour Bus
, and many music sites. Rob also works closely with the cancer community, including the Lance Armstrong Foundation, Stupid Cancer Podcast (the largest advocacy/support organization worldwide for teens with cancer), and Make-A-Wish Foundation. You can find him online at robrufus.net, on Twitter @rob_rufus, and Instagram @dieyoungwithme_official.
Punk, Death, and Strong Langue await the reader of this story. It was def. for older teens and will open your eyes to the ways that Cancer destroys not only the person who has it, but also those around them. From friends and family to more. This is a heart wrenching novel that everyone should read.
5 Best Punk Rock Songs About Literature
by Rob Rufus
As an author who writes about punk rock bands, does interviews in Misfits t-shirts, and swears like a sailor in a Quentin Tarantino flick, I am somewhat of an oddity in the literary world. Literature, however, is not an oddity in the world of punk rock music. We may like to get drunk, thrash around, throw up our middle fingers and piss people off – but there are also a lot of big ideas floating around the scene. A lot of radical ideas – and that is where literature comes in. Literature's power to push subversive ideas has always far surpassed any other art form, including music.
So below are five punk rock songs inspired by literature. Give them a listen! No tattoos or mohawks necessary.
Good Riddance, "More DePalma, Less Fellini" – This song references the Bukowski Poem "Here I Am," about staying up all night writing something meaningful, while you're actually a complete wreck. What musician/author can't relate to that?
Bad Religion, "Stranger Than Fiction" – Bad Religion has always been thought of as the smartest band in punk rock. If you're looking for eight-syllable words, this is your band. "Stranger Than Fiction" references all sorts of literary figures, from Hemingway to Kerouac to Thomas Wolfe. It also features the amazing lyric – "life is the crummiest book I've ever read."
NOFX, "Franco Un American" – This is a great song about the bliss of ignorance, and the annoying responsibility of awareness. "I never looked around, never second-guessed/then I read some Howard Zinn, now I'm always depressed/and now I can't sleep from years of apathy, all because I read a little Noam Chomsky…"
Ramones, "Pet Sematary" – This is one of my favorite Ramones songs, about one of my favorite Stephen King books, Pet Sematary. It's a must for any Halloween mix, and as close as the Ramones ever came to broaching philosophy – "I don't wanna be buried in a Pet Sematary/I don't want to live my life again…"
The Lawrence Arms, "Are You There Margaret? It's me, God." – I just think this title is fucking amazing. There is nothing that makes me happier than a snotty punk rock band referencing a Judy Blume novel. She'd be so…um…proud-ish?
*****
Stop by
Book Briefs
tomorrow
for the next stop on the tour!
Blog Tour Schedule:
Two (2) winners will receive a Punk Rock Prize Pack featuring a finished copy of Die Young With Me, an exclusive poster, a mix tape (ft. an excerpt of the book), Die Young With Me switchback comb (not pictured), and Rob Rufus punk rock vinyls
Enter via the rafflecopter below
US Only
Ends 10/2 at midnight ET
a Rafflecopter giveaway
Disclaimer: Thanks to Goodreads and Amazon for the book cover, about the book, and author information. Buying via these above links allows my site to get a % of the sale at no cost to you. This money gets used to buy items for giveaways. In accordance with FTC guidelines regarding endorsements and testimonials for bloggers, I would like my readers to know that many of the books I review are provided to me for free by the publisher or author of the book in exchange for an honest review. I am in no way compensated for any reviews on this site. All donations are to help keep this site running via costs from shipping, .com charges, and other giveaways.
Comments are DELICIOUS! and now that were using this new format for comments the TOP 3 Commenters will all win bookish goodies each month! So that is just one more reason to comment! This is open to everyone! So get commenting!
Don't forget to check out our Facebook, Twitter, Instagram, and Pinterest!
@CrossroadReview