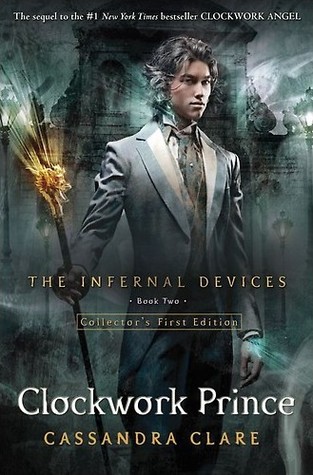 In the magical underworld of Victorian London, Tessa Gray has at last found safety with the Shadowhunters. But that safety proves fleeting when rogue forces in the Clave plot to see her protector, Charlotte, replaced as head of the Institute. If Charlotte loses her position, Tessa will be out on the street—and easy prey for the mysterious Magister, who wants to use Tessa's powers for his own dark ends.
With the help of the handsome, self-destructive Will and the fiercely devoted Jem, Tessa discovers that the Magister's war on the Shadowhunters is deeply personal. He blames them for a long-ago tragedy that shattered his life. To unravel the secrets of the past, the trio journeys from mist-shrouded Yorkshire to a manor house that holds untold horrors, from the slums of London to an enchanted ballroom where Tessa discovers that the truth of her parentage is more sinister than she had imagined. When they encounter a clockwork demon bearing a warning for Will, they realize that the Magister himself knows their every move—and that one of their own has betrayed them.
Tessa finds her heart drawn more and more to Jem, but her longing for Will, despite his dark moods, continues to unsettle her. But something is changing in Will—the wall he has built around himself is crumbling. Could finding the Magister free Will from his secrets and give Tessa the answers about who she is and what she was born to do?
As their dangerous search for the Magister and the truth leads the friends into peril, Tessa learns that when love and lies are mixed, they can corrupt even the purest heart.
Cassandra Clare is the author of the #1
New York Times
,
USA TODAY
,
Wall Street Journal
, and
Publishers Weekly
bestselling Mortal Instruments series and the Infernal Devices trilogy, and coauthor of the Bane Chronicles with Sarah Rees Brennan and Maureen Johnson. She also wrote
The Shadowhunter's Codex
with her husband, Joshua Lewis. Her books have more than 36 million copies in print worldwide and have been translated into more than thirty-five languages. Cassandra lives in western Massachusetts. Visit her at CassandraClare.com. Learn more about the world of the Shadowhunters at Shadowhunters.com.
Breathtaking read! That is what Clockwork Prince is! For those who have not read it I won't give to much a away! BUT. OMG THE LOVE TRIANGLE between Will Jem and Tessa just breaks my heart! When this one was almost over and all the twists and revelations came to pass it ripped out my heart and squashed it flat! I feel so much for them all!
This one you don't know who to trust! There are new allies and enemies around every corner! I was appalled to find out that someone close to them had betrayed them! I didn't see it coming! This one ends on a cliffhanger that will make you yearn for the next book which I will be starting right now.
Heartbreaking,

Wonder edition to the world of Shadowhunter's!

MUST READ!
"All opinions are 100% honest and my own."
Excerpt. © All rights belong with the author/publisher.
THE COUNCIL CHAMBER
Above, the fair hall-ceiling stately set
Many an arch high up did lift,
And angels rising and descending met
With interchange of gift.
—Alfred, Lord Tennyson, "The Palace of Art"
"Oh, yes. It really does look just as I imagined," Tessa said, and turned to smile at the boy who stood beside her. He had just helped her over a puddle, and his hand still rested politely on her arm, just above the crook of her elbow.
James Carstairs smiled back at her, elegant in his dark suit, his silver-fair hair whipped by the wind. His other hand rested on a jade-topped cane, and if any of the great crowd of people milling around them thought that it was odd that someone so young should need a walking stick, or found anything unusual about his coloring or the cast of his features, they didn't pause to stare.
"I shall count that as a blessing," said Jem. "I was beginning to worry, you know, that everything you encountered in London was going to be a disappointment."
A disappointment. Tessa's brother, Nate, had once promised her everything in London—a new beginning, a wonderful place to live, a city of soaring buildings and gorgeous parks. What Tessa had found instead was horror and betrayal, and danger beyond anything she could have imagined. And yet . . .
"Not everything has been." She smiled up at Jem.
"I am glad to hear it." His tone was serious, not teasing. She looked away from him up at the grand edifice that rose before them. Westminster Abbey, with its great Gothic spires nearly touching the sky. The sun had done its best to struggle out from behind the haze-tipped clouds, and the abbey was bathed in weak sunlight.
"This is really where it is?" she asked as Jem drew her forward, toward the abbey entrance. "It seems so . . ."
"I had meant to say crowded." The Abbey was open to tourists today, and groups of them swarmed busily in and out the enormous doors, most clutching Baedeker guidebooks in their hands. A group of American tourists—middle-aged women in unfashionable clothes, murmuring in accents that made Tessa briefly homesick—passed them as they went up the stairs, hurrying after a lecturer who was offering a guided tour of the Abbey. Jem and Tessa melted in effortlessly behind them.
Disclaimer: Thanks to Goodreads and Amazon for the book cover, about the book, and author information. Buying via these above links allows my site to get a % of the sale at no cost to you. This money gets used to buy items for giveaways. In accordance with FTC guidelines regarding endorsements and testimonials for bloggers, I would like my readers to know that many of the books I review are provided to me for free by the publisher or author of the book in exchange for an honest review. I am in no way compensated for any reviews on this site. All donations are to help keep this site running via costs from shipping, .com charges, and other giveaways.
https://www.facebook.com/CrossroadReview