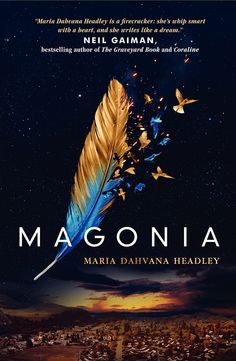 Aza Ray is drowning in thin air.
Since she was a baby, Aza has suffered from a mysterious lung disease that makes it ever harder for her to breathe, to speak—to live.
So when Aza catches a glimpse of a ship in the sky, her family chalks it up to a cruel side effect of her medication. But Aza doesn't think this is a hallucination. She can hear someone on the ship calling her name.
Only her best friend, Jason, listens. Jason, who's always been there. Jason, for whom she might have more-than-friendly feelings. But before Aza can consider that thrilling idea, something goes terribly wrong. Aza is lost to our world—and found, by another. Magonia.
Above the clouds, in a land of trading ships, Aza is not the weak and dying thing she was. In Magonia, she can breathe for the first time. Better, she has immense power—and as she navigates her new life, she discovers that war is coming. Magonia and Earth are on the cusp of a reckoning. And in Aza's hands lies the fate of the whole of humanity—including the boy who loves her. Where do her loyalties lie?
Maria Dahvana Headley is a New York Times bestselling novelist, memoirist, and editor, most recently of Magonia, Queen of Kings, and the anthology Unnatural Creatures (coeditor with Neil Gaiman). Her short fiction has been nominated for the Nebula and Shirley Jackson Awards. She lives in Brooklyn in an apartment with a seven-foot stuffed crocodile and constellations on the ceiling. You can find her at www.mariadahvanaheadley.com
I read this as an arc and well I pretty much hated it. But reading it again this year I'm well I'm pretty much addicted!! This world that the author has created is like no other. High fantasy meets the sky people.
I am so glad I gave this book a second chance.
The descriptive writing took a little while to get used to. But again it all worked out in the end. So glad I have book two!
As for the characters they are amazing!! I do wish more would have happened in this book as it's really just a set up for the series. But the world building was so good I really don't even care.
It really comes down to the world and the beings this author has created. They make the story amazing, breath taking, and unput downable!
(Sorry for the current reviews being WAY short. I had a tooth pulled and am on some major meds and well I'm kinda dead at the moment)
"All opinions are 100% honest and my own."
Disclaimer: Thanks to Goodreads and Amazon for the book cover, about the book, and author information. Buying via these above links allows my site to get a % of the sale at no cost to you. This money gets used to buy items for giveaways. In accordance with FTC guidelines regarding endorsements and testimonials for bloggers, I would like my readers to know that many of the books I review are provided to me for free by the publisher or author of the book in exchange for an honest review. I am in no way compensated for any reviews on this site. All donations are to help keep this site running via costs from shipping, .com charges, and other giveaways.
Comments are DELICIOUS! and now that were using this new format for comments the TOP 3 Commenters will all win bookish goodies each month! So that is just one more reason to comment! This is open to everyone! So get commenting!
Don't forget to check out our Facebook, Twitter, Instagram, and Pinterest!
@CrossroadReview