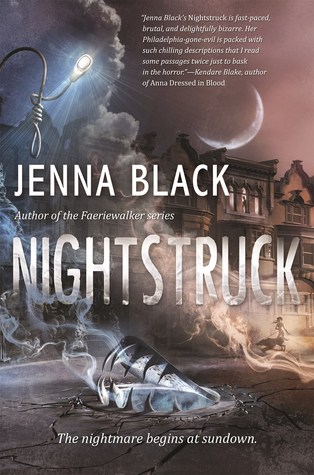 It starts with a cry in the night.
Becket, walking her dog one winter evening, fears it's an abandoned baby left out in the cold. But it is something else—something
evil
—and it tricks Becket into opening a doorway to another realm, letting a darkness into our world, a corruption that begins transforming Philadelphia into a sinister and menacing version of itself…but only at night.
The changes are subtle at first, causing Becket to doubt her senses and her sanity. But soon the nightmarish truth is impossible to deny: By day, the city is just a city, but at night it literally comes alive with malevolent purpose. Brick and steel become bone, streetlights turn into gallows, and hungry alleys wait to snare mortal victims. Terrified citizens huddle indoors after dusk, as others succumb to the siren song of the night, letting their darker sides run wild.
Once, Becket's biggest problems were living up to her police commissioner father's high expectations and a secret crush on her best friend's boyfriend. Now she must find a way to survive and protect her loved ones…before the darkness takes her as well.
JENNA BLACK received her Bachelor of Arts in physical anthropology and French from Duke University. She is the author of the Faeriewalker series for teens as well as the Morgan Kingsley urban fantasy series.
This book came out back in April. But I ended up with an arc of it from ALAAC and let me tell you!! If you like the creepy then this book is for you! I started out thinking that I wasn't going to like this book. The cover screamed middle grade to me. Ya how wrong I was!
This is a heart stopping thrill ride! Magic with the creepiest creatures I've ever seen!
I do think that some of the choices that the MC made were kinda stupid. Esp some of the choices her dad made. But I can somewhat over look them. Just because the rest of the book was so freaking creepy good!!!
Just so you know this is a trilogy! So when you get to the end and there are no more pages and you realize that this book ends on a MAJOR cliffhanger DONT PANIC!!! There is more coming!!
This is a creepy must read book!
"All opinions are 100% honest and my own."
Disclaimer: Thanks to Goodreads and Amazon for the book cover, about the book, and author information. Buying via these above links allows my site to get a % of the sale at no cost to you. This money gets used to buy items for giveaways. In accordance with FTC guidelines regarding endorsements and testimonials for bloggers, I would like my readers to know that many of the books I review are provided to me for free by the publisher or author of the book in exchange for an honest review. I am in no way compensated for any reviews on this site. All donations are to help keep this site running via costs from shipping, .com charges, and other giveaways.
Comments are DELICIOUS! and now that were using this new format for comments the TOP 3 Commenters will all win bookish goodies each month! So that is just one more reason to comment! This is open to everyone! So get commenting!
Don't forget to check out our Facebook, Twitter, Instagram, and Pinterest!
@CrossroadReview