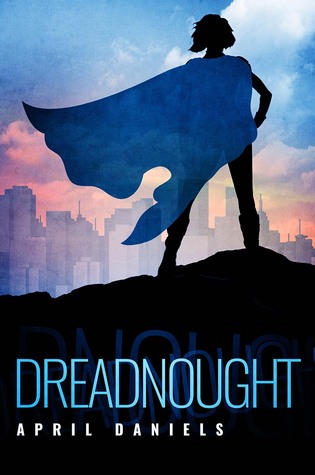 Danny Tozer has a problem: she just inherited the powers of the world's greatest superhero. Until Dreadnought fell out of the sky and died right in front of her, she was trying to keep people from finding out she's transgender. But then her second-hand superpowers transformed her body into what she's always thought it should be. Now there's no hiding that she's a girl.
It should be the happiest time of her life, but between her father's dangerous obsession with curing her girlhood, her best friend suddenly acting like he's entitled to date her, and the classmate who is secretly a masked vigilante, Danny's first weeks living in a body that fits her are more difficult and complicated than she could have imagined.
She doesn't have much time to adjust. Dreadnought's murderer, a cyborg named Utopia, still haunts the streets of New Port City. If Danny can't sort through the confusion of coming out, master her powers, and stop Utopia in time, humanity faces extinction.
April Daniels graduated from UC Santa Cruz with a degree in literature. She completed her first manuscript by scribbling a few sentences at a time between calls while working in the customer support department for a well-known video game console.
She has a number of hobbies, most of which are boring and predictable. As nostalgia for the 1990s comes into its full bloom, she has become ever more convinced that she was born two or three years too late and missed all the good stuff the first time around.
This has a LGBTQ character so I wanted to make sure you knew.
She ends up with powers when the famous Dreadnought dies in front of her. She is then the superhero! This was a great little book that packs one giant punch. That anyone no matter who you are can rise to be a hero! This book reads almost like a movie and represents the trans community.
Parts of the story moved a little faster than I would have liked but the thing in whole worked out well. I really loved the how Danny really was looking for self acceptance but also the acceptance of others.
Readers will find this jam packed with action and edge of your seat plot with wonderful world building and amazing characters.
"All opinions are 100% honest and my own."
Disclaimer: Thanks to Goodreads and Amazon for the book cover, about the book, and author information. Buying via these above links allows my site to get a % of the sale at no cost to you. This money gets used to buy items for giveaways. In accordance with FTC guidelines regarding endorsements and testimonials for bloggers, I would like my readers to know that many of the books I review are provided to me for free by the publisher or author of the book in exchange for an honest review. I am in no way compensated for any reviews on this site. All donations are to help keep this site running via costs from shipping, .com charges, and other giveaways.
Comments are DELICIOUS! and now that were using this new format for comments the TOP 3 Commenters will all win bookish goodies each month! So that is just one more reason to comment! This is open to everyone! So get commenting!
Don't forget to check out our Facebook, Twitter, Instagram, and Pinterest!
@CrossroadReview