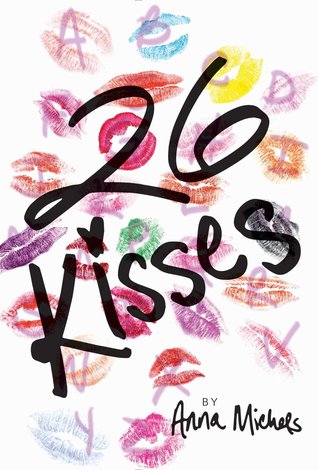 Kasie West meets Morgan Matson in this hilarious and heartwarming debut about a girl's summer mission to get over her ex-boyfriend by kissing her way through the alphabet.
Getting dumped by her boyfriend is not how Veda planned on starting her summer. When Mark makes it clear that it's over between them, Veda is heartbroken and humiliated—but, more importantly, she's inspired. So she sets out on the love quest of a lifetime: use the summer to forget about Mark, to move on, and move up. All she has to do is kiss twenty-six boys with twenty-six different names—one for each letter of the alphabet.
From the top of the Ferris wheel at her hometown carnival to the sandy dunes of Lake Michigan, Veda takes every opportunity she can to add kisses (and boys) to her list, and soon the break-up doesn't sting quite as much. But just when Veda thinks she has the whole kissing thing figured out, she meets someone who turns her world upside down.
Anna Michels worked as a Norwegian language tutor, historical interpreter, farmhand, and waitress before building a career in books. She lives in the Chicago area with her husband.
26 Kisses
is her first novel.
The book took me a couple of chapters to get into. It was a slow book for me to warm up to. I did not think the author voice was that unique but I did like the story. She was able in the first chapter to introduce to me a group of friends and I really wanted to learn more about them. When she started working her summer job and meet her co-worker is when I got hooked.
The book was set in modern day America. It handled a lot of cultural references so common today and was easy for me to place the story. I think the world was not super different from another YA novels. It was nice world that was created but nothing surprised me.
This story was a tad slow overall but that was because the premise to kiss 26 boys in a
summer was not super imperative to the character. So it felt that point got lost in the
novel and it was easy to stop reading and come back. The story was best when she was
on the "hunt" for her kisses.
Veda was not my favorite character. She did have a lot of flaws but it was hard to really like her because she made some bad choices throughout the novel and it was hard to always be on her side. She was not too perfect but she made choices that almost made her unlikeable until the end. I really loved the characters of Killian and also Seth. I almost wish we got more info about Seth. He would have been a cool character to get into his head.
The point of view stayed the same throughout the novel and did not change but I do wish it would have the male POV as well.
The main plot was her finishing this kissing list but I did not grab my focus as much as "scavenger hunt " stories normally do. I was more invested in her personal conflict if she was ready for another boyfriend because I was a fan of him a lot. I felt like the conflict was slow and due that book dragged a bit.
I though the dialogue was very good for a high school setting but it did not wow me or make me laugh and it was not super emotional which are some thing I look for in YA romances.
I think ending was rushed and I wanted to see more of what happen after the last page because the ending did not answer all my questions.
Book in a Pinch
If you are looking for a super light beach read with t a cute romance pick this up.
Go Into This One Knowing
It does have elements of LGBTQ addressed but not the main focus at all. It is a pure romance but nothing else for the reader to become attached to.
"All opinions are 100% honest and my own."
Disclaimer: Thanks to Goodreads and Amazon for the book cover, about the book, and author information. Buying via these above links allows my site to get a % of the sale at no cost to you. This money gets used to buy items for giveaways. In accordance with FTC guidelines regarding endorsements and testimonials for bloggers, I would like my readers to know that many of the books I review are provided to me for free by the publisher or author of the book in exchange for an honest review. I am in no way compensated for any reviews on this site. All donations are to help keep this site running via costs from shipping, .com charges, and other giveaways.
Comments are DELICIOUS! and now that were using this new format for comments the TOP 3 Commenters will all win bookish goodies each month! So that is just one more reason to comment! This is open to everyone! So get commenting!
Don't forget to check out our Facebook, Twitter, Instagram, and Pinterest!
@CrossroadReview