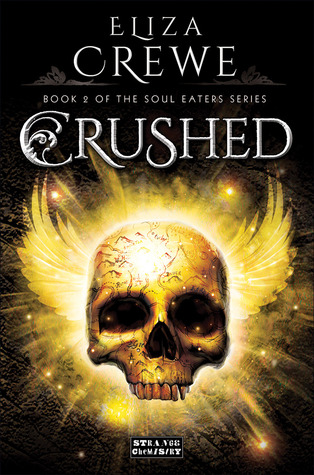 Meda Melange has officially hung up her monstrous mantle and planted her feet firmly on the holy and righteous path of a Crusader-in-training. Or, at least, she's willing to give it a shot. It helps that the Crusaders are the only thing standing between her and the demon hordes who want her dead.
The problem is, the only people less convinced than Meda of her new-found role as Good Girl are the very Crusaders she's trying to join. So when a devilishly handsome half-demon boy offers escape, how's a girl supposed to say "no?"
After all, everyone knows a good girl's greatest weakness is a bad boy.
Eliza Crewe always thought she'd be a lawyer, and even went so far as to complete law school. But as they say, you are what you eat, and considering the number of books Eliza has devoured since childhood, it was inevitable she'd end up in the literary world. She abandoned the lawyer-plan to instead become a librarian and now a writer. While she's been filling notebooks with random scenes for years, Eliza didn't seriously commit to writing an entire novel until the spring of 2011, when she and her husband bought a house. With that house came a half-hour commute, during which Eliza decided she needed something to think about other than her road-rage. Is it any surprise she wrote a book about a blood-thirsty, people-eating monster? Eliza has lived in Illinois, Edinburgh, and Las Vegas, and now lives in North Carolina with her husband, daughter, hens, an angry, talking, stuffed dwarf giraffe, and a sweet, mute, pantomiming bear. She likes to partially-complete craft projects, free-range her hens, and take long walks. Cracked is her first novel. She is represented by Victoria Marini of Gelfman Schneider Literary Agents, Inc.
The main character that Crewe has created is absolutely amazing! She is a strong women that doesn't fall into the typical "love at first sight" trope. Crushed doesn't fall into the normal paths that YA books generally tend to follow, which made this book a very enjoyable read.
"All opinions are 100% honest and my own."
Disclaimer: Thanks to Goodreads and Amazon for the book cover, about the book, and author information. Buying via these above links allows my site to get a % of the sale at no cost to you. This money gets used to buy items for giveaways. In accordance with FTC guidelines regarding endorsements and testimonials for bloggers, I would like my readers to know that many of the books I review are provided to me for free by the publisher or author of the book in exchange for an honest review. I am in no way compensated for any reviews on this site. All donations are to help keep this site running via costs from shipping, .com charges, and other giveaways.
Comments are DELICIOUS! and now that were using this new format for comments the TOP 3 Commenters will all win bookish goodies each month! So that is just one more reason to comment! This is open to everyone! So get commenting!
Don't forget to check out our Facebook, Twitter, Instagram, and Pinterest!
@CrossroadReview