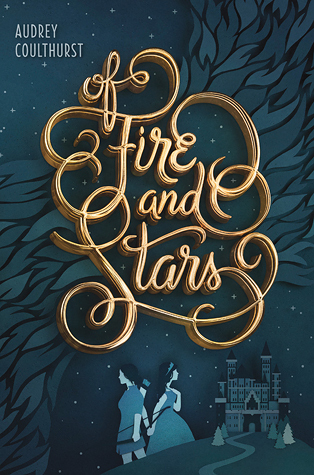 Betrothed since childhood to the prince of Mynaria, Princess Dennaleia has always known what her future holds. Her marriage will seal the alliance between Mynaria and her homeland, protecting her people from other hostile lands. But Denna has a secret. She possesses an Affinity for fire—a dangerous gift for the future queen of a kingdom where magic is forbidden.
Now, Denna must learn the ways of her new home while trying to hide her growing magic. To make matters worse, she must learn to ride Mynaria's formidable warhorses before her coronation—and her teacher is the person who intimidates her most, the prickly and unconventional Princess Amaranthine (called Mare), sister of her betrothed.
When a shocking assassination leaves the kingdom reeling, Mare and Denna reluctantly join forces to search for the culprit. As the two work together, each discovers there's more to the other than she thought. Mare is surprised by Denna's intelligence and bravery, while Denna is drawn to Mare's independent streak. Soon their friendship is threatening to blossom into something more.
But with dangerous conflict brewing that makes the alliance more important than ever, acting on their feelings could be deadly. Forced to choose between their duty and their hearts, Mare and Denna must find a way to save their kingdoms—and each other.
Audrey Coulthurst writes YA books that tend to involve magic, horses, and kissing the wrong people. Her debut novel, "Of Fire and Stars," will be published on November 22, 2016 by Balzer + Bray/HarperCollins. When she's not dreaming up new stories, she can usually be found painting, singing, or on the back of a horse.
Audrey has a Master's in Writing from Portland State University, is a member of SCBWI, and studied with Malinda Lo as a 2013 Lambda Literary Foundation Fellow. She lives in Santa Monica, California.'
I was so excited to read this one. It is our prediction for the Epic box via Owlcrate. And now I'm really hoping I can trade it off when it comes. If were right. This book had such high hopes but what I found was a very boring story with very boring characters. I really didn't care about the characters at all. This dual POV book about two girls falling in love was blah.
You had the two main characters learning and teaching the other how to ride a horse, council members at each others throats instead of working out a plan to protect everyone, and then more people just walking around being rich in fancy clothes pretty much just treating others like poo.
The characters themselves were kinda boring. They really didn't have a lot of personality and the two main ones were very black and white. Mare felt more like a male vs female and well Dennaleia was very over the top the girl. The next issues with the characters were the names. This book had some of the most over the top weird, hard to say names I've ever found. I felt like I needed a float chart just to keep them all straight. At one point early on in the book some guy dies and I have no idea who he even is. Yup its that bad!!!!
For this one its no real world building, characters that were just meh, a romance that just really didn't work, and well a story that was really disappointing.
"All opinions are 100% honest and my own."
Disclaimer: Thanks to Goodreads and Amazon for the book cover, about the book, and author information. Buying via these above links allows my site to get a % of the sale at no cost to you. This money gets used to buy items for giveaways. In accordance with FTC guidelines regarding endorsements and testimonials for bloggers, I would like my readers to know that many of the books I review are provided to me for free by the publisher or author of the book in exchange for an honest review. I am in no way compensated for any reviews on this site. All donations are to help keep this site running via costs from shipping, .com charges, and other giveaways.
Comments are DELICIOUS! and now that were using this new format for comments the TOP 3 Commenters will all win bookish goodies each month! So that is just one more reason to comment! This is open to everyone! So get commenting!
Don't forget to check out our Facebook, Twitter, Instagram, and Pinterest!
@CrossroadReview