Welcome to the first post of First Page Tuesday! Each week well share one amazing start to a book we have on hand! Sometimes it will be a finished copy and other it will be an ARC. If it is an ARC please understand that this may not match the finished product.
We came up with this idea via 1linewednesday which is a # on twitter and a few other places that we loved so much we wanted to share a full page with you.
This week we have a contemporary that has been slated as 'A remarkably gripping and moving tale of a life saved-in more than one way-by the power of friendship.' ~ Emma Donoghue, best selling author of Room
We hope you enjoy getting a first look at this wonderful book that is out TODAY!!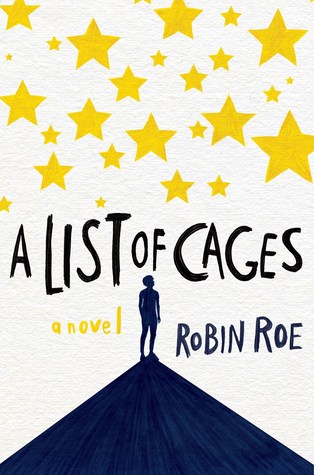 This title will be released on January 31, 2017.
When Adam Blake lands the best elective ever in his senior year, serving as an aide to the school psychologist, he thinks he's got it made. Sure, it means a lot of sitting around, which isn't easy for a guy with ADHD, but he can't complain, since he gets to spend the period texting all his friends. Then the doctor asks him to track down the troubled freshman who keeps dodging her, and Adam discovers that the boy is Julian--the foster brother he hasn't seen in five years.
Adam is ecstatic to be reunited. At first, Julian seems like the boy he once knew. He's still kind hearted. He still writes stories and loves picture books meant for little kids. But as they spend more time together, Adam realizes that Julian is keeping secrets, like where he hides during the middle of the day, and what's really going on inside his house. Adam is determined to help him, but his involvement could cost both boys their lives.
Robin Roe
has a bachelor's degree from Cornell University and a master's from Harvard. She counseled adolescents in Boston before she moved to Dallas, Texas to run a mentoring program for at-risk teens. This is her first novel. Follow Robin on Twitter @robinroewriter.
Julian

There is a room in this school that no one knows about but me. If I could teleport, I'd be there now. Maybe if I just concentrate-
"Julian." Mr. Pearce says my name sharp enough to make me flinch. "You're less than a month into high school, and you've missed your English class six times."
I'm sure I've missed more than that, but I guess no one realized I was gone.
The principal leans forward, two fits wrapped around his tall, twisted cane. It has a little creature carved at the top, and I've heard other kids talk about it, wondering if it's a gnome or troop or a tiny replica of Mr. Pearce himself. This close, I can see the resemblance.
"Look at me!" he shouts.
I'm not sure why people want you to look at them when they're angry with you. That's why when you want to look away the most. But when I do what he says, the windowless office seems to shrink, and I shrink along with it. A microscopic boy underneath Mr. Pearce's gaze.
"It'd be a lot easier for you to look someone in the eye if you got a haircut." He glares harder when I start pushing my hair out of my face.
"Why haven't you been going to class?"
"I..." I clear my throat." "I don't like it."


Disclaimer: Thanks to Goodreads and Amazon for the book cover, about the book, and author information. Buying via these above links allows my site to get a % of the sale at no cost to you. This money gets used to buy items for giveaways. In accordance with FTC guidelines regarding endorsements and testimonials for bloggers, I would like my readers to know that many of the books I review are provided to me for free by the publisher or author of the book in exchange for an honest review. I am in no way compensated for any reviews on this site. All donations are to help keep this site running via costs from shipping, .com charges, and other giveaways.
Comments are DELICIOUS! and now that were using this new format for comments the TOP 3 Commenters will all win bookish goodies each month! So that is just one more reason to comment! This is open to everyone! So get commenting!
Don't forget to check out our Facebook, Twitter, Instagram, and Pinterest!
@CrossroadReview