Welcome to the first post of First Page Tuesday! Each week well share one amazing start to a book we have on hand! Sometimes it will be a finished copy and other it will be an ARC. If it is an ARC please understand that this may not match the finished product.
We came up with this idea via 1linewednesday which is a # on twitter and a few other places that we loved so much we wanted to share a full page with you.
This week we have one of the most anticipated book of the new year! Caraval this week we are sharing with you the first page of chapter two! Because page one was nothing but letters. We hope that you enjoy this little look at this amazing upcoming book!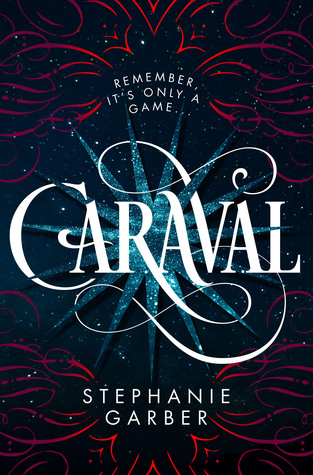 This title will be released on January 31, 2017.
Welcome, welcome to Caraval―Stephanie Garber's sweeping tale of two sisters who escape their ruthless father when they enter the dangerous intrigue of a legendary game.
Scarlett has never left the tiny island where she and her beloved sister, Tella, live with their powerful, and cruel, father. Now Scarlett's father has arranged a marriage for her, and Scarlett thinks her dreams of seeing Caraval, the far-away, once-a-year performance where the audience participates in the show, are over.
But this year, Scarlett's long-dreamt of invitation finally arrives. With the help of a mysterious sailor, Tella whisks Scarlett away to the show. Only, as soon as they arrive, Tella is kidnapped by Caraval's mastermind organizer, Legend. It turns out that this season's Caraval revolves around Tella, and whoever finds her first is the winner.
Scarlett has been told that everything that happens during Caraval is only an elaborate performance. But she nevertheless becomes enmeshed in a game of love, heartbreak, and magic with the other players in the game. And whether Caraval is real or not, she must find Tella before the five nights of the game are over, a dangerous domino effect of consequences is set off, and her sister disappears forever.
Stephanie Garber
loves Disneyland because it's the one place on earth where she feels as if the fantastical stories she loves to write about could actually come to life. When she's not writing young adult fantasy, she teaches creative writing at a private college in northern California, where she's known for turning assignments into games and taking students on field trips that involve book signings.
Caraval
is her first novel for young adults. She would love to hear from you on social media.
Chapter Two
Scarlett's feelings came in colors even brighter than usual. The urgent red of burning coals. The eager green of new grass buds. The frenzied yellow of a flapping bird's feathers.
He'd finally written back.
She read the letter again. Then again. And again. Her eyes took in each sharp stroke of ink, every waxy curve of the Caraval master's silver crest—a sun with a star inside and a teardrop inside of the star. The same seal was watermarked onto the enclosed slips of paper.
"Donatella!" Scarlett plunged down the steps into the barrel room in search of her younger sister. The familiar scents of molasses and oak snaked up her nose, but her scoundrel of a sibling was nowhere to be found.
Disclaimer: Thanks to Goodreads and Amazon for the book cover, about the book, and author information. Buying via these above links allows my site to get a % of the sale at no cost to you. This money gets used to buy items for giveaways. In accordance with FTC guidelines regarding endorsements and testimonials for bloggers, I would like my readers to know that many of the books I review are provided to me for free by the publisher or author of the book in exchange for an honest review. I am in no way compensated for any reviews on this site. All donations are to help keep this site running via costs from shipping, .com charges, and other giveaways.
Comments are DELICIOUS! and now that were using this new format for comments the TOP 3 Commenters will all win bookish goodies each month! So that is just one more reason to comment! This is open to everyone! So get commenting!
Don't forget to check out our Facebook, Twitter, Instagram, and Pinterest!
@CrossroadReview