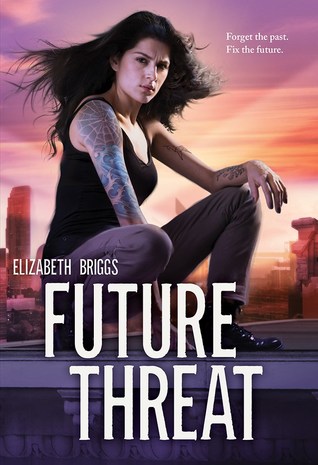 Six months ago Aether Corporation sent Elena, Adam, and three other recruits on a trip to the future where they brought back secret information--but not everyone made it back to the present alive. Now Elena's dealing with her survivor's guilt and trying to make her relationship with Adam work. All she knows for sure is that she's done with time travel and Aether Corporation.
But Aether's not done with her--or Adam, or fellow survivor Chris. The travelers on Aether's latest mission to the future have gone missing, and Elena and her friends are drafted into the rescue effort. They arrive in a future that's amazingly advanced, thanks to Aether Corporation's reverse-engineered technology. The mission has deadly consequences, though, and they return to the future to try to alter the course of events.
But the future is different yet again. Now every trip through time reveals new complications, and more lives lost--or never born. Elena and Adam must risk everything--including their relationship--to save their friends.
The second book in the New York Times bestselling Future Shock trilogy.
Elizabeth Briggs is the
New York Times
bestselling author of the Future Shock trilogy and the Chasing The Dream series. She graduated from UCLA with a degree in Sociology, currently mentors teens in writing, and volunteers with a dog rescue group. Elizabeth lives in Los Angeles with her husband and a pack of fluffy dogs.
I really wasn't sure if I was going to like this book or not. Reading book one was ok but it wasn't really high on my OMG you have to read this list. It was a mediocre scifi that ended well. Well I am sad to say that I think personally they should have left the story alone. This one picks up six months after the events of book one. Where now our survivors are tossed back into the future to fix things. This time I had issues with our main characters. Elena kept wondering about Adam and Adam kept professing his love for her. It all just because a really weird story. The scifi aspect was there but again on the back burner. I think that after the events of book one these two should have had their crap together. Knowing they could trust each other without a doubt in their minds.
The side characters were also more in the background and we just really don't get to know them like we did with the teens in book one. This really just felt like a mash up of trying to get the right formula so everyone would be ok and alive etc. And it really fell short. I wish this would have been at least up to par with what book one gave us but this one fell far from that bar.
Im sad to say that I will not be continuing this series.
"All opinions are 100% honest and my own."
Disclaimer: Thanks to Goodreads and Amazon for the book cover, about the book, and author information. Buying via these above links allows my site to get a % of the sale at no cost to you. This money gets used to buy items for giveaways. In accordance with FTC guidelines regarding endorsements and testimonials for bloggers, I would like my readers to know that many of the books I review are provided to me for free by the publisher or author of the book in exchange for an honest review. I am in no way compensated for any reviews on this site. All donations are to help keep this site running via costs from shipping, .com charges, and other giveaways.
Comments are DELICIOUS! and now that were using this new format for comments the TOP 3 Commenters will all win bookish goodies each month! So that is just one more reason to comment! This is open to everyone! So get commenting!
Don't forget to check out our Facebook, Twitter, Instagram, and Pinterest!
@CrossroadReview