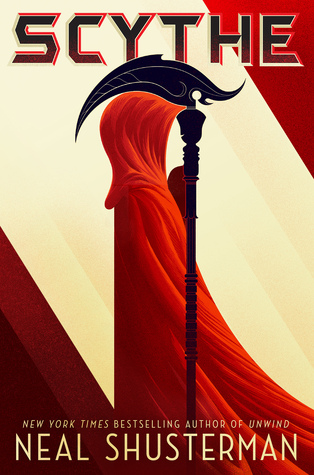 A world with no hunger, no disease, no war, no misery. Humanity has conquered all those things, and has even conquered death. Now scythes are the only ones who can end life—and they are commanded to do so, in order to keep the size of the population under control.
Citra and Rowan are chosen to apprentice to a scythe—a role that neither wants. These teens must master the "art" of taking life, knowing that the consequence of failure could mean losing their own.
In a world where death doesn't happen naturally, a computer is all-knowing, and Scythes are the gods of death, there's always a flaw. Two teens, Rowan and Citra, take on the task of Scythe apprentices. They go through so many obstacles that will change them. This was an easy read and it was enjoyable. Stayed up late every single night.
Book in a Pinch
Two teens become Scythe apprentices and go through many obstacles.
Go Into This One Knowing
No language, no bad scenes, just tons of death.
"All opinions are 100% honest and my own."
"The scythe arrived late on a cold November afternoon. Citra was at the dining room table, slaving over a particularly difficult algebra problem, shuffling variables, unable to solve for X or Y, when this new and far more pernicious variable entered her life's equation.
Guests were frequent at the Terranova's apartment, so when the doorbell rang, there was no sense of foreboding--no dimming of the sun, no foreshadowing of the arrival of death at their door. Perhaps the universe should have deigned to provide such warnings, but scythes were no more supernatural than tax collectors in the grand scheme of things. They showed up, did their unpleasant business, and were gone."
Disclaimer: Thanks to Goodreads and Amazon for the book cover, about the book, and author information. Buying via these above links allows my site to get a % of the sale at no cost to you. This money gets used to buy items for giveaways. In accordance with FTC guidelines regarding endorsements and testimonials for bloggers, I would like my readers to know that many of the books I review are provided to me for free by the publisher or author of the book in exchange for an honest review. I am in no way compensated for any reviews on this site. All donations are to help keep this site running via costs from shipping, .com charges, and other giveaways.
Comments are DELICIOUS! and now that were using this new format for comments the TOP 3 Commenters will all win bookish goodies each month! So that is just one more reason to comment! This is open to everyone! So get commenting!
Don't forget to check out our Facebook, Twitter, Instagram, and Pinterest!
@CrossroadReview