Welcome to this weeks Waiting on Wednesday! Today I'm reading The Sweetest Dark by Shana Abe. Its been on my TBR according to Amazon since September of 2013. So like three years. So far the book is fairly good and I am enjoying it.
This weeks wish book is King's Cage. I really can't wait to get my hands on it.
With every fiber of my being, I yearned to be normal. To glide through my days at Iverson without incident. But I'd have to face the fact that my life was about to unfold in a very, very different way than I'd ever envisioned. Normal would become forever out of reach.
Lora Jones has always known that she's different. On the outside, she appears to be an ordinary sixteen-year-old girl. Yet Lora's been keeping a heartful of secrets: She hears songs that no one else can hear, dreams vividly of smoke and flight, and lives with a mysterious voice inside her that insists she's far more than what she seems.
England, 1915. Raised in an orphanage in a rough corner of London, Lora quickly learns to hide her unique abilities and avoid attention. Then, much to her surprise, she is selected as the new charity student at Iverson, an elite boarding school on England's southern coast. Iverson's eerie, gothic castle is like nothing Lora has ever seen. And the two boys she meets there will open her eyes and forever change her destiny.
Jesse is the school's groundskeeper — a beautiful boy who recognizes Lora for who and what she truly is. Armand is a darkly handsome and arrogant aristocrat who harbors a few closely guarded secrets of his own. Both hold the answers to her past. One is the key to her future. And both will aim to win her heart. As danger descends upon Iverson, Lora must harness the powers she's only just begun to understand, or else lose everything she dearly loves.
Filled with lush atmosphere, thrilling romance, and ancient magic,
The Sweetest Dark
brilliantly captures a rich historical era while unfolding an enchanting love story that defies time.
Shana Abé
is the author of
The Time Weaver, The Treasure Keeper, Queen of Dragons, The Dream Thief,
and
The Smoke Thief
.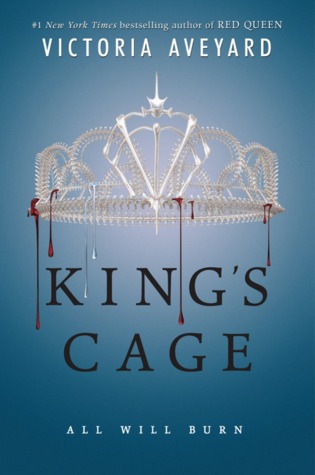 In this breathless third installment to Victoria Aveyard's bestselling Red Queen series, allegiances are tested on every side. And when the Lightning Girl's spark is gone, who will light the way for the rebellion?

Mare Barrow is a prisoner, powerless without her lightning, tormented by her lethal mistakes. She lives at the mercy of a boy she once loved, a boy made of lies and betrayal. Now a king, Maven Calore continues weaving his dead mother's web in an attempt to maintain control over his country—and his prisoner.

As Mare bears the weight of Silent Stone in the palace, her once-ragtag band of newbloods and Reds continue organizing, training, and expanding. They prepare for war, no longer able to linger in the shadows. And Cal, the exiled prince with his own claim on Mare's heart, will stop at nothing to bring her back.

When blood turns on blood, and ability on ability, there may be no one left to put out the fire—leaving Norta as Mare knows it to burn all the way down.
Victoria Aveyard was born and raised in East Longmeadow, Massachusetts, a small town known only for the worst traffic rotary in the continental United States. She moved to Los Angeles to earn a BFA in screenwriting at the University of Southern California. She currently splits her time between the East and West coasts. As an author and screenwriter, she uses her career as an excuse to read too many books and watch too many movies. You can visit her online at www.victoriaaveyard.com.
"All opinions are 100% honest and my own."
Disclaimer: Thanks to Goodreads and Amazon for the book cover, about the book, and author information. Buying via these above links allows my site to get a % of the sale at no cost to you. This money gets used to buy items for giveaways. In accordance with FTC guidelines regarding endorsements and testimonials for bloggers, I would like my readers to know that many of the books I review are provided to me for free by the publisher or author of the book in exchange for an honest review. I am in no way compensated for any reviews on this site. All donations are to help keep this site running via costs from shipping, .com charges, and other giveaways.
Comments are DELICIOUS! and now that were using this new format for comments the TOP 3 Commenters will all win bookish goodies each month! So that is just one more reason to comment! This is open to everyone! So get commenting!
Don't forget to check out our Facebook, Twitter, Instagram, and Pinterest!
@CrossroadReview