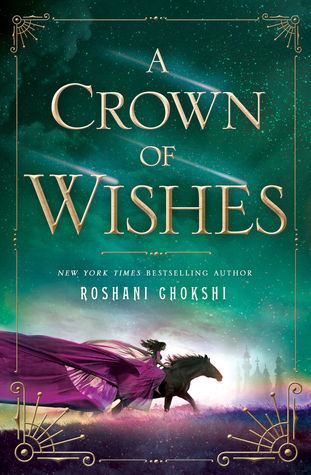 Gauri, the princess of Bharata, has been taken as a prisoner of war by her kingdom's enemies. Faced with a future of exile and scorn, Gauri has nothing left to lose. Hope unexpectedly comes in the form of Vikram, the cunning prince of a neighboring land and her sworn enemy kingdom. Unsatisfied with becoming a mere puppet king, Vikram offers Gauri a chance to win back her kingdom in exchange for her battle prowess. Together, they'll have to set aside their differences and team up to win the Tournament of Wishes—a competition held in a mythical city where the Lord of Wealth promises a wish to the victor.
Reaching the tournament is just the beginning. Once they arrive, danger takes on new shapes: poisonous courtesans and mischievous story birds, a feast of fears and twisted fairy revels.
Every which way they turn new trials will test their wit and strength. But what Gauri and Vikram will soon discover is that there's nothing more dangerous than what they most desire.
Praise for The Star-Touched Queen:
New York Times
Bestseller
#9 on the Summer 2016 Kids' Indie Next List
An Amazon Best Book of the Month
A Goodreads Best Book of the Month
"Chokshi's prose is captivating, and the pages come alive …. Maya is a strong heroine, and while there is romance, an emphasis on familial love adds another level of richness to a folkloric fantasy about sacrifice, self-discovery, and making your own destiny." ―Publishers Weekly, starred review
"Richly imagined, deeply mythic, filled with lovely language… this is an author to watch" ― Kirkus Reviews
"Magic is woven into every word of the STAR-TOUCHED QUEEN. Vibrantly imaginative and gracefully written, I was spellbound from the first line. A dazzling, sensuous feast of world-building, romance, and mythology." ―
Sarah J. Maas
,
New York Times
Bestselling author of the
Throne of Glass
series.
"Roshani Chokshi has crafted a bewitching tale with a setting so vivid and unique, I wished I could step right through the pages." ―
Amy Ewing
,
New York Times
Bestselling Author of
The Jewel
"Chokshi's storytelling glimmers like magic on every page-a novel meant to be savored." ―
Cindy Pon
, author of
Serpentine
and
Silver Phoenix
"A luscious, bloodthirsty fairy tale with all the romance, magic, and gorgeous mythology I could ask for ―
Tessa Gratton
, author of
Blood Magic
and
The United States of Asgard
series
"Gorgeously poetic writing gives vibrant, sensuous life to the worlds of THE STAR-TOUCHED QUEEN." ―
Kate Elliott
, of
Court of Fives
Roshani Chokshi is the
New York Times
bestselling author of
The Star-Touched Queen
. Her work has appeared in
Strange Horizons
,
Shimmer
, and
Book Smugglers
. Her short story, "The Star Maiden," was longlisted for the British Fantasy Science Award.
This was a great story to read. Although it did lose me during the middle parts just a bit and it still has some very confusing parts. It was still a great story and journey. I do recommend to read this one via ebook. Having the ability to look up a word, you don't know on the spot made reading a lot better.

So this one picks up after book one its been a few months and our wonderful little girl Gauri is now, of course, a young woman and she's in prison. We also get the continuing story of Vikram whom we met in book one through the tapestry. I wasn't sure if I was going to enjoy this story since I had fallen in love with Maya in book one but let don't let that bother you if you're scared. This story was fantastic and beautiful.

The story itself kind of reminded me a little of another new book out there called Caravel. Since with this one, our two main characters are off to a game to win wishes. Just like in Caraval things are not always as they seem and just when you think you know what's going to happen the author throws you for a loop and takes you in a new direction that you didn't see coming. The world building built upon what we were given in book one and it's just as breathtaking as the first. I really do wish that these become movies or something as I would really love to see this world come to live. I want to see it with my own two eyes and bathe in the wonders of this world that the author has created.

I really loved Gauri she was a force to be reckoned with. I loved her spirit, and I hope that this is not the last that we will see of her. Vikram was so funny during most of this book he was the comic relief, and I loved how he took everything in stride. I do wish he knew how to wield a sword etc. I didn't really get that he knew how to fight at all during this story. Which just really seemed out of place in my book. But I guess thinking about it now it seems pretty normal. I mean look at Gauri's brother who was ruling he was nothing but a fat guy on a throne letting everyone else do things for him. I doubt he could fight if his light depended on it.

I don't know what the author is doing for the next book or even if there will be the next book but I hope that everyone comes back. If there is a next book, I hope to see it via a certain Vishakanya that I have grown to love during this book.

If your looking for a new adventure to quentch your thirst I would pick this one up!
"All opinions are 100% honest and my own."
As a special treat check out a sample from the Audio Book!
Disclaimer: Thanks to Goodreads and Amazon for the book cover, about the book, and author information. Buying via these above links allows my site to get a % of the sale at no cost to you. This money gets used to buy items for giveaways. In accordance with FTC guidelines regarding endorsements and testimonials for bloggers, I would like my readers to know that many of the books I review are provided to me for free by the publisher or author of the book in exchange for an honest review. I am in no way compensated for any reviews on this site. All donations are to help keep this site running via costs from shipping, .com charges, and other giveaways.
Comments are DELICIOUS! and now that were using this new format for comments the TOP 3 Commenters will all win bookish goodies each month! So that is just one more reason to comment! This is open to everyone! So get commenting!
Don't forget to check out our Facebook, Twitter, Instagram, and Pinterest!
@CrossroadReview