\
I've been so busy with school (sadly) that getting through books has been waaaay too slow. I'm finally finished with The Star-Touched Queen by Roshani Chokshi

. Time to slowly move on to the rest of my TBR list. lol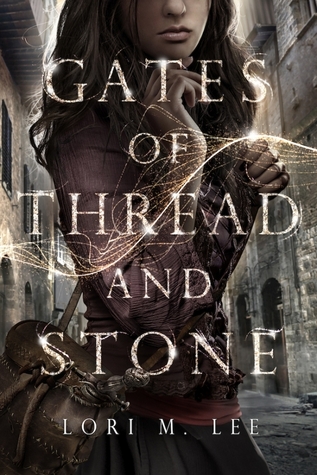 In the Labyrinth, we had a saying: keep silent, keep still, keep safe.
In a city of walls and secrets, where only one man is supposed to possess magic, seventeen-year-old Kai struggles to keep hidden her own secret—she can manipulate the threads of time. When Kai was eight, she was found by Reev on the riverbank, and her "brother" has taken care of her ever since. Kai doesn't know where her ability comes from—or where
she
came from. All that matters is that she and Reev stay together, and maybe one day move out of the freight container they call home, away from the metal walls of the Labyrinth. Kai's only friend is Avan, the shopkeeper's son with the scandalous reputation that both frightens and intrigues her.
Then Reev disappears. When keeping silent and safe means losing him forever, Kai vows to do whatever it takes to find him. She will leave the only home she's ever known and risk getting caught up in a revolution centuries in the making. But to save Reev, Kai must unravel the threads of her past and face shocking truths about her brother, her friendship with Avan, and her unique power.
Lori is an avid writer, reader, artist, and lover of unicorns. She should probably spend less time on the internet (but she won't). She has a borderline obsessive fascination with unicorns, is fond of talking in capslock, and loves to write about magic, manipulation, and family. She lives in Wisconsin with her husband, kids, and a friendly pitbull.
The bestselling series has returned! Join P.C. and Kristin Cast in celebrating the tenth anniversary of the House of Night series by going on a thrilling new adventure with your beloved Nerd Herd.
It's Zoey's eighteenth birthmas and the Nerd Herd has been scattered across the country busily adulting for almost a year when Stark calls them back to Tulsa to surprise Z. But all is not well in T-town. Strange, dark signs are appearing—could it be possible Neferet is stirring? Not willing to chance disaster striking again, Zoey calls on her newly reunited friends to circle with her and add a layer of protection over Neferet's grotto jail. Easy-peasy, right?
Wrong. Nothing at the House of Night is ever as it seems.
With rabid red vampyres closing in, Zoey and the Nerd Herd must come together again and battle evil. But a year is a long time. Have these old friends grown too far apart?
When the world fractures and allies become enemies, will darkness devour friendships or will light save those she's loved?
PC was born in the Midwest, and grew up being shuttled back-and-forth between Illinois and Oklahoma, which is where she fell in love with Quarter Horses and mythology (at about the same time). After high school, she joined the United States Air Force and began public speaking and writing. After her tour in the USAF, she taught high school for 15 years before retiring to write full time. PC is a #1 New York Times and #1 USA Today Best-Selling author and a member of the Oklahoma Writers Hall of Fame. Her novels have been awarded the prestigious: Oklahoma Book Award, YALSA Quick Pick for Reluctant Readers, Romantic Times Reviewers' Choice Award, the Prism, Holt Medallion, Daphne du Maurier, Booksellers' Best, and the Laurel Wreath. PC is an experienced teacher and talented speaker. Ms. Cast lives in Oregon near her fabulous daughter, her adorable pack of dogs, her crazy Maine Coon, and a bunch of horses.Her latest release, MOON CHOSEN, book 1 in the TALES OF A NEW WORLD series debuts October 18th!
Kristin Cast is a NY Times and USA Today bestselling author who teamed with her mother to write the wildly successful House of Night series. She has editorial credits, a thriving t-shirt line, and a passion for all things paranormal. When away from her writing desk, Kristin loves relaxing with her significant other and their dogs, and discovering new hobbies. This year she'll work on swimming, yoga, and adding to her Doctor Who collection.
"All opinions are 100% honest and my own."
Disclaimer: Thanks to Goodreads and Amazon for the book cover, about the book, and author information. Buying via these above links allows my site to get a % of the sale at no cost to you. This money gets used to buy items for giveaways. In accordance with FTC guidelines regarding endorsements and testimonials for bloggers, I would like my readers to know that many of the books I review are provided to me for free by the publisher or author of the book in exchange for an honest review. I am in no way compensated for any reviews on this site. All donations are to help keep this site running via costs from shipping, .com charges, and other giveaways.
Comments are DELICIOUS! and now that were using this new format for comments the TOP 3 Commenters will all win bookish goodies each month! So that is just one more reason to comment! This is open to everyone! So get commenting!
Don't forget to check out our Facebook, Twitter, Instagram, and Pinterest!
@CrossroadReview
Save
Save