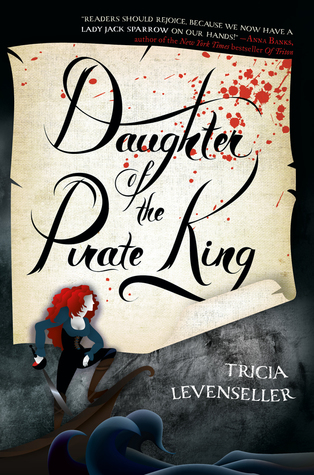 There will be plenty of time for me to beat him soundly once I've gotten what I came for.

Sent on a mission to retrieve an ancient hidden map—the key to a legendary treasure trove—seventeen-year-old pirate captain Alosa deliberately allows herself to be captured by her enemies, giving her the perfect opportunity to search their ship.

More than a match for the ruthless pirate crew, Alosa has only one thing standing between her and the map: her captor, the unexpectedly clever and unfairly attractive first mate, Riden. But not to worry, for Alosa has a few tricks up her sleeve, and no lone pirate can stop the Daughter of the Pirate King.
Tricia Levenseller
is from a small town in Oregon, but she now lives next to the Rocky Mountains in Utah with her bossy dog, Rosy. She received her degree in English Language and Editing, and she is thrilled that she never has to read a textbook again. When she's not writing or reading, Tricia enjoys putting together jigsaw puzzles, playing volleyball, and watching her favorite TV shows while eating extra-buttered popcorn.
Daughter of the Pirate King
is her debut novel.
As a note, I wanted to let you know that I received a copy of this book via Netgalley but by the time I got around to it. I ended up getting it from Owlcrate, so I read it as a finished copy.
This was one stellar book! It really is like a female Jack Sparrow man and this one blew me away!
The pacing of this one worked so well from point a, to b, to c. It was perfect. I do wish it would have been a little longer but thats ok.
The world building the author has given us was so good. The use of the pirate ship was so good and it worked out so well. It made the world come alive and the characters were wonderful. I really fell in love with Alosa and her crew which I hope we get to see more of in the next book. I really can't wait to see the outcome of this story in book either. Waiting a year is going to suck.
Alosa as an MC was fab! She's such a strong take no prisoners kind of character. She knew what she needed to do and she got it done. Riden was an amazing romantic interest and you just don't know about him fully until the end of the story. Which ended way to soon. I needed at least another 100 pages.
I want to say so much about this story but I'm afraid I'm going to give something away!!
This is one high seas adventure with a wonderful romance with a girl who is still somewhat finding her way at least with love. It will make you want the next book (Daughter of the Siren Queen YES it has a title!!!!) Now!
Book in a Pinch
Pirates and Sirens O My
Go Into This One Knowing
Slight cliffhanger, Romance, No Love Triangle, Lots of Action and Suspense
"All opinions are 100% honest and my own."
Disclaimer: Thanks to Goodreads and Amazon for the book cover, about the book, and author information. Buying via these above links allows my site to get a % of the sale at no cost to you. This money gets used to buy items for giveaways. In accordance with FTC guidelines regarding endorsements and testimonials for bloggers, I would like my readers to know that many of the books I review are provided to me for free by the publisher or author of the book in exchange for an honest review. I am in no way compensated for any reviews on this site. All donations are to help keep this site running via costs from shipping, .com charges, and other giveaways.
Comments are DELICIOUS! and now that were using this new format for comments the TOP 3 Commenters will all win bookish goodies each month! So that is just one more reason to comment! This is open to everyone! So get commenting!
Don't forget to check out our Facebook, Twitter, Instagram, and Pinterest!
@CrossroadReview