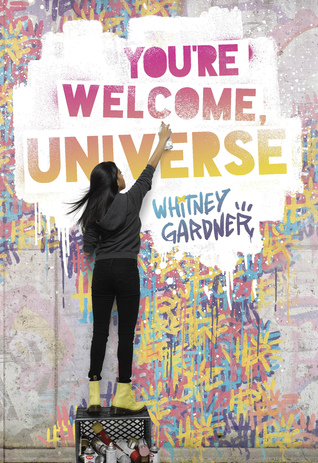 When Julia finds a slur about her best friend scrawled across the back of the Kingston School for the Deaf, she covers it up with a beautiful (albeit illegal) graffiti mural.

Her supposed best friend snitches, the principal expels her, and her two mothers set Julia up with a one-way ticket to a "mainstream" school in the suburbs, where she's treated like an outcast as the only deaf student. The last thing she has left is her art, and not even Banksy himself could convince her to give that up.

Out in the 'burbs, Julia paints anywhere she can, eager to claim some turf of her own. But Julia soon learns that she might not be the only vandal in town. Someone is adding to her tags, making them better, showing off—and showing Julia up in the process. She expected her art might get painted over by cops. But she never imagined getting dragged into a full-blown graffiti war.
WHITNEY GARDNER played her ukulele in an episode of Portlandia, danced the rumba with Bill Nye the Science Guy in a New York swing-dance club, and experimented with LARPing in college. She lives with her husband, Roger, and their incredibly cool pugs, Gouda and Fig, in Portland, Oregon. Find her online at heywhitney.com and follow her at @HeyWhitney.
This one started out really well. I really loved how the MC stood up for her friend when it came to a slur that it seemed the school was in no hurry to get rid of. I think we all strive to have a friend like that. But around page 100 it fell kind of flat for me. The author did portray the character correctly and you can see just how much research she did to portray a deaf character right.
Character - Julia was great to start but there was one thing she did that is a total spoiler so I wont say that really just made me hate her. Which really ruined the story for me. I wanted to hop in the book and kinda slap her.
Story- I wish it wouldnt have been bogged down with how to art things. I love art dont get me wrong but it was a little much and started to sound like I was in school to learn what to do.
So if you love art this one might be for you. I am going to be giving it to Endy to read since she is addicted to the art world. I will update this review as soon as she is finished.
"All opinions are 100% honest and my own."
Disclaimer: Thanks to Goodreads and Amazon for the book cover, about the book, and author information. Buying via these above links allows my site to get a % of the sale at no cost to you. This money gets used to buy items for giveaways. In accordance with FTC guidelines regarding endorsements and testimonials for bloggers, I would like my readers to know that many of the books I review are provided to me for free by the publisher or author of the book in exchange for an honest review. I am in no way compensated for any reviews on this site. All donations are to help keep this site running via costs from shipping, .com charges, and other giveaways.
Comments are DELICIOUS! and now that were using this new format for comments the TOP 3 Commenters will all win bookish goodies each month! So that is just one more reason to comment! This is open to everyone! So get commenting!
Don't forget to check out our Facebook, Twitter, Instagram, and Pinterest!
@CrossroadReview
Save
Save
Save
Save