I hope you guys enjoy this week's First Page. This book has been sitting on my TBR for a while now. So I thought I would share it with you.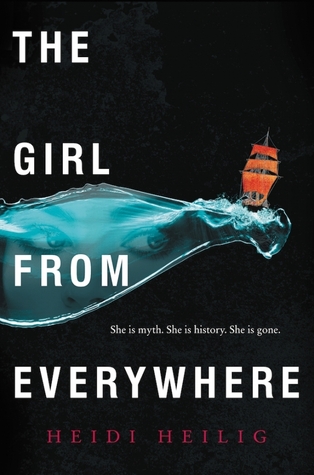 Nix has spent her entire life aboard her father's ship, sailing across the centuries, across the world, across myth and imagination.
As long as her father has a map for it, he can sail to any time, any place, real or imagined: nineteenth-century China, the land from
One Thousand and One Nights
, a mythic version of Africa. Along the way they have found crewmates and friends, and even a disarming thief who could come to mean much more to Nix.
But the end to it all looms closer every day.
Her father is obsessed with obtaining the one map, 1868 Honolulu, that could take him back to his lost love, Nix's mother. Even though getting it—and going there—could erase Nix's very existence.
For the first time, Nix is entering unknown waters.
She could find herself, find her family, find her own fantastical ability, her own epic love.
Or she could disappear.
Heidi Heilig grew up in Hawaii, where she rode horses and raised peacocks, and then she moved to New York City. Her favorite thing, outside of writing, is travel, and she has haggled for rugs in Morocco, hiked the trails of the Ko
'
olau Valley, and huddled in a tent in Africa while lions roared in the dark. She holds an MFA in musical theatre writing from New York University. She lives in Brooklyn, New York, with her husband, her son, and their pet snake, whose wings will likely grow in any day now.
"All opinions are 100% honest and my own."
It was the kind of August day that hinted at monsoons, and the year was 1774, though not for very much longer. I was in the crowded bazaar of a nearly historical version of Calcutta, where my father had abandoned me.
He hadn't abandoned me for good—not yet. He'd only gone back to the ship to make ready for the next leg of the journey: twentieth-century New York City. It was at our final destination, however, where he hoped to unmake the mistakes of his past.
Mistakes like me, perhaps.
He never said as much, but his willingness to leave me behind was plain: here I was, alone, haggling for a caladrius with a pitiful amount of silver in my palm. Part of me wondered whether he'd care if I returned at all, as long as the mythological bird was delivered to the ship.
No, he would care, at least for now. After all, I was the one to plot our way through the centuries and the maps, the one who helped him through his dark times, the one who could, say, identify fantastical animals from twenty paces and negotiate with their sellers. Then again, once we reached 1868 Honolulu, he would have no need for navigating or negotiation. I was a means to an end, and the end was looming, closer every day.
But he never worried about that. I tried not to either; I tried desperately hard. Worrying did me no good, especially now, with the bird seller peering at me, as bright-eyed as any of his wares.
"Very rare, this bird!" The merchant spoke louder than the distance between us warranted; we were nose to nose across a stack of cages, but I couldn't step back or I'd be swept up in the scrum of shoppers. "The caladrius will cure any illness, just by looking a patient in the eye—"
"I know, I know." I'd read the myth in an old book of fables: the caladrius could take disease on its wings and burn it away by flying near the sun. The legend also said if your illness was incurable, the bird would refuse to look at you; of course the merchant hadn't mentioned that part.
He crossed his arms over his chest. "Good health is priceless, girl."
"I know that too." I wiped my brow. The sun was panting in the sky, and the heat curdled the perfume of jasmine above the odor of sweat. I had to get back to the ship, if only for some air. "Please. It's for my mother. She'll die without it." Normally I wasn't above using a sob story to haggle, but it felt different when the story was true. In fact, she had already died without it, sixteen years ago. "My father would never, ever recover."
The man's eyes softened, but then the crowd crushed against my back, making space around a fat British officer; locals didn't dare jostle the Company Raj. Distracted, the bird seller glared at the Englishman. "Please," I said again, slightly louder, trying to add the gleam of charity to the tarnished rupees in my hand.
He sucked his teeth, wavering. "A bird like this is worth her weight in gold to a prince."
"But the princes of India don't have any more gold," I said. "The British took it all, and they don't believe in the myth of the caladrius."
As soon as the words were out of my mouth, I knew it was the wrong thing to say. The man's face hardened. Awkward, awkward. I scrambled for a way to backpedal. Between us, his wares beat their wings against the bamboo bars, singing for freedom like Orpheus in Hades. A hand touched my shoulder and I spun, ready to take out my vexation on this bold stranger, but I bit back the words. Kashmir had appeared like an oasis. "Hello, amira."
"Let me guess," I said. "The captain sent you here to rush me." Under his careless hair, there was not a drop of sweat on his brow.
"To help you." He gave me his most charming smile, then turned it on the bird seller as he poured gold into the man's palm. "This should be more than enough," Kashmir said, reaching over to pluck up the bamboo cage. Then he slipped his arm into mine and steered me away from the wide-eyed merchant. "Come, Nix. We have to go."
I was more surprised than the bird seller. "Where did you get so much gold?"
"Oh, you know," he said. "Around."
We were halfway back to the docks when the shouting started.
Kashmir handed me the birdcage. "Don't run," he told me. Then he took off.
"Thief!" The Englishman was barreling toward us.
"Thief!" Kashmir had left a swirling wake in the crowd; I set off after him.
The treacherous street threw obstacles underfoot: baskets of locusts and pails of yogurt and blankets laid with ripe rambutan. I dodged past women in rags and women in silks, men in loincloths and men in uniforms. The birdcage swung from my fist and sweat stung my eyes. Kashmir was far ahead of me—or rather, I was falling behind.
I racked my brain for a solution from the stories I knew. Unfortunately, most of those stories were myths, so most of the miraculous escapes came about by the pursued being turned into a tree or a star or a bird or the like. I looked back over my shoulder; the Englishman was gaining. I clutched the birdcage to my chest and tried to summon more speed.
I broke free of the market, careening around a corner and bouncing off a donkey. Kashmir was standing on the wharf, waving me toward the ship. I skidded to a stop in front of him, and he took my shoulders, steadying me. "Why did you run, amira?"
"Why did you run?" I returned, breathless.
"So he would chase me! Yalla.Vite! Get aboard and go!" He pushed me along and I stumbled down the quay.
My father was helping Bee rig the sails, but when he heard the Englishman's cries, he stopped and stared. Then he redoubled his efforts, calling out to Rotgut to cast off the lines as the Englishman loped nearer. Locals scattered, but Kashmir waited until I'd cleared the gangplank. When he started to run, it was too late.
The Englishman grabbed him by the collar of his thin linen shirt, his muttonchops quivering in rage. "You half-caste thatch gallows!" He drew a pistol out of his belt and pressed the barrel against Kashmir's cheek. "Give me back my coin and I won't shoot you where you stand!"
Kash didn't bother responding; he made a chopping motion toward the ship, but we were already slipping the berth. I looked at my father in disbelief, but he met my stare with his ice-blue eyes. "He can take care of himself."
Despite the heat, I shivered; if Kash had kept the caladrius, would I be the one left behind on the wharf? I set the birdcage on the deck and gripped the rail, gauging the distance to the pier, but then Kash shoved the Englishman's gun upward. The man squeezed the trigger, and the bullet flew wide. He'd kept his grip on Kashmir's collar, but not on Kashmir, who tore his shirt down the front as he pivoted on one foot and threw his arms back out of the sleeves. He left the man reeling backward with the linen rag in his hand and a bewildered expression on his face.
I ran to get a rope, but when I came back to the bulwark, Kashmir was nowhere to be seen and the Englishman was screaming from the edge of the pier, fumbling with his gun. I followed his outraged eyes to the stern of the ship, where Kash was swinging his leg over the rail.
"Stop the ship! Stop at once!" the Englishman said, appealing to my father as he tried to reload. "Your coolie is a thief!"
Kashmir put his hand to his chest in a gesture of injured innocence: Kashmir, who would make you laugh to steal the fillings from your molars. Then he ducked as the Englishman fired again, the bullet crunching into the oak of our mizzenmast. I stared, stunned for a moment, then dropped to the deck beside the birdcage, my breath ruffling the caladrius's feathers.
The Temptation was a fast ship, so we were out of range by the time the Englishman had loaded a third shot. I clambered to my feet, my hair plastered to my cheeks and my ears ringing. Kashmir was no worse for wear, despite his lost shirt. His golden skin shone, flushed with exertion, and, I suppose, victory. He caught my eye, and I turned away.
"You're blushing," he said.
I heard the amusement in his voice. "It's the heat."
"What a rush!" My father passed the wheel off to Bee and came trotting down the stairs to the main deck. He picked up the cage, peering inside. "My God, she's beautiful," he said, grinning. "Thanks, kiddo!"
"Thanks?" I yanked my shirt straight. "You should be thanking him."
Slate popped a thumb up. "Thanks, Kashmir!"
I stared at him as he cooed at the bird. "You risked his life for that thing."
"Thanks a lot, Kashmir."
"He was nearly shot, Dad!"
He shrugged. "He wasn't, though."
"But he could have been!"
His energy faltered for a moment, like a candle burning low. Absently, he rolled up one of the sleeves on his loose cotton shirt, exposing the blue ink crawling up his arms; unless you knew where they were, the tracks were very hard to see beneath his indigo tattoos. Then his grin returned as he nodded to the cage in his hand. "Good thing we have a cure-all, then. Come on, let's fill those sails! Where are we going next, Nixie?"
I wanted to tell him exactly where he could go next, but I bit back the retort. This was nothing new; my father wasn't one to reflect long on his transgressions. He left that to me. "New York, 1981," I said. "I laid the map out this morning. On your table. Didn't you bother to look?"
He ignored my question. "But… every twentieth-century map I've ever seen was off a printing press."
"It's a hobbyist's map. Hand drawn." I drew myself up taller. "I bought it myself last time we were there."
He didn't look impressed. "Fine, great. But are you sure it will work?"
"Making it work is your job, Captain," I said. "Until you teach me how to Navigate, of course."
Although he made no answer, he stared at me a while longer before he spun on his heel and went to his cabin. Suddenly I was aware of the eyes of the crew, but when I turned around, Bee seemed very interested in the river ahead, and Rotgut was studiously cleaning his fingernails. Only Kashmir caught my eye. "And you," I said.
"Me? What did I do, amira?"
"I was this close to getting the bird seller to take my price," I said, but his grin widened; I wasn't fooling him.
"Even if that's true, you said it yourself. The English took all the gold. I was just doing a little redistribution."
"It's still wrong to steal, Kashmir."
"What else should I have done?"
He looked at me sideways with a twinkle in his eye. "Come, amira. You were thrilled when I put it in your hands."
"That's because cure-alls are rare in mythology, outside of healing springs. Not because I think we'll actually get to use it."
"The captain thinks we will. And you know how he is."
Kashmir pursed his lips. "Very difficult to refuse."
I folded my arms across my chest. "No argument there," I said softly, staring at the water of the Hooghly. It was the color of bile. "Is the cargo secure?"
"You mean the tigers?" There was a lilt in his voice.
"Yes, the tigers, in all their fearful symmetry." The big cats had been delivered to the ship in flimsy bamboo cages; Kash and Bee had been the ones brave enough to wrestle the cages into the hold. I actually was impressed, but with Kashmir it was usually best not to let it show.
"Last I checked, they were sleeping like kittens," he said, reaching into his pocket and pulling out a gold watch to check the time. Then he tilted it; water ran out from under the face. "Well. They should be fine all the way to New York."
"Where did you get that?"
"Ah. This?" He looked at me from under his brows; if I hadn't known better, I'd have said he was embarrassed. "He shouldn't have called me a half-caste."
I gritted my teeth. "You can't blame that on the captain's orders."
"No, I can't. This was just for me."
"You know, if I had your morals, I could solve all my problems."
He shrugged one shoulder and slipped the watch back into his pocket. "If I had your problems, I could afford to have better morals. I'm going to get another shirt. You have ten seconds to stop me. No?"
He went below, leaving me at the bow. We sailed past the tumbled ruin of Fort William, where the East India Company claimed a hundred English prisoners had perished due to Indian savagery in the dungeon called the Black Hole of Calcutta. Downstream of the city, fishermen pulled illish from the turgid river and children swam naked at the ghats. I piled my hair atop my head in an effort to cool down, but the breeze licked the back of my neck, hot as a giant's breath.
Kashmir was right about the captain; when he wanted something, he did not stop until he had it. No matter what it cost. No matter who it hurt.
And what he wanted more than anything was to return to Honolulu, 1868. That's why he needed the map now on offer at Christie's auction house, and the money to win it.
The captain had never bothered investing in stocks, or betting on sports, or even opening a checking account. Slate spent much more time thinking about the past than the future, and it was always a scramble for money whenever he remembered it was useful.
So I'd plotted a route, pulling the maps from his collection. Cash for tigers was not the simplest course I might have charted, but I'd wanted to see as much as I could before the auction. After all, if Slate was right about the map of Hawaii, I might never go anywhere else again.
My mind skittered away from the thought. It was pointless—no, foolish—to worry; none of his Honolulu maps had ever worked. Better to concentrate on the task— and the journey—at hand.
As it was, I planned to exchange our cargo for U.S. currency when we reached our next destination, where the leader of a Chinese gang had a soft spot in his heart—and cold hard cash in his pocket—for the big cats. According to the newspaper clippings I'd read, he'd been known for using them to dispose of rivals.
After that, Slate could easily bring us to the auction in 2016; fifty-one years prior, the captain had been born in New York, and his erstwhile home awaited him just beyond the edge of every map he Navigated. The year 2016 was long after the gang leader had been killed in a shoot-out, but with the map from 1981, it should have been a simple matter for the captain to steer the Temptation through two centuries, from the Bay of Bengal to the waters of the Atlantic off the coast of Long Island. After all, though he wouldn't call it home, he knew the city well.
Which is why it surprised me when the map of 1981 failed.
We were sailing toward the edge of the map of Calcutta under a sky so starry it looked sugared; the night would never be as beautiful after the Industrial Revolution.
Those stars dimmed as we slipped into the Margins of the map, the slender threshold between one place and the next, where India in 1774 ran out and the next shore appeared. Mist rose around us like the souls of drowned sailors, and the only sound was the muted hollow music of waves moving along the hull. Everything seemed calm, but the seas in the Margins were unpredictable—the currents mercurial and the winds erratic—and passage was always rougher the farther afield we traveled. And, very rarely, there were ghost ships in the fog, captained by those who had found the way in, but not the way out. I rubbed some warmth into my bare arms.
"Are you all right, amira?"
I made a face and nodded toward the mist. "The Margins always reminds me of purgatory. The place between worlds."
Kashmir's brow wrinkled. "Isn't purgatory supposed to be hotter?"
"That's St. Augustine's version. This is more like the Asphodel Meadows in Homer. Although with fewer blood thirsty ghosts."
Kashmir laughed. "Ah, yes, of course. I must catch up on my reading."
"Well, I'm sure you know where my books are if you ever want to steal them." I grinned as I turned back to the helm; just as quickly, the smile fell away. Slate had taken the wheel to steer us toward the far-off shore only he could see… but his face was full of frustration. He swung his head back and forth, he gripped the wheel, he leaned forward as if to get a closer look—but it was clear he couldn't see our destination.
The ship rolled on the swells, and bronze light flickered in the fog, followed by the low grumble of thunder. Rain pelted the sails, and the mist writhed in a sudden gust. In the crow's nest above our heads, Rotgut cursed; he must have been swaying like a metronome.
New York should not have been difficult, not like this. "What's wrong, Captain?"
"I don't know!" Slate wrenched the wheel starboard, trying to take us around, but the waves were pushing hard to port. Near the prow, Bee tensioned the halyard on the jib, the bell at her waist swinging as she moved.
The Temptation groaned, and the ship shuddered as a swell hit, followed by another high enough to send spray over the rail. Kashmir caught my arm and pulled me close to the mast. I held on, keeping clear of the boom; my fingers found the rough splinters of the bullet hole. A breaker washed the deck, the cold sea soaking my feet.
"Slow down," Slate said. "I need more time!"
Kashmir sprang into action, racing up the stairs to the quarterdeck and grabbing the sea anchor. I followed on his heels and helped heave it off the stern. As the canvas caught our wake and dragged, another swell hit broadside and jolted us hard enough to rattle my teeth. This time Kashmir stumbled; I took his hand and grabbed the rail, bracing for the next wave, but it never came. The sea stilled once more as we ran right off the edge of the map.
Disclaimer: Thanks to Goodreads and Amazon for the book cover, about the book, and author information. Buying via these above links allows my site to get a % of the sale at no cost to you. This money gets used to buy items for giveaways. In accordance with FTC guidelines regarding endorsements and testimonials for bloggers, I would like my readers to know that many of the books I review are provided to me for free by the publisher or author of the book in exchange for an honest review. I am in no way compensated for any reviews on this site. All donations are to help keep this site running via costs from shipping, .com charges, and other giveaways.
Comments are DELICIOUS! and now that were using this new format for comments the TOP 3 Commenters will all win bookish goodies each month! So that is just one more reason to comment! This is open to everyone! So get commenting!
Don't forget to check out our Facebook, Twitter, Instagram, and Pinterest!
@CrossroadReview