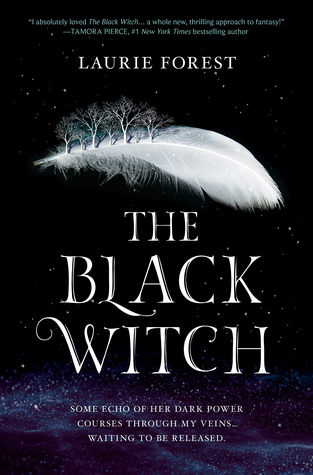 A new Black Witch will rise…her powers vast beyond imagining.
Elloren Gardner is the granddaughter of the last prophesied Black Witch, Carnissa Gardner, who drove back the enemy forces and saved the Gardnerian people during the Realm War. But while she is the absolute spitting image of her famous grandmother, Elloren is utterly devoid of power in a society that prizes magical ability above all else.
When she is granted the opportunity to pursue her lifelong dream of becoming an apothecary, Elloren joins her brothers at the prestigious Verpax University to embrace a destiny of her own, free from the shadow of her grandmother's legacy. But she soon realizes that the university, which admits all manner of people—including the fire-wielding, winged Icarals, the sworn enemies of all Gardnerians—is a treacherous place for the granddaughter of the Black Witch.
As evil looms on the horizon and the pressure to live up to her heritage builds, everything Elloren thought she knew will be challenged and torn away. Her best hope of survival may be among the most unlikely band of misfits…if only she can find the courage to trust those she's been taught to hate and fear.
Laurie Forest
lives deep in the backwoods of Vermont where she sits in front of a wood stove drinking strong tea and dreaming up tales full of dryads, dragons, and wands.
The Black Witch
is her first novel.
I really really wanted to love this. It had so much going for it. I loved that it had a Harry Potter feel and that it was ingrained with a ton of other creatures from other myths. I know there has been a lot of hate cycling about this book but I want to express I didn't see anything wrong with it. I think a society in a book can say that they are better to another without getting back lash for it. In this book and others like it. Its expressed that those people are also evil. We see this in this book as well. We see
them going after a baby etc. So we see the corruption that the

Gardnerian people are doing. The author does a wonderful job at showing us

the dangers of this behavior and how you need to be more accepting.
That being said the only reason I am rating this book a 3 is that I found that after a while it just became slow and boring. I lost
interest in the characters and their plight. It started to feel more of a middle grade book than a high teen. I also started getting bored with all the wand this and wand that. It was very repetitive and come to think about it that is also what made another book called Truthwitch hard to get through. I wish that different words would have been created instead.
I would like to also say this. I found the following in another review and wanted to share. I do believe that people before reading all the mob hate for this book to try it for yourself. This year our motto which we have never really had one was created becuase of things like this. You as a reader should be able to Read what you love and Love what you read without being scared that people are going to come after you.
I would also like to make a comment on the quotes used in some of the negative reviews. These quotes don't mean anything if you don't provide the context! Quotes are just quotes, said by characters. For example, Elloren is in great shock when she discovers her brother is gay. Not because she hates gays but simply because she
loves her brother and fears for his life!
Also, homosexuality isn't accepted in the Gardnerian culture so Elloren doesn't know a lot about it. She quickly realises that she could never be wandfasted (marriage) to a woman. This makes her see her brother's point of view and she realises that it is the same for him! All this shows how much Elloren cares for the safety of the people that she loves.
This is The Librarian Reader
I know that my twitter is gone. With school taking over I picked up a full course load I decided to just delete for the time being. I will be reviewing stuff here on Crossroads though. I have to say that I LOVED THIS BOOK!! I think people need to stop hounding all these new books and let people read them when they come out. I love being able to read things before they are released but its getting to the point where books are being pulled from publication before they have a change to well even have a chance.
This book I have to agree with Jessica's review above that it was very good to start with. The wand this and wand that did get kinda repetitive but I am ok with that. I read this book in just under a day and loved every bit of it. I loved the interactions between the characters and how the MC grew into her own as she learned that how she was raised may not be right.
This book is one of our time that I think everyone should read it shows you that accepting people how they are make you a stronger person.
The beings in this story are fantastic. I loved learning about them and I can't wait for the next book to see where the author is taking all the characters.
Disclaimer:
"All opinions are 100% honest and my own."
Thanks to Goodreads and Amazon for the book cover, about the book, and author information. Buying via these links allows my site to get a % of the sale at no cost to you. This money gets used to buy items for giveaways.
FTC Guidelines: In accordance with FTC guidelines regarding endorsements and testimonials for bloggers, I would like my readers to know that many of the books I review are provided to me for free by the publisher or author of the book in exchange for an honest review. If am compensated for any reviews on this site I will state that post has been sponsored.
Donations: All donations are to help keep this site running via costs from shipping, .com charges, and other giveaways.
Comments are DELICIOUS! and now that were using this new format for comments the TOP 3 Commenters will all win bookish goodies each month! So that is just one more reason to comment! This is open to everyone! So get commenting!
Don't forget to check out our Facebook, Twitter, Instagram, and Pinterest!
@CrossroadReview