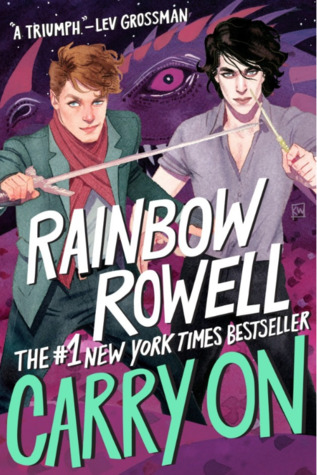 Simon Snow is the worst Chosen One who's ever been chosen.
That's what his roommate, Baz, says. And Baz might be evil and a vampire and a
complete git
, but he's probably right.
Half the time, Simon can't even make his wand work, and the other half, he starts something on fire. His mentor's avoiding him, his girlfriend broke up with him, and there's a magic-eating monster running around, wearing Simon's face. Baz would be having a field day with all this, if he were here — it's their last year at the Watford School of Magicks, and Simon's infuriating nemesis didn't even bother to show up.
Carry On - The Rise and Fall of Simon Snow
is a ghost story, a love story and a mystery. It has just as much kissing and talking as you'd expect from a Rainbow Rowell story - but far, far more monsters.
RAINBOW ROWELL lives in Omaha, Nebraska, with her husband and two sons. She's also the author of
Landline
,
Fangirl
,
Eleanor & Park
, and
Attachments
.
NOTE to Publisher!
I want all your books!! Signed by the authors!! I thank St. Martin's Press so much for the paperback copy of Carry On!! I died when my mom texted me saying it had come!!!
!This is Endy!
Carry on was a great book. It had a good storyline as well as good characters, setting, and pace. I was interested in this book because fanfiction isn't usually published. So I thought of this story as unique and different.
I think the romance between Simon and Baz was adorable. I don't find that many gay relationships in regular books. I usually only find them in manga, anime, or fanfiction, as well as fan art.
Simon was my favorite character I thought it was funny, I thought it was nice that he asked himself if he was gay. It really showed how he grew as a character throughout the story. I also liked that Baz asked the same thing as well.
I also felt sorry for Simon as he always thought he couldn't go into relationships because he was terrible and worked more than paid attention to them. He questioned himself which I figured was why he's my favorite character. Becuase, I also do the same thing.
Simon also was annoyed that he was the chosen one and that he could get other people hurt.
The rest of the cast in this book were great. But, they didn't really click with me like Simon and Baz did.
This book was fantastic. The book switched between multiple POVs and had a great pace. It explained many reasons why they did certain things and what they thought. I liked the fantasy side of the book as well. But the ending was my favorite part.
I was

actually sad

when the book ended, I wanted more. I really hope for a book two. I

know every series must come to and end, but, a book two would be nice, or a nice thought.
Fans of Harry Potter will love this story!
Book in a Pinch
Fanfiction come to life!
Go Into This One Knowing
Multiple POVs, Gay MC's, Death
Disclaimer:
"All opinions are 100% honest and my own."
Thanks to Goodreads and Amazon for the book cover, about the book, and author information. Buying via these links allows my site to get a % of the sale at no cost to you. This money gets used to buy items for giveaways.
FTC Guidelines: In accordance with FTC guidelines regarding endorsements and testimonials for bloggers, I would like my readers to know that many of the books I review are provided to me for free by the publisher or author of the book in exchange for an honest review. If am compensated for any reviews on this site I will state that post has been sponsored.
Donations: All donations are to help keep this site running via costs from shipping, .com charges, and other giveaways.
Comments are DELICIOUS! and now that were using this new format for comments the TOP 3 Commenters will all win bookish goodies each month! So that is just one more reason to comment! This is open to everyone! So get commenting!
Don't forget to check out our Facebook, Twitter, Instagram, and Pinterest!
@CrossroadReview