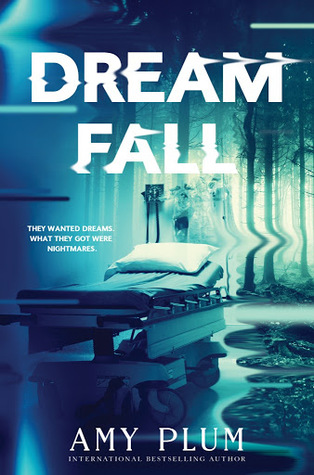 Cata Cordova suffers from such debilitating insomnia that she agreed to take part in an experimental new procedure. She thought things couldn't get any worse...but she was terribly wrong.

Soon after the experiment begins, there's a malfunction with the lab equipment, and Cata and six other teen patients are plunged into a shared dreamworld with no memory of how they got there. Even worse, they come to the chilling realization that they are trapped in a place where their worst nightmares have come to life. Hunted by creatures from their darkest imaginations and tormented by secrets they'd rather keep buried, Cata and the others will be forced to band together to face their biggest fears. And if they can't find a way to defeat their dreams, they will never wake up.
Amy Plum is the international bestselling author of
After the End
and the Die for Me series. She spent her childhood in Birmingham, Alabama, her twenties in Chicago and Paris, and several more years in London, New York, and the Loire Valley. Now she lives in Paris and swears she'll never move again.
This one I wasn't to sure about. But I was blown away by this title!! One thing I want to say is that this book is a true series starter! You find out about the characters and their situation as well as how they are starting to blend as a team in their situation and that is about all you find out in this one.
Now that being said this book was so good so don't let that deter you from reading it. If your looking for an edge of your seat thrill ride then you found it! This one has characters from all walks of life and I have to say that it had some great twists that I didn't see coming! I really can't wait for book two as I really want to know what happens. This one ends on a major cliffhanger!!!
I really liked that we got two POVs inside the Dreamfall as well as one POV outside of it. It gives you a great over view of what is happening inside and outside their world. I also really liked how the book got its title and how it is mentioned in the story. You normally just get a quick mention of it and I like that this one really met something. The next thing I really loved was the Dreamfall itself. I love dreams and the science of sleep. This book goes way beyond what you would think it should but the author did an amazing job giving us all the information without confusing you or making you think you need a background in insomnia and dreams.
This was an edge of your seat thrill ride that I just couldn't put down. Its only 288 pages and I so wish it would have been longer. I would have liked to stay in that world just a little bit more. But that being said this is a very quick read that will knock your socks off and make you not want to go to sleep.
Book in a Pinch
If you die in your dreams you die in real life!
Go Into This One Knowing
Cliffhanger, Series Starter
Disclaimer:
"All opinions are 100% honest and my own."
Thanks to Goodreads and Amazon for the book cover, about the book, and author information. Buying via these links allows my site to get a % of the sale at no cost to you. This money gets used to buy items for giveaways.
FTC Guidelines: In accordance with FTC guidelines regarding endorsements and testimonials for bloggers, I would like my readers to know that many of the books I review are provided to me for free by the publisher or author of the book in exchange for an honest review. If am compensated for any reviews on this site I will state that post has been sponsored.
Donations: All donations are to help keep this site running via costs from shipping, .com charges, and other giveaways.
Comments are DELICIOUS! and now that were using this new format for comments the TOP 3 Commenters will all win bookish goodies each month! So that is just one more reason to comment! This is open to everyone! So get commenting!
Don't forget to check out our Facebook, Twitter, Instagram, and Pinterest!
@CrossroadReview