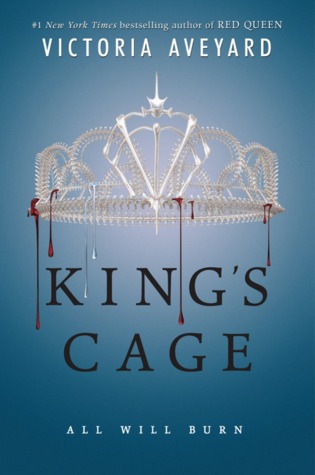 In this breathless third installment to Victoria Aveyard's bestselling Red Queen series, allegiances are tested on every side. And when the Lightning Girl's spark is gone, who will light the way for the rebellion?

Mare Barrow is a prisoner, powerless without her lightning, tormented by her lethal mistakes. She lives at the mercy of a boy she once loved, a boy made of lies and betrayal. Now a king, Maven Calore continues weaving his dead mother's web in an attempt to maintain control over his country—and his prisoner.

As Mare bears the weight of Silent Stone in the palace, her once-ragtag band of newbloods and Reds continue organizing, training, and expanding. They prepare for war, no longer able to linger in the shadows. And Cal, the exiled prince with his own claim on Mare's heart, will stop at nothing to bring her back.

When blood turns on blood, and ability on ability, there may be no one left to put out the fire—leaving Norta as Mare knows it to burn all the way down.
Victoria Aveyard was born and raised in East Longmeadow, Massachusetts, a small town known only for the worst traffic rotary in the continental United States. She moved to Los Angeles to earn a BFA in screenwriting at the University of Southern California. She currently splits her time between the East and West coasts. As an author and screenwriter, she uses her career as an excuse to read too many books and watch too many movies. You can visit her online at www.victoriaaveyard.com.
Ok, so this is the first time I've been through this story. I have to say that I wasnt sure what I was going to get. But I am happy with the outcome. Unlike Glass Sword this book was full of action and more. I spent most of the book feeling so sorry for Mare and how she was being treated after she was captured. This book was so full of things that I just didnt see coming that I couldnt put it down. I stayed up late to finish it and I was just blown away.
The only thing I didnt like was the ending. It didnt really have one. It ends with just one sentence proclaiming something (I wont spoil it) and then that was it. I turned the page thinking there was going to be another chapter or something and well there wasnt.
Other than that we get some new things in this one. We get the POV of Evangeline, Cameron, and of courese Mare. I think that this was interesting to get a full circle view of what was going on where. BUT, I think it pulled away from the other books since those were only in Mare's POV. I think this one would have been better if it would have been just in Mare's POV. We wouldnt have known as much and some things would have been more surprising. If the author knew they were going to have this book in different POVs I think that all of the books should have been that way as well. It would have made it flow better as a series.
Other than those two things this book was still very good. Mare and the group grow even more and I think that Cal hopefully is close to figuring out what he needs to do. I really hope that someone kicks his ass and asks him WTF man go after Mare!! Dont let her leave you etc.
This one was a very emotional ride and I cant wait for the next one.
Disclaimer:
"All opinions are 100% honest and my own."
Thanks to Goodreads and Amazon for the book cover, about the book, and author information. Buying via these links allows my site to get a % of the sale at no cost to you. This money gets used to buy items for giveaways.
FTC Guidelines: In accordance with FTC guidelines regarding endorsements and testimonials for bloggers, I would like my readers to know that many of the books I review are provided to me for free by the publisher or author of the book in exchange for an honest review. If am compensated for any reviews on this site I will state that post has been sponsored.
Donations: All donations are to help keep this site running via costs from shipping, .com charges, and other giveaways.
Comments are DELICIOUS! and now that were using this new format for comments the TOP 3 Commenters will all win bookish goodies each month! So that is just one more reason to comment! This is open to everyone! So get commenting!
Don't forget to check out our Facebook, Twitter, Instagram, and Pinterest!
@CrossroadReview