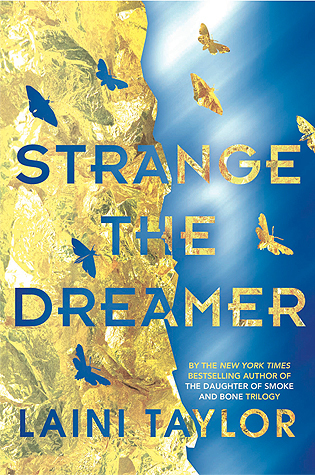 The dream chooses the dreamer, not the other way around—and Lazlo Strange, war orphan and junior librarian, has always feared that his dream chose poorly. Since he was five years old he's been obsessed with the mythic lost city of Weep, but it would take someone bolder than he to cross half the world in search of it. Then a stunning opportunity presents itself, in the person of a hero called the Godslayer and a band of legendary warriors, and he has to seize his chance or lose his dream forever.
What happened in Weep two hundred years ago to cut it off from the rest of the world? What exactly did the Godslayer slay that went by the name of
god
? And what is the mysterious problem he now seeks help in solving?
The answers await in Weep, but so do more mysteries—including the blue-skinned goddess who appears in Lazlo's dreams. How did he dream her before he knew she existed? And if all the gods are dead, why does she seem so real?
Welcome to Weep.
Laini Taylor is the
New York Times
bestselling author and a National Book Award finalist. She is the author of the global sensation the Daughter of Smoke & Bone trilogy:
Daughter of Smoke & Bone
,
Days of Blood & Starlight
, and
Dreams of Gods & Monsters
, and the companion e-novella,
Night of Cake & Puppets
. She is also the author of the Dreamdark books
Blackbringer
and
Silksinger
, and the highly acclaimed
Lips Touch: Three Times
. She lives in Portland, Oregon, with her husband, illustrator Jim Di Bartolo, and their daughter Clementine.
I was so excited to get this book this year. I was dying to read it after I read Daughter of Smoke and Bone. But where that book was engaging this one felt like the story that couldn't get started. We start out with Strange being young and an orphan. We then speed though to him being 18 and his works being taken by another guy who well I have to say is pretty full of himself. To them being wicked away to an unseen world.
I really loved the premise of this one and it did have its good parts. I loved that Strange was out battling imaginary enemies to have this name taken from him. (the name of the unseen world) That was very interesting. And it kept me going for a few more chapters. I loved that he loved books and that his world was quiet etc. But for the most part I just really didn't care fro Strange. He wasn't a character I could relate to and he was pretty boring.
This story written as it was has some very beautifully written lines but it also have even more things that we just didn't need. I think this book suffers from filler that we just didn't need. If it would have gotten off better and quicker these filler items could have either been cut out totally or put in, in other parts of the story as a flash back. I think it would have made for a much better story.
I ended up DNFing this one shortly after 100 pages I just couldn't force myself to read it anymore.
Book in a Pinch
A journey that doesnt end.
Go Into This One Knowing
Slow, Boring, and Changes POV in parts.
Disclaimer:
"All opinions are 100% honest and my own."
Thanks to Goodreads and Amazon for the book cover, about the book, and author information. Buying via these links allows my site to get a % of the sale at no cost to you. This money gets used to buy items for giveaways.
FTC Guidelines: In accordance with FTC guidelines regarding endorsements and testimonials for bloggers, I would like my readers to know that many of the books I review are provided to me for free by the publisher or author of the book in exchange for an honest review. If am compensated for any reviews on this site I will state that post has been sponsored.
Donations: All donations are to help keep this site running via costs from shipping, .com charges, and other giveaways.
Comments are DELICIOUS! and now that were using this new format for comments the TOP 3 Commenters will all win bookish goodies each month! So that is just one more reason to comment! This is open to everyone! So get commenting!
Don't forget to check out our Facebook, Twitter, Instagram, and Pinterest!
@CrossroadReview