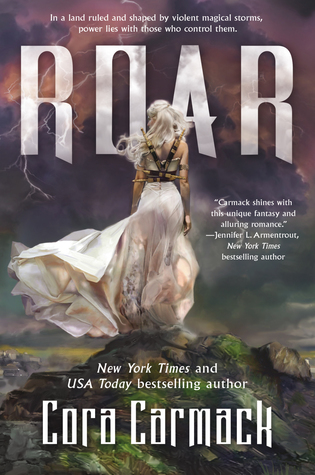 In a land ruled and shaped by violent magical storms, power lies with those who control them.
Aurora Pavan comes from one of the oldest Stormling families in existence. Long ago, the ungifted pledged fealty and service to her family in exchange for safe haven, and a kingdom was carved out from the wildlands and sustained by magic capable of repelling the world's deadliest foes. As the sole heir of Pavan, Aurora's been groomed to be the perfect queen. She's intelligent and brave and honorable. But she's yet to show any trace of the magic she'll need to protect her people.
To keep her secret and save her crown, Aurora's mother arranges for her to marry a dark and brooding Stormling prince from another kingdom. At first, the prince seems like the perfect solution to all her problems. He'll guarantee her spot as the next queen and be the champion her people need to remain safe. But the more secrets Aurora uncovers about him, the more a future with him frightens her. When she dons a disguise and sneaks out of the palace one night to spy on him, she stumbles upon a black market dealing in the very thing she lacks—storm magic. And the people selling it? They're not Stormlings. They're storm hunters.
Legend says that her ancestors first gained their magic by facing a storm and stealing part of its essence. And when a handsome young storm hunter reveals he was born without magic, but possesses it now, Aurora realizes there's a third option for her future besides ruin or marriage.
She might not have magic now, but she can steal it if she's brave enough.
Challenge a tempest. Survive it. And you become its master.
Roar Map~ Power lies with those who can control the storm. Welcome to Catlira. Get to know the world of Roar by Cora Carmack with this downloadable map. Print it our and color it in.
Cora Carmack has done a multitude of things in her life–boring jobs (retail), fun jobs (theatre), stressful jobs (teaching), and dream jobs (writing). Raised in a small Texas town, she now lives in New York City and Texas, and spends her time writing, traveling, and marathoning various television shows on Netflix. Her first book,
Losing It
, was a
New York Times
and
USA Today
bestseller, and her subsequent books were also hits.
When I started this one I wasn't too sure about it. It didn't really feel like a young adult fantasy book and was leaning more towards how adult fantasy feels to me. But shortly after reading a few chapters I was engrossed in the world and the story and I couldn't put it down. I loved Aurora, Rora, Roar and how she never gave up no matter what was going on. She knew her mind and wasn't scared to do what needed to be done.
The side characters were fabulous and everyone had something that needed to be done so they all fit very well within the story. The world building was fantastic! I loved how original this story was as we don't get many things that are new in young adult these days. But the entire aspect of the storms and magic in this world was something new!
The story flows very well and the pace was wonderful. It did get a little slow in the middleish part but it wasn't slow enough to really kill the story. The ending of this one will have you screaming THATS IT?!?!?!?! and the twist and POVs were wonderful. This is one where although you are mainly in the POV of Roar you also have moving POVs throughout the book. They are all done very well and you will always know where you are. I never wondered who's POV I was in which was great.
I do kinda hate where the book ended as it didn't really sum anything up. It just kinda stopped. I wish it could have come full circle or ended when she found out that she needed to go home and then let the next book start from there. That would have made for a dramatic ending but would have still felt like a full book. It also would have allowed the trip home to be slowed down as that entire part of this book sped up very quickly and pretty much just got glossed over. The way it ended really just made it feel like a tv episode where it says to be continued......
I love series but I do believe that each one even if it ends on a cliffhanger should feel like a full completed book and this one just fell a little far from that. But even with that, it was still a 5-star book. The rest of the story etc was wonderful and this was more personal opinion than it really ruined the experience of the story.
Book in a Pinch
Storms, Stones, and some pretty steamy parts!
Go Into This One Knowing
Something new for the young adult crowd! Cliffhanger!!
This is Endy!!!
Aurora, Or Rora is the main character of this book. People say it was a romance but I think the romance was around the middle to the end. This felt like an adult fantasy. Most characters have either big or small conflicts, and there was a point where some characters get lost in thought. Even though this book didnt appeal to me, as I read it, I changed my mind towards the end. I like that Aurora is a strong female character. I didn't like the cliffhanger at the end. Also, I wish there was more information about the storms. Maybe even a book about their kind an species. To me, I didn't get enough information about them.
a Rafflecopter giveaway
Disclaimer:
"All opinions are 100% honest and my own."
Thanks to Goodreads and Amazon for the book cover, about the book, and author information. Buying via these links allows my site to get a % of the sale at no cost to you. This money gets used to buy items for giveaways.
FTC Guidelines: In accordance with FTC guidelines regarding endorsements and testimonials for bloggers, I would like my readers to know that many of the books I review are provided to me for free by the publisher or author of the book in exchange for an honest review. If am compensated for any reviews on this site I will state that post has been sponsored.
Donations: All donations are to help keep this site running via costs from shipping, .com charges, and other giveaways.
Comments are DELICIOUS! and now that were using this new format for comments the TOP 3 Commenters will all win bookish goodies each month! So that is just one more reason to comment! This is open to everyone! So get commenting!
Don't forget to check out our Facebook, Twitter, Instagram, and Pinterest!
@CrossroadReview
Save
Save