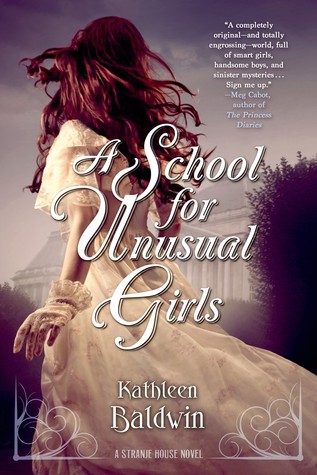 The launch of a captivating new YA series set in Regency England that #1 New York Times bestselling author Meg Cabot calls "completely original and totally engrossing."
It's 1814. Napoleon is exiled on Elba. Europe is in shambles. Britain is at war on four fronts. And Stranje House, a School for Unusual Girls, has become one of Regency England's dark little secrets. The daughters of the beau monde who don't fit high society's constrictive mold are banished to Stranje House to be reformed into marriageable young ladies. Or so their parents think. In truth, Headmistress Emma Stranje, the original unusual girl, has plans for the young ladies—plans that entangle the girls in the dangerous world of spies, diplomacy, and war.
After accidentally setting her father's stables on fire while performing a scientific experiment, Miss Georgiana Fitzwilliam is sent to Stranje House. But Georgie has no intention of being turned into a simpering, pudding-headed, marriageable miss. She plans to escape as soon as possible—until she meets Lord Sebastian Wyatt. Thrust together in a desperate mission to invent a new invisible ink for the English war effort, Georgie and Sebastian must find a way to work together without losing their heads—or their hearts...
Award-winning author
Kathleen Baldwin
loves adventure in books and in real life. She taught rock climbing in the Rockies, survival camped in the desert, was stalked by a mountain lion, lost an argument with a rattlesnake, enjoyed way too many classes in college, fell in love at least a dozen times, and married her very own hero. They've raised four free-spirited adventurous children.
Find more about Kathleen on her
Website
,
Newsletter
,
Twitter
,
Facebook
Awarded 2016 Spirit of Texas, A School for Unusual Girls , is her first historical romance for Young Adults. It is a Junior Library Guild selection. Publisher's Lunch listed it in their 2015 Young Adult BookBuzz. Kansas State NEA Reading Circle gave it a starred review in their 2016 "Best of the Best" for High Schools. Scholastic licensed it for book fairs, and New York Times Book Review called it "enticing from the first sentence."
Kathleen is also an avid reader and adores the wit and humor of Oscar Wilde, P.G. Wodehouse, and Jane Austen. Her eclectic reading interests range from Frank Herbert to Meg Cabot, and on to the delightfully imaginative tales of Diana Wynne Jones.
We will be sharing an interview via the author for the next three days. We hope you enjoy getting to know her a little better.
What is your name, where were you born and where do you live now?
Hi! I'm Kathleen Baldwin. I was born in Arizona and I now live in Texas.
Did you always want to be a writer? If not what did you want to be?
I have always written, ever since I was little. Weaving a story is part of who I am. However, I thought I would also be a heart surgeon or a brain surgeon. Nope, just a writer, although I still love science.
When did you first consider yourself as a "writer"?
It was in high school—my teachers kept shuffling me out of English classes and placing me in Creative Writing and Literature classes. My first published poem was submitted by one of my teachers.
What is the name of your latest book, and if you had to summarize it in less than 20 words what would you say?
Refuge for Dreamers. (20 words, uh-huh, that's a challenge. Here goes...
)
Lady Jane, while training to become a spy, develops a hopeless crush on a young American inventor with deplorable manners.
We are so excited to be able to do a giveaway for all three books in this series it has been one of the best I have read and it will forever be one of my favorties. No other book gives girls empowerment to follow their hearts and to use their brains. I love this series and cant wait for more from this author! We hope that you enjoy this giveaway!
a Rafflecopter giveaway
Disclaimer:
"All opinions are 100% honest and my own."
Thanks to Goodreads and Amazon for the book cover, about the book, and author information. Buying via these links allows my site to get a % of the sale at no cost to you. This money gets used to buy items for giveaways.
FTC Guidelines: In accordance with FTC guidelines regarding endorsements and testimonials for bloggers, I would like my readers to know that many of the books I review are provided to me for free by the publisher or author of the book in exchange for an honest review. If am compensated for any reviews on this site I will state that post has been sponsored.
Donations: All donations are to help keep this site running via costs from shipping, .com charges, and other giveaways.
Comments are DELICIOUS! and now that were using this new format for comments the TOP 3 Commenters will all win bookish goodies each month! So that is just one more reason to comment! This is open to everyone! So get commenting!
Don't forget to check out our Facebook, Twitter, Instagram, and Pinterest!
@CrossroadReview
Save
Save