Here is the first post of today. MAN this one I have to thank the publisher so MUCH for this title. As well as Owlcrate for choosing it. Becuase I would have never picked it up without them! This one was SO FAB and out of this world!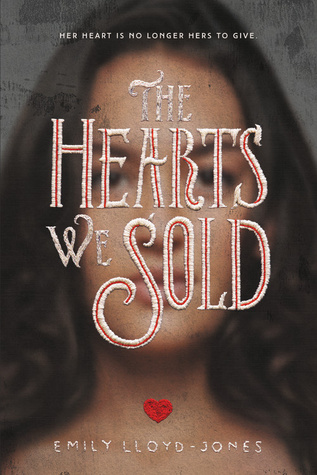 When Dee Moreno makes a deal with a demon—her heart in exchange for an escape from a disastrous home life—she finds the trade may have been more than she bargained for. And becoming "heartless" is only the beginning. What lies ahead is a nightmare far bigger, far more monstrous than anything she could have ever imagined.
With reality turned on its head, Dee has only a group of other deal-making teens to keep her grounded, including the charming but secretive James Lancer. And as something grows between them amid an otherworldy ordeal, Dee begins to wonder: Can she give someone her heart when it's no longer hers to give?
Emily Lloyd-Jones grew up on a vineyard in rural Oregon, where she played in evergreen forests and learned to fear sheep. After graduating from Western Oregon University with an English degree, she enrolled in the publishing program at Rosemont College just outside of Philadelphia. She currently resides in Northern California, working in a bookstore by day and writing by night.
When I picked this one up I wasn't really sure about it. I got this book via the publisher for review as well as in my August Owlcrate. My first impression of this one was that it felt like a high middle-grade title. However, that changed within the first three chapters. By the time that I was that far I was hooked and I ended up getting to chapter 11 within the first day.
This story is one of a kind and I couldn't put it down. The author did a wonderful job pulling you into the story and giving you bits and pieces of the history of what they called Daemons throughout the story. I don't say this often but I think this would have been a fabulous book one to a series it made the perfect set up to an even bigger story. We didn't need to lose a few certain people during this one, as I think it would have been great to have at least two books with these characters and their stories.
The setting and pacing in this one worked out well. The backdrop of Portland really made me feel like I was reading something kind of connected to the TV Grimm. It just had that feel of creatures and beings. And the void's were amazingly creepy!!! Here the author did a fabulous job creating these very interesting/scary as crap rips in the fabric of our world.
As for the characters OMG, I fell in love with everyone even the Daemon I REALLY want a book two and I don't know somehow a certain someone who dies :( sad face of crying tears ): comes back somehow!!!! #BookBoyfriendsCantDie! All the characters I really liked their very short chapters and the change of POV. We found out why they sold their hearts and really got to know what made them tick. I loved that they didn't have all their crap together. As for the main character, Dee was wonderful. I really loved how she grew throughout this title. She realized that her home life wasn't what it should be and she had the strength with the help from friends to change it. That she stood up for herself. As for the secondary characters, I really wish that Dee's parents would have had redeeming qualities. I know that sometimes you just don't get a second chance. But it would have been nice to have them become the people that they should have been. For other secondary character's Dee's roommate was awesome and I love her idea of a "Craft Night" (sorry you have to read the book to figure that one out.) I also really loved her attitude. We really don't get many other side/secondary characters in this one. The only issue I slightly had was that a new character or heartless as they are called was introduced towards the end. I did enjoy how and why they were added but I think that would have worked out a lot better if this was only a book one. Since by the time this character joins the group to the time that the story is over we don't get to really know her as well as we do the other characters.
The ending of this one was pretty straight forward. It ended on a good note I really did love the ending but I still think that it fell flat just a smidge. It felt slightly rushed and I really really think that this would have been a lot better if it wouldn't have been the ending ending. (ie. ending there are no more books set in this world!) This book, in the end, was very well paced and has an amazing cast of characters. I will most definitely read it again sometime in the future.
If you are looking for a book that is going to rip your heart out (literally) and then put it back in just to rip it out and shred it again then this is the book for you. We have this amazing world from this wonderful author about first love, standing up for yourself, magic, demons/aliens/beings, good vs. evil, and saving the world, then this is most definitely the book for you!
a Rafflecopter giveaway
Disclaimer:
"All opinions are 100% honest and my own."
Thanks to Goodreads and Amazon for the book cover, about the book, and author information. Buying via these links allows my site to get a % of the sale at no cost to you. This money gets used to buy items for giveaways.
FTC Guidelines: In accordance with FTC guidelines regarding endorsements and testimonials for bloggers, I would like my readers to know that many of the books I review are provided to me for free by the publisher or author of the book in exchange for an honest review. If am compensated for any reviews on this site I will state that post has been sponsored.
Donations: All donations are to help keep this site running via costs from shipping, .com charges, and other giveaways.
Comments are DELICIOUS! and now that were using this new format for comments the TOP 3 Commenters will all win bookish goodies each month! So that is just one more reason to comment! This is open to everyone! So get commenting!
Don't forget to check out our Facebook, Twitter, Instagram, and Pinterest!
@CrossroadReview
Save
Save
Save
Save