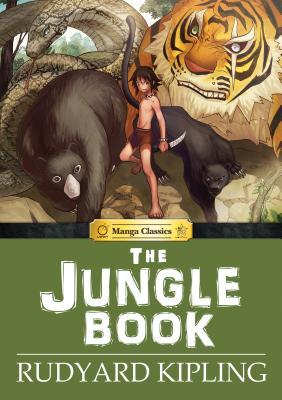 Heavily influenced by his childhood in British-ruled India, Rudyard Kipling created some of the most well-read children s stories in Western Culture. Book One of The Jungle Book(s) includes Mowgli s Brothers, the story of Mowgli, the abandoned man-cub who was raised by animals in the Indian jungle, Rikki-Tikki-Tavi the heroic mongoose, and Toomai of the Elephants, the tale of a young elephant-handler, and in The White Seal, we meet Kotick, a rare white-furred northern fur seal as he searches for a home where his family will not be hunted by humans. Originally published as a series of short stories for magazines in the late 1800s, the Nobel Prize-winning Rudyard Kipling would eventually publish the classic The Jungle Book in 1894."
Joseph Rudyard Kipling was an English journalist, short-story writer, poet, and novelist. Kipling was one of the most popular writers in the United Kingdom and North America in the late 19th and early 20th centuries. In 1907 he was awarded the Nobel Prize in Literature. He is also regarded as a major innovator in the art of the short story.
Crystal S. Chan is an award-winning author and television screen play writer. She holds a degree in language and literature. Crystal is a huge fan of authors such as Jane Austen and she is equally passionate about Sailor Moon. Her passion for classic literature combined with her love of the comics medium allows her to strike a solid balance between preserving the depth of the original content while adapting the language for a younger generation.
Julien Choy has been working in the comic, animation and video game industries for more two decades. His works include the comic version of SNK's The King of Fighters, and Capcom's Street Fighter in Asia. Julien is a multi-talented creator who has mastered a wide range of art styles. While he is widely known for his main-stream work, his passion lies with themes of inspiration, parenting, and the environment. He tried makes a special effort to share his positive attitudes with his readers.
This is Endy!
This one follows Rudyard Kipling's original seven stories very well with the added blend of the artwork it made this one awesome. I am not really familiar with the original book of Jungle Book and I have only ever seen the new live action movie. But I still enjoyed this story. The pictures (wish they were in color) really made this book come alive.
I really love this collection of Manga Classics and I cant wait to get a hold of the next set.
Disclaimer:
"All opinions are 100% honest and my own."
Thanks to Goodreads and Amazon for the book cover, about the book, and author information. Buying via these links allows my site to get a % of the sale at no cost to you. This money gets used to buy items for giveaways.
FTC Guidelines: In accordance with FTC guidelines regarding endorsements and testimonials for bloggers, I would like my readers to know that many of the books I review are provided to me for free by the publisher or author of the book in exchange for an honest review. If am compensated for any reviews on this site I will state that post has been sponsored.
Donations: All donations are to help keep this site running via costs from shipping, .com charges, and other giveaways.
Comments are DELICIOUS! and now that were using this new format for comments the TOP 3 Commenters will all win bookish goodies each month! So that is just one more reason to comment! This is open to everyone! So get commenting!
Don't forget to check out our Facebook, Twitter, Instagram, and Pinterest!
@CrossroadReview
Save
Save
Save
Save