Here is the last post for today! We hope you enjoyed the first day of this week long event!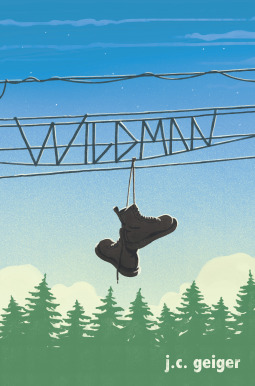 "How can a total stranger understand you better than the people you've known your entire life?"
When Lance's '93 Buick breaks down in the middle of nowhere, he tells himself
Don't panic.
After all, he's valedictorian of his class. First-chair trumpet player. Scholarship winner. Nothing can stop Lance Hendricks.
But the locals don't know that. They don't even know his name. Stuck in a small town, Lance could be anyone: a delinquent, a traveler, a maniac. One of the townies calls him Wildman, and a new world opens up.
He's ordering drinks at a roadhouse. Jumping a train. Talking to an intriguing older girl who is asking about his future. And what he really wants. As one day blurs into the next, Lance finds himself drifting farther from home and closer to a girl who makes him feel a way he's never felt before—like himself.
J. C. Geiger
(www.jcgeiger.com) has eaten the beating heart of a snake, been deported from a full-moon party, and spent a short time locked in a Bolivian prison. He also writes fiction. His short works have appeared in the pages of
Murky Depths
and
Horror Garage
, and on stage at The Second City in Chicago. J. C. now writes, teaches, directs and performs in the Pacific Northwest, where he can often be spotted behind the wheel of a 1993 Buick Century. It still runs like a dream.
This is Endy!
The first sentence confused me. It didn't really seem as a sentence to start a story.
"The song skipped."
The author did a great job at pulling me into the story around the first chapter. I was able to establish where they were and the time but, I didn't feel like I was pulled into the reader's world. I don't think I really connected because I am usually never outside in the wilderness. I didn't finish this one as fast as other books or as fast as I would have hoped. I had to put the book down several times before I finished it. The flow/pacing was interrupted many times by dialogue that slowed the story down.
The characters felt unique and they showed me a lot of emotions and expressions. Although I didn't have a favorite character I felt that Lance was a good character. He had some flaws but he really did think he was perfect. All the character's seemed real and well formed.
The main character really stood out from all the side characters well.
The author did very well with the POV. In this one, we don't get more than one and that worked out well for this title. I think if the book would have been in multi POV we wouldn't have gotten as much insight to Lance's situation.
The conflict in this story is Lance being stranded and I think it worked out well. It kept the story going and made it interesting.
The dialogue felt natural but did interrupt the flow of the story on and off. And the ending was really good. I will check in to see if this author has any more books as I enjoyed their writing style. This story overall I would reccommend to those who dont get to head to the wilderness and or wish they could escape just for a little while.
a Rafflecopter giveaway
Disclaimer:
"All opinions are 100% honest and my own."
Thanks to Goodreads and Amazon for the book cover, about the book, and author information. Buying via these links allows my site to get a % of the sale at no cost to you. This money gets used to buy items for giveaways.
FTC Guidelines: In accordance with FTC guidelines regarding endorsements and testimonials for bloggers, I would like my readers to know that many of the books I review are provided to me for free by the publisher or author of the book in exchange for an honest review. If am compensated for any reviews on this site I will state that post has been sponsored.
Donations: All donations are to help keep this site running via costs from shipping, .com charges, and other giveaways.
Comments are DELICIOUS! and now that were using this new format for comments the TOP 3 Commenters will all win bookish goodies each month! So that is just one more reason to comment! This is open to everyone! So get commenting!
Don't forget to check out our Facebook, Twitter, Instagram, and Pinterest!
@CrossroadReview