This weeks book is one that I reviewed a little while ago and couldn't put down!! This one will knock your socks off and then some!! Check out this fantasy it won't do you wrong!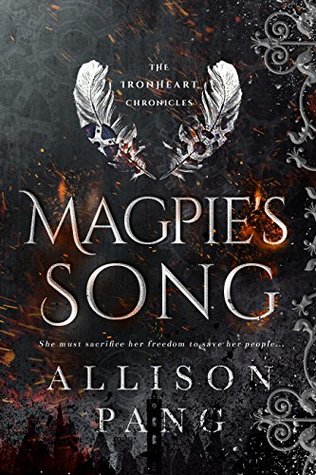 In the slums of BrightStone, Moon Children are worth less than the scrap they must collect to survive. It doesn't matter that these abandoned half-breeds are part-Meridian with their ancestors hailing from the technologically advanced city that floats above the once-thriving, now plague-ridden BrightStone. Instead they are rejected by both their ancestral societies and forced to live on the outskirts of civilization, joining clans simply to survive. Not to mention their role as Tithe, leading the city's infected citizens deep into the Pits where their disease can be controlled.

Nineteen-year-old Raggy Maggy is no different, despite the mysterious heart-shaped panel that covers her chest. Or at least she wasn't… Not until her chance discovery of a Meridian-built clockwork dragon—and its murdered owner. When the Inquestors policing the city find Maggy at the scene of the crime, she quickly turns into their prime suspect. Now she's all anyone can talk about. Even her clan leader turns his back on her, leading her to rely on an exiled doctor and a clanless Moon Child named Ghost to keep her hidden. In return, all she has to do is help them find a cure for the plague they believe was not exactly accidental. Yet doing so might mean risking more than just her life. It also might be the only key to uncovering the truth about the parents—and the past—she knows nothing about.
Allison is the author of the Urban Fantasy Abby Sinclair series, as well as the writer for the webcomic Fox & Willow. She likes LEGOS, elves, LEGO elves…and bacon.
She spends her days in Northern Virginia working as a cube grunt and her nights waiting on her kids and her cats, punctuated by the occasional husbandly serenade. Sometimes she even manages to write. Mostly she just makes it up as she goes..
Man, this one was AMAZING and if it's not on your list it needs to be. Like, go NOW! Why are you still here? Get to Amazon or wherever and order this book! It's out on the 8th. This self-published title is one of the best I have read in some time. If I hadn't known it was self-published I wouldn't have been able to tell from the story. The author did an outstanding job with this massive tale.
I still can't believe that this was only a mere 241 pages long as it seemed like it was more of a 300+ page book. I read it as an eARC on my Kindle and man was I blown away. This story has so much going on but the author told and showed it in a way that made the pages flow ever so smoothly. I couldn't put it down. I read this in just over 4 hours and started it at night which was a very bad idea since I didn't want to go to bed. It was just that good.
Ok, so the setting is a world of post-apocalyptic portions you have the world where people called Moon Children are treated like garbage they have moon colored hair and are sold off to class. Then you have this other world that is chained to this one and floats above it all. You don't really get much in a story on how such a thing is happening but it's all steampunk mechanics which I loved. Add a clockwork dragon, a moon child that should be one, and a mysterious girl with a clockwork heart and man you have one killer story!
The main character in this was fabulous I loved her from the start. Mags didn't let anyone tell her what to do and she did what needed to be done right up till the end. Ghost, the Bonewitch's and others rounded out the cast so well and even though there was a pretty large character set you won't forever anyone trust me! I always have issues with names and keeping people in line but with this one, I had no issues following along.
The plot was even better I of course even now didn't read the summary of what the book was about. Let me go do that now. Ok, so that didn't take long at all. Ya, I think I am glad I didn't read that as it gives SO MUCH AWAY! So if you haven't read that DONT! Just read the book you will be able to unravel the mystery along with everyone else and not be spoiled about what is really going on. I love doing that.
I really can't wait for the next book in the series and I will be counting the days before I can own this one in print. I am really hoping I can get a signed copy as this book was just so freaking good. This is the book other self-published authors need to look at!
Disclaimer:
"All opinions are 100% honest and my own."
Thanks to Goodreads and Amazon for the book cover, about the book, and author information. Buying via these links allows my site to get a % of the sale at no cost to you. This money gets used to buy items for giveaways.
FTC Guidelines: In accordance with FTC guidelines regarding endorsements and testimonials for bloggers, I would like my readers to know that many of the books I review are provided to me for free by the publisher or author of the book in exchange for an honest review. If am compensated for any reviews on this site I will state that post has been sponsored.
Donations: All donations are to help keep this site running via costs from shipping, .com charges, and other giveaways.
Comments are DELICIOUS! and now that were using this new format for comments the TOP 3 Commenters will all win bookish goodies each month! So that is just one more reason to comment! This is open to everyone! So get commenting!
Don't forget to check out our Facebook, Twitter, Instagram, and Pinterest!