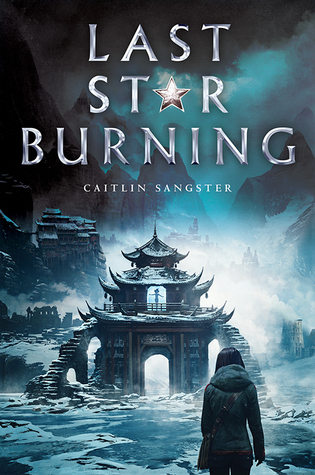 Sev is branded with the mark of a criminal—a star burned into her hand. That's the penalty for being the daughter of the woman who betrayed their entire nation.
Now her mother's body is displayed above Traitor's Arch, kept in a paralyzed half sleep by the same plague that destroyed the rest of the world. And as further punishment, Sev is forced to do hard labor to prove that she's more valuable alive than dead.
When the government blames Sev for a horrific bombing, she must escape the city or face the chopping block. Unimaginable dangers lurk outside the city walls, and Sev's only hope of survival lies with the most unlikely person—Howl, the chairman's son. Though he promises to lead her to safety, Howl has secrets, and Sev can't help but wonder if he knows more about her past—and her mother's crimes—than he lets on.
But in a hostile world, trust is a luxury. Even when Sev's life and the lives of everyone she loves may hang in the balance.
Recommended Age: Young Adult
Genre: Science Fiction, Dystopian, Light Fantasy Feel
How I Acquired this book: Publisher
About the Author:
Caitlin Sangster grew up in Northern California, moved to XinJiang when she was eighteen, and has been fascinated with how much she doesn't know about the world ever since. She graduated from Brigham Young University with a degree in Asian studies and is the person you avoid at parties because she will probably start talking about Shang dynasty oracle bones. Caitlin lives with her husband and four children in Utah. For more about Caitlin visit her at CaitlinSangster.com, on Twitter @CaitSangster, or Facebook.com/CaitlinSangsterAuthor.
Noteworthy experiences while reading this book: When I first started this one I swore I was going to DNF it but then this bridge exploded and I was hooked to the very end!! I so can't wait for book two to see where these characters go.
Check out author's other books? YES
Recommend this book? YES
Notes and Opinions: Man readers this one is one that will leave you not knowing what went down!! People die that you would have thought was safe and others survive that you thought would not. This book, once it gets going, will knock your socks off in a death-defying story about Sleeping Sickness. Set in a world where you don't know who you can trust and who you should love. I was blown away!
I started this book about a month ago and just now finished it with Endy ending up in the ICU and having to run back and forth to Orlando for her care and 2am wake up calls to check her sugar it was a trip trying to get this book done. But it was so worth the ride! The world that this author has created is beautiful, haunting, and not really a place I want to visit. The illness called SS or sleeping sickness is one that really exists in the world but she makes it come alive as something new and something very frightening.
The characters in this one were so alive. I really loved the mystery that surrounded Sev. You really didn't know any more than she did and it worked to create this dark mystery on what in the world was going on. As for the side characters, those to added some great aspects to the story. You fall in love with Howl even though you don't know if you can trust him. I do wish we would have gotten more of her friend as we only get a few pages with him in the beginning then more towards the end. I would have liked to see their romance bloom earlier on vs. already being there.
This one was closer to a dystopian vs. a fantasy but it was so good! If you are looking for something new to get your mystery tingling check this one out!
Go Into This One Knowing: Dystopian, Mystery, Slight Love Triangle
Disclaimer:
"All opinions are 100% honest and my own."
Thanks to Goodreads and Amazon for the book cover, about the book, and author information. Buying via these links allows my site to get a % of the sale at no cost to you. This money gets used to buy items for giveaways.
FTC Guidelines: In accordance with FTC guidelines regarding endorsements and testimonials for bloggers, I would like my readers to know that many of the books I review are provided to me for free by the publisher or author of the book in exchange for an honest review. If am compensated for any reviews on this site I will state that post has been sponsored.
Donations: All donations are to help keep this site running via costs from shipping, .com charges, and other giveaways.
Comments are DELICIOUS! and now that were using this new format for comments the TOP 3 Commenters will all win bookish goodies each month! So that is just one more reason to comment! This is open to everyone! So get commenting!
Don't forget to check out our Facebook, Twitter, Instagram, and Pinterest!
Save
Save