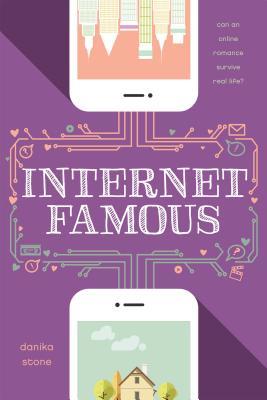 High school senior and internet sensation Madison Nakama seems to have it all: a happy family, good grades, and a massive online following for her pop-culture blog. But when her mother suddenly abandons the family, Madi finds herself struggling to keep up with all of her commitments.
Fandom to the rescue! As her online fans band together to help, an online/offline flirtation sparks with Laurent, a French exchange student. Their internet romance—played out in the comments section of her MadLibs blog—attracts the attention of an internet troll who threatens the separation of Madi's real and online personas. With her carefully constructed life unraveling, Madi must uncover the hacker's identity before he can do any more damage, or risk losing the people she loves the most… Laurent included.
Recommended Age: Young Adult
Genre: Contemporary, Romance, Mystery
How I Acquired this book: Book Subscription Box
About the Author:
Danika Stone
is an author, artist, and educator who discovered a passion for writing fiction while in the throes of her master's thesis. A self-declared bibliophile, Danika now writes novels for both adults (
Edge of Wilde
,
the Intaglio series
, and
Ctrl Z
) and teens (
All the Feels
). When not writing, Danika can be found hiking in the Rockies, planning grand adventures and spending far too much time online. She lives with her husband, three sons, and a houseful of imaginary characters in a windy corner of Alberta, Canada.
Noteworthy experiences while reading this book: I had this book via a book box last year. For the life of me, I forget which one. But I thought I was going to hate this book because of all the texting and pictures. But I ended up loving it. It's just one reason to try all books even ones you think you will hate. Becuase they might surprise you!
Check out author's other books? YES
Recommend this book? YES
Notes and Opinions: This one starts out with us learning about Madi and her life of being a blogger. She rewatches movies than does live streaming with them about her experience and feels and then does a blog post via a review. I really loved what she was doing with her site. It speeds right through the first few chapters of her mom leaving for a job and her sister having a freakout. (she's on the spectrum of autism.).
Speaking of characters! I have to say that the author did an amazing job with Sarah! I loved all the characters in this one but for a side character, she was fabulous! Madie was a wonderfully strong character as well. I really enjoyed how she dealt with the troll on her site. I also have to say that she did better than I did when we had this issue. (which we still have to this day sometimes). I have learned my lesson to just let things go and to not engage in defending my site or replying to any trolls. Becuase, in the long run, it just makes it worse. I wish that I had the number of amazing friends and supporters that Madie had a lot of ours are authors who can't speak out about certain things. (and that's fine, we fully understand). Trolls have a way of killing your carer and no author wants that.
Back to the characters through this one had a few of them that stood out. I really think that the Assistant Principle should have just gotten fired. I mean really people!!! As for Laurent I kind of wish that the about this book wouldn't have had him in there since it was a great little safu where at one point Madi thought he was a girl and well he wasn't. The romance was light and cute and I could read about their life together all the time. As for Madi and Sarah's parents, I think they really needed to get a clue. I understand that Madi was supposed to help out etc. But really they needed to deal with Sarah and the issues of people leaving. I kept thinking through all of this what is she going to do when Madi goes to college? She is in High School and needs to learn that just because people have to leave it doesn't mean they won't come back. I know that change is very hard but it is something we all have to deal with.
The story was a faster paced one that made this book really suck you in. It was slow where it needed to be and fast in places where it worked. Which made the story flow very well. The ending rounded up everything you needed to know in a nice neat bow and for me, the entire troll thing was summed up a little too easily. I mean it worked for the story but it was a little too easy if you ask me.
This is defiantly a book I will be revisiting later on. I give it 10/10 mad cows with extra lovin!!! (read the book to understand that one!)
In the words of Madi make sure to click those affiliate links so we can buy a pizza!!
(insert giggles of fun if you read this book!)
Go Into This One Knowing: Light Romance, A Little Mystery, Family, Sisters, Growing Up
Disclaimer:
"All opinions are 100% honest and my own."
Thanks to Goodreads and Amazon for the book cover, about the book, and author information. Buying via these links allows my site to get a % of the sale at no cost to you. This money gets used to buy items for giveaways.
FTC Guidelines: In accordance with FTC guidelines regarding endorsements and testimonials for bloggers, I would like my readers to know that many of the books I review are provided to me for free by the publisher or author of the book in exchange for an honest review. If am compensated for any reviews on this site I will state that post has been sponsored.
Donations: All donations are to help keep this site running via costs from shipping, .com charges, and other giveaways.
Comments are DELICIOUS! and now that were using this new format for comments the TOP 3 Commenters will all win bookish goodies each month! So that is just one more reason to comment! This is open to everyone! So get commenting!
Don't forget to check out our Facebook, Twitter, Instagram, and Pinterest!
Save
Save