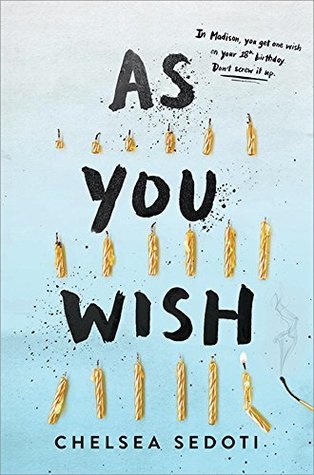 About the Book:
What if you could ask for anything- and get it?
In the sandy Mojave Desert, Madison is a small town on the road between nothing and nowhere. But Eldon wouldn't want to live anywhere else, because in Madison, everyone gets one wish—and that wish always comes true.
Some people wish for money, some people wish for love, but Eldon has seen how wishes have broken the people around him. And with the lives of his family and friends in chaos, he's left with more questions than answers. Can he make their lives better? How can he be happy if the people around him aren't? And what hope is there for any of them if happiness isn't an achievable dream? Doubts build, leading Eldon to a more outlandish and scary thought: maybe you can't wish for happiness…maybe, just maybe, you have to make it for yourself.
Publisher:
Sourcebooks Fire
Recommended Age: Young Adult
How I Acquired this book: Edelweiss
About the Author:
Chelsea Sedoti fell in love with writing at a young age after discovering that making up stories was more fun than doing her school work (her teachers didn't always appreciate this). In an effort to avoid getting a "real" job, Chelsea explored careers as a balloon twister, filmmaker, and paranormal investigator. Eventually she realized that her true passion is writing about flawed teenagers who are also afraid of growing up. When she's not at the computer, Chelsea spends her time exploring abandoned buildings, eating junk food at roadside diners, and trying to befriend every animal in the world. She lives in Las Vegas, Nevada where she avoids casinos, but loves roaming the Mojave Desert. To read more about her adventures, visit chelseasedoti.com.
Noteworthy experiences while reading this book: Pretty much kinda meh
Check out author's other books? No
Recommend this book? Not really
Notes and Opinions: I really wanted to love this one I love the cover but the story and the characters just made that impossible. I ended up DNFing this one around 40%. The main character was a real jerk and I pretty much hated her. Pretty much everyone in this book was a jerk in one way or another. I just couldn't find a reason to read this one unfortuntly.
Go Into This One Knowing: Not for me
Disclaimer:
"All opinions are 100% honest and my own."
Thanks to Goodreads and Amazon for the book cover, about the book, and author information. Buying via these links allows my site to get a % of the sale at no cost to you. This money gets used to buy items for giveaways.
FTC Guidelines: In accordance with FTC guidelines regarding endorsements and testimonials for bloggers, I would like my readers to know that many of the books I review are provided to me for free by the publisher or author of the book in exchange for an honest review. If am compensated for any reviews on this site I will state that post has been sponsored.
Donations: All donations are to help keep this site running via costs from shipping, .com charges, and other giveaways.
Comments are DELICIOUS! and now that were using this new format for comments the TOP 3 Commenters will all win bookish goodies each month! So that is just one more reason to comment! This is open to everyone! So get commenting!
Don't forget to check out our Facebook, Twitter, Instagram, and Pinterest!
Save
Save