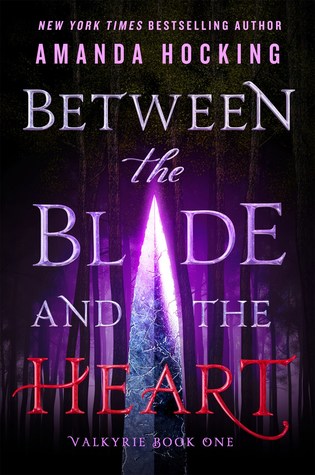 About the Book:
Valkyries have one great responsibility: to return immortals to the afterlife by slaying them. As a Valkyrie, Malin has always known that the balance of the world rests on her ability to carry out orders. But when Malin discovers that her mother spared the life of an immortal who was destined to die, her world is thrown into chaos.
Malin not only wrestles with the knowledge that her mother might not be who she thought—she's also thrust into the path of a gorgeous blue eyed guy named Asher who needs her help slaying the rogue immortal who destroyed his family. The balance of the world is at stake. And, as Asher competes with Malin's ex for her love and loyalty, so is her heart.
Publisher: Wednesday Books
Recommended Age: Young Adult
How I Acquired this book: Publisher
About the Author:
Amanda Hocking is a lifelong Minnesotan obsessed with Batman and Jim Henson. In between watching cooking shows, taking care of her small menagerie of pets, and drinking too much Red Bull Zero, she writes young adult urban fantasy and paranormal romance.
She has published over fifteen young adult novels, including the New York Times Bestselling series the Trylle Trilogy and the Kanin Chronicles, along with the Watersong, the My Blood Approves, and the Hollows series. Her latest book is a standalone called "Freeks," and her next book is called "Between the Blade and the Heart" and will be out January 2, 2018.
To learn more, please visit www.HockingBooks.com
Noteworthy experiences while reading this book: I was so excited to be able to have a reason to read this a second time around. And when we were chosen for the tour for book two that dream came true! This book is by far one of the best fantasy books.
Check out author's other books? Yes
Recommend this book? Yes
Notes and Opinions: This one starts off with some major world dumping but it worked out. Normally info dumping slows down the story but for this one it worked out well. We learned about the world through the eyes of someone in the center of it all and the story picked up after that. This one reminded me of the world of Shadowhunters but instead of the Shadowhunters being human with runes they are
Valkyries. Another book this one reminded me of is Scythe where people's names come up to be killed at their time becuase of over population. In this one however the names are those of Immortals. I did love this idea it worked though I really do hope that in book two we learn more of why each name comes up. As in this book most immortals live only a few hundred years and then are returned though there is one during the middle of the book that is much older than that.
With this orginazation I keep wondering if its really evil and we just don't know it yet. The story however does ask this question but little comes of it. So I hope that this gets mentioned in book two. The characters in this one were very good. I loved everyone even the little cat creature that she has. (I would love a stuffed animal like REALLY I NEED ONE!!) It almost felt like this book was in multi POVs even though it wasn't.
If you are looking for a fantasy set in the real world where creatures marry humans and we work along side them then this is the book for you. Danger lurks around each corner and the world as we know it might end. This book was well paced and has one killer cliffhanger.
Go Into This One Knowing: Totally Exciting, LGBT Characters, Slight Love Triangle, Major Cliffhanger
Disclaimer:
"All opinions are 100% honest and my own."
Thanks to Goodreads and Amazon for the book cover, about the book, and author information. Buying via these links allows my site to get a % of the sale at no cost to you. This money gets used to buy items for giveaways.
FTC Guidelines: In accordance with FTC guidelines regarding endorsements and testimonials for bloggers, I would like my readers to know that many of the books I review are provided to me for free by the publisher or author of the book in exchange for an honest review. If am compensated for any reviews on this site I will state that post has been sponsored.
Donations: All donations are to help keep this site running via costs from shipping, .com charges, and other giveaways.
Comments are DELICIOUS! and now that were using this new format for comments the TOP 3 Commenters will all win bookish goodies each month! So that is just one more reason to comment! This is open to everyone! So get commenting!
Don't forget to check out our Facebook, Twitter, Instagram, and Pinterest!
Save
Save