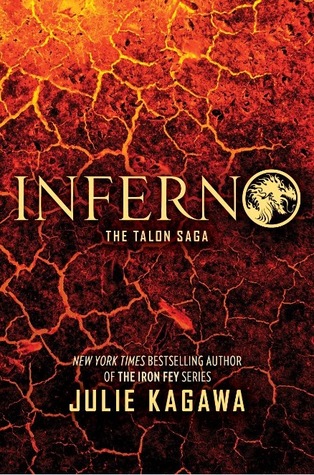 About the Book:
From the New York Times, USA TODAY and international bestselling author of The Iron Fey and the Blood of Eden series comes the fiery, hugely anticipated finale of The Talon Saga…
INFERNO
What if dragons walked among us in human form? Enter a modern fantasy of heroes, sacrifice, forbidden love and enemies turned allies who have no choice but to fight side by side… Don't miss the epic conclusion as Ember, Riley and Garrett face off against Dante and the Talon dragon clones. Join them…or burn.
Publisher:
Harlequin Teen
Recommended Age: Young Adult
How I Acquired this book: Publisher
About the Author:
Julie Kagawa, the New York Times bestselling author of the Iron Fey and Blood of Eden series was born in Sacramento, California. But nothing exciting really happened to her there. So, at the age of nine she and her family moved to Hawaii, which she soon discovered was inhabited by large carnivorous insects, colonies of house geckos, and frequent hurricanes. She spent much of her time in the ocean, when she wasn't getting chased out of it by reef sharks, jellyfish, and the odd eel.
When not swimming for her life, Julie immersed herself in books, often to the chagrin of her schoolteachers, who would find she hid novels behind her Math textbooks during class. Her love of reading led her to pen some very dark and gruesome stories, complete with colored illustrations, to shock her hapless teachers. The gory tales faded with time (okay, at least the illustrations did), but the passion for writing remained, long after she graduated and was supposed to get a
real job.
To pay the rent, Julie worked in different bookstores over the years, but discovered the managers frowned upon her reading the books she was supposed to be shelving. So she turned to her other passion: training animals. She worked as a professional dog trainer for several years, dodging Chihuahua bites and overly enthusiastic Labradors, until her first book sold and she stopped training to write full time.
Julie now lives in Louisville, Kentucky, where the frequency of shark attacks are at an all time low. She lives with her husband, an obnoxious cat, an Australian Shepherd who is too smart for his own good, and a hyper-active Papillion.
Noteworthy experiences while reading this book: This has reignited the inferno to get one of her dragons. I had recently given up ever trying again. Although after reading this one I might have to try at least one more time.
Check out author's other books? YES (if you havent you need to!)
Recommend this book? YES
Notes and Opinions: Why do stories have to end? After reading this book this is my outcome. That this story needed to go on forever. Although I know that can not be. This was a fabulous ending to this series and I cannot wait to see what her next book brings us. Its called Shadow of the Fox and is out this Oct. So you dont even have to wait for long. I so cant wait to read it. As for this one it was well paced and is really a great story. You can tell how much Kagawa has become a seasoned author and I just cant put her books down for a second. This one was dragon yummies all the way and was a perfect ending to this series. The characters come alive on the page and you feel everything they do. I cant say to much becuase so much in this book is a spoiler. But man if you loved this series you will DIE HARD LOVE this conclusion.
Go Into This One Knowing: MUST READ!!
Disclaimer:
"All opinions are 100% honest and my own."
Thanks to Goodreads and Amazon for the book cover, about the book, and author information. Buying via these links allows my site to get a % of the sale at no cost to you. This money gets used to buy items for giveaways.
FTC Guidelines: In accordance with FTC guidelines regarding endorsements and testimonials for bloggers, I would like my readers to know that many of the books I review are provided to me for free by the publisher or author of the book in exchange for an honest review. If am compensated for any reviews on this site I will state that post has been sponsored.
Donations: All donations are to help keep this site running via costs from shipping, .com charges, and other giveaways.
Comments are DELICIOUS! and now that were using this new format for comments the TOP 3 Commenters will all win bookish goodies each month! So that is just one more reason to comment! This is open to everyone! So get commenting!
Don't forget to check out our Facebook, Twitter, Instagram, and Pinterest!
Save
Save