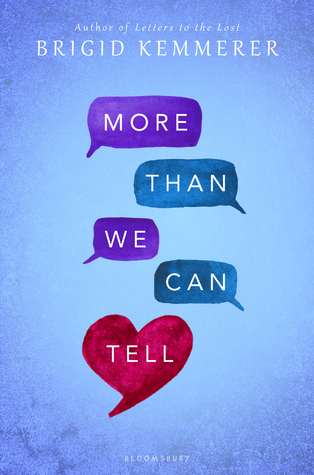 *While this book exists in the same universe as Letters to the Lost, it is a standalone title.*

Rev Fletcher is battling the demons of his past. But with loving adoptive parents by his side, he's managed to keep them at bay...until he gets a letter from his abusive father and the trauma of his childhood comes hurtling back.

Emma Blue spends her time perfecting the computer game she built from scratch, rather than facing her parents' crumbling marriage. She can solve any problem with the right code, but when an online troll's harassment escalates, she's truly afraid.

When Rev and Emma meet, they both long to lift the burden of their secrets and bond instantly over their shared turmoil. But when their situations turn dangerous, their trust in each other will be tested in ways they never expected. This must-read story will once again have readers falling for Brigid Kemmerer's emotional storytelling.
Recommended Age: Young Adult
How I Acquired this book: Netgalley
About the Author:
BRIGID KEMMERER is the author of LETTERS TO THE LOST (Bloomsbury; April 4, 2017), a dark, contemporary Young Adult romance; THICKER THAN WATER (Kensington, December 29, 2015), a New Adult paranormal mystery with elements of romance; and the YALSA-nominated Elemental series of five Young Adult novels and three e-novellas which Kirkus Reviews calls "refreshingly human paranormal romance" and School Library Journal describes as "a new take on the supernatural genre." She lives in the Baltimore area with her husband and four sons.
Noteworthy experiences while reading this book:
OMG really Readers OMG how do I express my feelings about this book?
Check out author's other books? YES!!!!
Recommend this book? YES!!!!
Notes and Opinions:
If you have read her first book Letters the the Lost you know the amazing writing style and story via this author. Well I'm here to tell you that More Than We Can Tell was even better!
With a story of two broken families. You just can't help but feel everything that they are going through. The dual POV was perfect for this story and I have nothing bad to say about it. I finished this one in around 4 hours and I just couldn't put it down.
I am not scared to tell you that I cried and was shocked by so much in this story. I don't want to spoil anything for you so I won't go into to much. But this story is not for the faint of heart. It will rip it out of your chest to put it back with loving care. I was so excited to connect the dots from Letters to the Lost as it's been a good while since I've read it. But it is there. Declan from that story shines in this one and gets some great closure. I wish we would have gotten a little more of Juliet but she was also there. Emma all though in a better place still has her issues. I loved that she was a coder as more girls need to get into STEAM programs!! And as her mom stated don't let the boys get you down! You have just as much right to be interested in computers or being a doctor or whatever you choose as much as they do. I loved how she was a real teenage although I do wish her parents would have been more involved in her life. And I feel sad that she didn't feel safe enough to go to them. This is one thing I have told both my daughters. That they can come to us for anything. And they do.
As for Rev. his story is a lot sadder. Although he was very lucky not to have to go through the system and was adopted early off. Not all kids are as lucky as we find out with Mathew. During the story you couldn't help but wanting to give Rev. a giant hug and tell him that everything was going to be ok. As for Mathew I really enjoyed how his story went in this book and I hope to see more of him in upcoming titles set in this world.
The story overall was unputdownable. I went to get the mail the book went with me etc for everything!! Have you tried holding a kindle and doing laundry? It's not easy!! But I did it. This book was just so good. I can not wait for another book from this author. She has become an auto buy author for me and I'm excited what she will bring me next!!
Go Into This One Knowing: U
nputdownable, Breathtakingly Beautiful, Heatwrenching, and a MUST READ!
a Rafflecopter giveaway
Disclaimer:
"All opinions are 100% honest and my own."
Thanks to Goodreads and Amazon for the book cover, about the book, and author information. Buying via these links allows my site to get a % of the sale at no cost to you. This money gets used to buy items for giveaways.
FTC Guidelines: In accordance with FTC guidelines regarding endorsements and testimonials for bloggers, I would like my readers to know that many of the books I review are provided to me for free by the publisher or author of the book in exchange for an honest review. If am compensated for any reviews on this site I will state that post has been sponsored.
Donations: All donations are to help keep this site running via costs from shipping, .com charges, and other giveaways.
Comments are DELICIOUS! and now that were using this new format for comments the TOP 3 Commenters will all win bookish goodies each month! So that is just one more reason to comment! This is open to everyone! So get commenting!
Don't forget to check out our Facebook, Twitter, Instagram, and Pinterest!
Save
Save
Save
Save