We hope you had a great time seeing what we are reading, waiting for, and books we recommend! Well be back next week for more! Make sure to share your list with us in the comments to win a swag pack!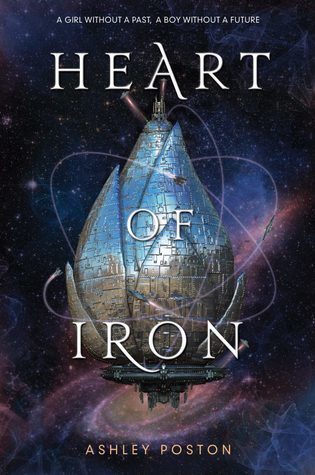 Seventeen-year-old Ana is a scoundrel by nurture and an outlaw by nature. Found as a child drifting through space with a sentient android called D09, Ana was saved by a fearsome space captain and the grizzled crew she now calls family. But D09—one of the last remaining illegal Metals—has been glitching, and Ana will stop at nothing to find a way to fix him. Ana's desperate effort to save D09 leads her on a quest to steal the coordinates to a lost ship that could offer all the answers. But at the last moment, a spoiled Ironblood boy beats Ana to her prize. He has his own reasons for taking the coordinates, and he doesn't care what he'll sacrifice to keep them. When everything goes wrong, she and the Ironblood end up as fugitives on the run. Now their entire kingdom is after them—and the coordinates—and not everyone wants them captured alive. What they find in a lost corner of the universe will change all their lives—and unearth dangerous secrets. But when a darkness from Ana's past returns, she must face an impossible choice: does she protect a kingdom that wants her dead or save the Metal boy she loves?
In an alternate world startlingly close to our own, humans have nine lives—and they can't wait to burn straight through them. As you shed lives, you shed your awkward phases: one death is equal to one physical and mental upgrade. Julian's friends are obsessed with the idea of burning lives, but Julian is determined to stay on his first for as long as he can. His mother, the ultimate cautionary tale, burned through her first eight in just a few years, and Julian has no intention of succumbing to the debilitating rebirth sickness that she inflicted on herself. But the regime has death incentives aimed at controlling overpopulation, and Julian realizes that he's going to have to burn at some point—especially when he becomes a target for Nicholas, the manipulative leader of the Burners, the school's suicide club. And when Julian eventually succumbs, he uncovers suspicious gaps in the rebirth system that may explain exactly why his mother went so far down the rabbit hole years ago. Along with a group of student dissenters, Julian sets out to find answers and is soon on the verge of exposing the greatest conspiracy ever unleashed on the world. He has just eight more lives to uncover the brutal truth.

A brutally honest, uncompromising story about a teen girl who decides to take matters into her own hands. It's senior year, and Hadley and her best friend, Magda, should be starting the year together. Instead, Magda is dead and Hadley is alone. Raped at a party the year before and humiliated, Magda was driven to take her own life and Hadley is forced to see her friend's attackers in the classroom every day. Devastated, enraged and needing an outlet for her grief, Hadley decides to get a little justice of her own. Donning a pink ski mask and fueled by anger, Hadley goes after each of the guys one by one, planning to strip them of their dignity and social status the way they did to Magda. As the legend of the pink-masked Vigilante begins to take on a life of its own, Hadley's revenge takes a turn for the dangerous. Could her need for vengeance lead her down a path she can't turn back from?

Disclaimer:
"All opinions are 100% honest and my own."
Thanks to Goodreads and Amazon for the book cover, about the book, and author information. Buying via these links allows my site to get a % of the sale at no cost to you. This money gets used to buy items for giveaways.
FTC Guidelines: In accordance with FTC guidelines regarding endorsements and testimonials for bloggers, I would like my readers to know that many of the books I review are provided to me for free by the publisher or author of the book in exchange for an honest review. If am compensated for any reviews on this site I will state that post has been sponsored.
Donations: All donations are to help keep this site running via costs from shipping, .com charges, and other giveaways.
Comments are DELICIOUS! and now that were using this new format for comments the TOP 3 Commenters will all win bookish goodies each month! So that is just one more reason to comment! This is open to everyone! So get commenting!
Don't forget to check out our Facebook, Twitter, Instagram, and Pinterest!