Welcome to May's first post for WOW! This is what we're reading, waiting for, and one book we recommend. Let us know yours in the comments below!
This is the last book to the most amazing series ever!!! I am so happy that we were sent copies of it!! Make sure to keep an eye out next week as we will be posting a giveaway for all three books!
About the Book:
The battle between vicious spirits and strong-willed queens that started in the award-winning The Queen of Blood and continued in the powerful The Reluctant Queen comes to a stunning conclusion in The Queen of Sorrow, the final volume of Sarah Beth Durst's Queens of Renthia trilogy.
Queen Daleina has yearned to bring peace and prosperity to her beloved forest home—a hope that seemed doomed when neighboring forces invaded Aratay. Now, with the powerful Queen Naelin ruling by her side, Daleina believes that her dream of ushering in a new era can be realized, even in a land plagued by malevolent nature spirits who thirst for the end of human life.
And then Naelin's children are kidnapped by spirits.
Nothing is more important to her than her family, and Naelin would rather watch the world burn than see her children harmed. Blaming the defeated Queen Merecot of Semo for the kidnapping, Naelin is ready to start a war—and has the power to do it.
But Merecot has grander plans than a bloody battle with her southern neighbors. Taking the children is merely one step in a plot to change the future of all Renthia, either by ending the threat of spirits once and for all . . . or plunging the world into chaos.
Although this one I am still waiting for the print copy which doesn't come out until Jan of 2019. I will be reading this one on the 10th thanks to the publisher for sending us a copy for review! And I couldn't thank them enough as I will be reading this while my mother is in surgery for her cancer.
The enchanting and bloodthirsty sequel to the New York Times bestselling novel The Cruel Prince.
You must be strong enough to strike and strike and strike again without tiring.
The first lesson is to make yourself strong.
After the jaw-dropping revelation that Oak is the heir to Faerie, Jude must keep her younger brother safe. To do so, she has bound the wicked king, Cardan, to her, and made herself the power behind the throne. Navigating the constantly shifting political alliances of Faerie would be difficult enough if Cardan were easy to control. But he does everything in his power to humiliate and undermine her even as his fascination with her remains undiminished.
When it becomes all too clear that someone close to Jude means to betray her, threatening her own life and the lives of everyone she loves, Jude must uncover the traitor and fight her own complicated feelings for Cardan to maintain control as a mortal in a Faerie world.
This was one of the most diverse books I have read in a while. It has a great POV from a girl who is slightly racists but learns appearances are not all that matter but it is inside that counts. She has one of the best character arcs ever in one title. I just couldn't put it down.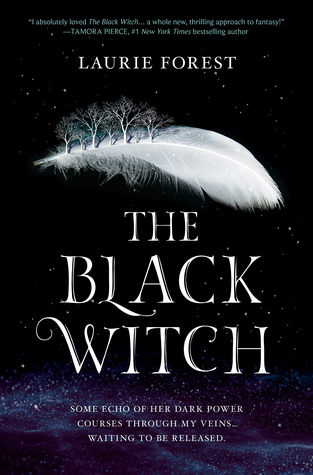 About the Book:
A new Black Witch will rise…her powers vast beyond imagining.
Elloren Gardner is the granddaughter of the last prophesied Black Witch, Carnissa Gardner, who drove back the enemy forces and saved the Gardnerian people during the Realm War. But while she is the absolute spitting image of her famous grandmother, Elloren is utterly devoid of power in a society that prizes magical ability above all else.
When she is granted the opportunity to pursue her lifelong dream of becoming an apothecary, Elloren joins her brothers at the prestigious Verpax University to embrace a destiny of her own, free from the shadow of her grandmother's legacy. But she soon realizes that the university, which admits all manner of people—including the fire-wielding, winged Icarals, the sworn enemies of all Gardnerians—is a treacherous place for the granddaughter of the Black Witch.
As evil looms on the horizon and the pressure to live up to her heritage builds, everything Elloren thought she knew will be challenged and torn away. Her best hope of survival may be among the most unlikely band of misfits…if only she can find the courage to trust those she's been taught to hate and fear.
Disclaimer:
"All opinions are 100% honest and my own."
Thanks to Goodreads and Amazon for the book cover, about the book, and author information. Buying via these links allows my site to get a % of the sale at no cost to you. This money gets used to buy items for giveaways.
FTC Guidelines: In accordance with FTC guidelines regarding endorsements and testimonials for bloggers, I would like my readers to know that many of the books I review are provided to me for free by the publisher or author of the book in exchange for an honest review. If am compensated for any reviews on this site I will state that post has been sponsored.
Donations: All donations are to help keep this site running via costs from shipping, .com charges, and other giveaways.
Comments are DELICIOUS! and now that were using this new format for comments the TOP 3 Commenters will all win bookish goodies each month! So that is just one more reason to comment! This is open to everyone! So get commenting!
Don't forget to check out our Facebook, Twitter, Instagram, and Pinterest!