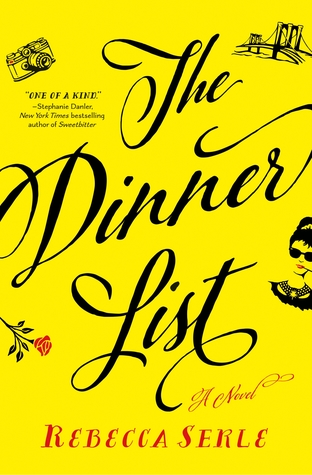 Publisher:
Flatiron Books
About the Book:
"We've been waiting for an hour." That's what Audrey says. She states it with a little bit of an edge, her words just bordering on cursive. That's the thing I think first. Not: Audrey Hepburn is at my birthday dinner, but Audrey Hepburn is annoyed."
At one point or another, we've all been asked to name five people, living or dead, with whom we'd like to have dinner. Why do we choose the people we do? And what if that dinner was to actually happen? These are the questions Rebecca Serle contends with in her utterly captivating novel, THE DINNER LIST, a story imbued with the same delightful magical realism as One Day, and the life-changing romance of Me Before You.
When Sabrina arrives at her thirtieth birthday dinner she finds at the table not just her best friend, but also three significant people from her past, and well, Audrey Hepburn. As the appetizers are served, wine poured, and dinner table conversation begins, it becomes clear that there's a reason these six people have been gathered together.
Delicious but never indulgent, sweet with just the right amount of bitter, THE DINNER LIST is a romance for our times. Bon appetit.
About the Author:
Rebecca Serle
is an author and television writer who lives between NYC and LA. Serle most recently co-developed the television adaptation of her YA series Famous in Love for Freeform and Warner Brothers Television. She is a graduate of the University of Southern California.
Noteworthy experiences while reading this book: This was a very intersting concept to tell a story and it worked so so well!
Do I Recommend this book? Yes
Notes and Opinions: This story is told through the eyes of those invited to celebrate the main character Sabrina. The author did an amazing job pulling it all together. This story had a Christmas Carol kind of feel to it but instead of three ghosts we get 5 people brought to dinner for a party. I really loved how the author worked with this story and how it came alive. The only issue I had was the ending a few plots get left out and we don't get a clean ending. We do get one and it was good but I think that it could have been better.
The chararacters in this one both living and dead were amazing. I meshed well with them and just couldn't put this one down. This was a very enjoyable read that I am so excited that I got a chance to read it.
Go Into This One Knowing: This book will totally make you think of who you would invite to dinner!
My Dinner List:
1. Julie Andrews
2. Jamie (Outlander)
3. Anne Hathaway
4. Sam (Supernatural)
5. Dean (Supernatural)
Disclaimer:
"All opinions are 100% honest and my own."
Thanks to Goodreads and Amazon for the book cover, about the book, and author information. Buying via these links allows my site to get a % of the sale at no cost to you.
FTC Guidelines: In accordance with FTC guidelines regarding endorsements and testimonials for bloggers, I would like my readers to know that many of the books I review are provided to me for free by the publisher or author of the book in exchange for an honest review. If am compensated for any reviews on this site I will state that post has been sponsored.
Comments are DELICIOUS! and now that were using this new format for comments the TOP 3 Commenters will all win bookish goodies each month! So that is just one more reason to comment! This is open to everyone! So get commenting!
Don't forget to check out our Facebook, Twitter, Instagram, and Pinterest!