This month we have some amazing titles for you guys to check out and no matter if you are local, online around the world, or a few city or states away! We have the book club for you!! You can choose from the following! The Book Addicts which is an online facebook group where you can chat monthly with 1 or 2 authors. Ask questions and get answers to your burning questions. The next one is the Winter Haven YABC this book club is via the Winter Haven Public Library and is open to all ages. We read nothing but young adult titles and then chat about them once a month. The last option we have for you is the Tampa YABC this is another bookclub that is open to all ages. We will be reading mostly YA but sometimes there will be a book that is New Adult tossed in there as well. All ages are welcome and we meet in Tampa once a month in the morning.
So there is always something for everyone! So don't waste time and come check us out!
#TheBookAddicts
This month we have the chance to speak with author Allison Pang of Magpie's Song. I have read this book and it was freaking amazing! Its currently WAY cheap on Amazon so make sure to check it out! Make sure to join us this month on The Book Addicts group on Facebook!
Goodreads | Amazon | Group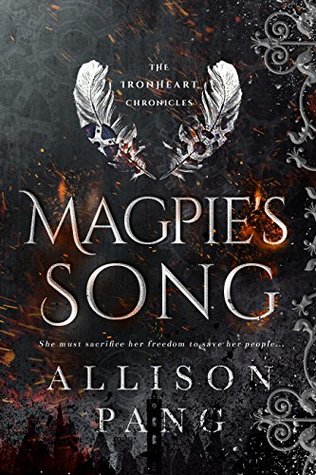 In the slums of BrightStone, Moon Children are worth less than the scrap they must collect to survive. It doesn't matter that these abandoned half-breeds are part-Meridian with their ancestors hailing from the technologically advanced city that floats above the once-thriving, now plague-ridden BrightStone. Instead they are rejected by both their ancestral societies and forced to live on the outskirts of civilization, joining clans simply to survive. Not to mention their role as Tithe, leading the city's infected citizens deep into the Pits where their disease can be controlled.
Nineteen-year-old Raggy Maggy is no different, despite the mysterious heart-shaped panel that covers her chest. Or at least she wasn't… Not until her chance discovery of a Meridian-built clockwork dragon—and its murdered owner. When the Inquestors policing the city find Maggy at the scene of the crime, she quickly turns into their prime suspect. Now she's all anyone can talk about. Even her clan leader turns his back on her, leading her to rely on an exiled doctor and a clanless Moon Child named Ghost to keep her hidden. In return, all she has to do is help them find a cure for the plague they believe was not exactly accidental. Yet doing so might mean risking more than just her life. It also might be the only key to uncovering the truth about the parents—and the past—she knows nothing about.
#WinterHavenYABC
This month we chose our next book which is a fantasy that I have been really wanting to give another try to. Falling Kingdoms has been said to be one of the best fantasy books out there! So make sure to join us July 3rd at 5pm at the Winter Haven Library! This group is open to all ages!!
In the three kingdoms of Mytica, magic has long been forgotten. And while hard-won peace has reigned for centuries, a deadly unrest now simmers below the surface.
As the rulers of each kingdom grapple for power, the lives of their subjects are brutally transformed... and four key players, royals and rebels alike, find their fates forever intertwined. Cleo, Jonas, Lucia, and Magnus are caught in a dizzying world of treacherous betrayals, shocking murders, secret alliances, and even unforeseen love.
The only outcome that's certain is that kingdoms will fall. Who will emerge triumphant when all they know has collapsed?

It's the eve of war.... Choose your side.
Princess:
Raised in pampered luxury, Cleo must now embark on a rough and treacherous journey into enemy territory in search of magic long thought extinct.
Rebel:
Jonas, enraged at injustice, lashes out against the forces of oppression that have kept his country cruelly impoverished. To his shock, he finds himself the leader of a people's revolution centuries in the making.
Sorceress:
Lucia, adopted at birth into the royal family, discovers the truth about her past—and the supernatural legacy she is destined to wield.
Heir:
Bred for aggression and trained to conquer, firstborn son Magnus begins to realize that the heart can be more lethal than the sword....
This month's choice is The Bone Witch by Rin Chupeco! I have been wanting to read this book for a while now and I am so glad that it was chosen! This group is open to all ages! So make sure to join us July 7th at 12pm at the N. Dale Mabry Barnes & Noble in the teen section of the store!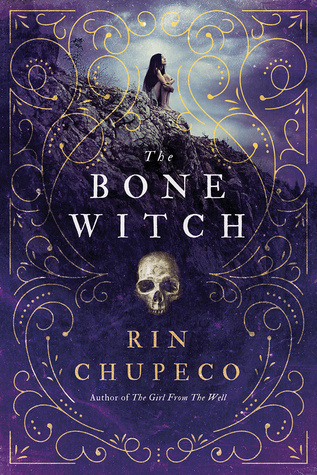 In the captivating start to a new, darkly lyrical fantasy series for readers of Leigh Bardugo and Sabaa Tahir, Tea can raise the dead, but resurrection comes at a price...
Let me be clear: I never intended to raise my brother from his grave, though he may claim otherwise. If there's anything I've learned from him in the years since, it's that the dead hide truths as well as the living.
When Tea accidentally resurrects her brother from the dead, she learns she is different from the other witches in her family. Her gift for necromancy means that she's a bone witch, a title that makes her feared and ostracized by her community. But Tea finds solace and guidance with an older, wiser bone witch, who takes Tea and her brother to another land for training.
In her new home, Tea puts all her energy into becoming an asha-one who can wield elemental magic. But dark forces are approaching quickly, and in the face of danger, Tea will have to overcome her obstacles...and make a powerful choice.
Disclaimer:
"All opinions are 100% honest and my own."
Thanks to Goodreads and Amazon for the book cover, about the book, and author information. Buying via these links allows my site to get a % of the sale at no cost to you. This money gets used to buy items for giveaways.
FTC Guidelines: In accordance with FTC guidelines regarding endorsements and testimonials for bloggers, I would like my readers to know that many of the books I review are provided to me for free by the publisher or author of the book in exchange for an honest review. If am compensated for any reviews on this site I will state that post has been sponsored.
Donations: All donations are to help keep this site running via costs from shipping, .com charges, and other giveaways.
Comments are DELICIOUS! and now that were using this new format for comments the TOP 3 Commenters will all win bookish goodies each month! So that is just one more reason to comment! This is open to everyone! So get commenting!
Don't forget to check out our Facebook, Twitter, Instagram, and Pinterest!
Save
Save
Save
Save
Save
Save
Save
Save
Save
Save