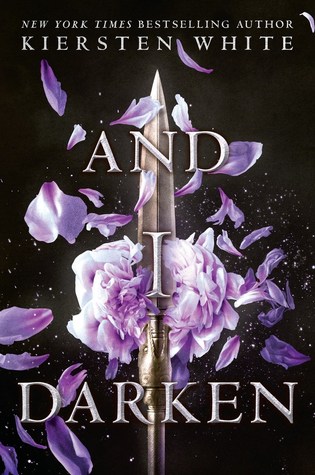 Publisher:
Delacorte Press
Recommended Age: Young Adult
Genre: Fantasy (Gender Swap Vlad the Impaler)
About the Book:
No one expects a princess to be brutal. And Lada Dragwlya likes it that way. Ever since she and her gentle younger brother, Radu, were wrenched from their homeland of Wallachia and abandoned by their father to be raised in the Ottoman courts, Lada has known that being ruthless is the key to survival. She and Radu are doomed to act as pawns in a vicious game, an unseen sword hovering over their every move. For the lineage that makes them special also makes them targets.
Lada despises the Ottomans and bides her time, planning her vengeance for the day when she can return to Wallachia and claim her birthright. Radu longs only for a place where he feels safe. And when they meet Mehmed, the defiant and lonely son of the sultan, Radu feels that he's made a true friend—and Lada wonders if she's finally found someone worthy of her passion.
But Mehmed is heir to the very empire that Lada has sworn to fight against—and that Radu now considers home. Together, Lada, Radu, and Mehmed form a toxic triangle that strains the bonds of love and loyalty to the breaking point.
About the Author:
KIERSTEN WHITE
is the
New York Times
bestselling author of
And I Darken, Now I Rise,
the Paranormalcy trilogy, the dark thrillers
Mind Games
and
Perfect Lies,
The Chaos of Stars,
Illusions of Fate,
and
In the Shadows
with Jim Di Bartolo. Her books have won several awards, including the Utah Book Award, the Evergreen Young Adult Book Award, and the Whitney Award, and have been named an ALA-YALSA Teen Top Ten Best Book, a Florida Teens Read Selection, and a Texas Lone Star Reading List Selection, among other accolades. She lives with her family near the ocean in San Diego, which, in spite of its perfection, spurs her to dream of faraway places and even further away times.
kierstenwhite.com
@kierstenwhite on Twitter.
Noteworthy experiences while reading this book: Do not try and speed read though this one take your time!
Do I Recommend this book? Yes
Notes and Opinions: This gender bend of Vlad the Impaler was magnicifant you can tell how far White has come from her early books and I applaud her for what she did here. Most Young Adult novels start off with the characters being teen or pre adult and this one starts way younger than that. We get the full story of why Lada is like she is and that made for a much better story. It is so imparative that you understand her fully to get the most out of this epic story. I read this book when it first came out and I loved it shortly after I started. One thing I want to point out is that this is not a Fantasy there are no Vampires or Magic in this one. This is a Gender Swap Historical Fiction. I think it still amazes me how much I love historical fiction. I still didn't see that one coming.
So this one is almost like a teen Game of Thrones minus all the magical elements. Thoughout this book someone wants to kill someone else etc. But that seems true for most political, kingdom stories. Someone is always playing an angle trying to get what they want for themselves or their families.
The characters are some of the best that I have read and even though they are the ones that you love to hate. You kind of have to feel for Vada and everyone else. Yes she was cruel at times but there are reasons for that. And I felt so sorry for her a lot of times in this story.
At the end of this one its one that I couldn't put down but I also wanted to take my time with it. It took me three days to finish (I know shocker) and I didn't even use my app for it at all. (Totally my bad!! Oops).
Go Into This One Knowing: Historical Fiction, Romance, Not Much Gore at all
Disclaimer:
"All opinions are 100% honest and my own."
Thanks to Goodreads and Amazon for the book cover, about the book, and author information. Buying via these links allows my site to get a % of the sale at no cost to you.
FTC Guidelines: In accordance with FTC guidelines regarding endorsements and testimonials for bloggers, I would like my readers to know that many of the books I review are provided to me for free by the publisher or author of the book in exchange for an honest review. If am compensated for any reviews on this site I will state that post has been sponsored.
Comments are DELICIOUS! and now that were using this new format for comments the TOP 3 Commenters will all win bookish goodies each month! So that is just one more reason to comment! This is open to everyone! So get commenting!
Don't forget to check out our Facebook, Twitter, Instagram, and Pinterest!
Save
Save
Save
Save
Save
Save