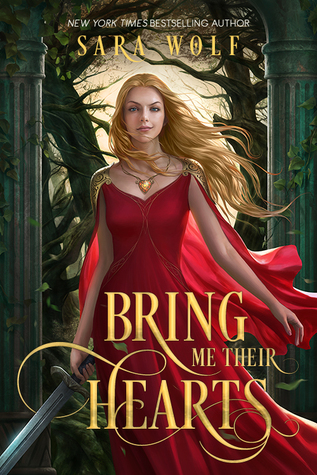 Publisher: Entangled Teen
Recommended Age: Young Adult
Genre: Fantasy (Storytales)
About the Book:
Zera is a Heartless – the immortal, unageing soldier of a witch. Bound to the witch Nightsinger ever since she saved her from the bandits who murdered her family, Zera longs for freedom from the woods they hide in. With her heart in a jar under Nightsinger's control, she serves the witch unquestioningly.
Until Nightsinger asks Zera for a Prince's heart in exchange for her own, with one addendum; if she's discovered infiltrating the court, Nightsinger will destroy her heart rather than see her tortured by the witch-hating nobles.
Crown Prince Lucien d'Malvane hates the royal court as much as it loves him – every tutor too afraid to correct him and every girl jockeying for a place at his darkly handsome side. No one can challenge him – until the arrival of Lady Zera. She's inelegant, smart-mouthed, carefree, and out for his blood. The Prince's honor has him quickly aiming for her throat.
So begins a game of cat and mouse between a girl with nothing to lose and a boy who has it all.
Winner takes the loser's heart.
About the Author:
Sara Wolf is a twenty-something author who adores baking, screaming at her cats, and screaming at herself while she types hilarious things. When she was a kid, she was too busy eating dirt to write her first terrible book. Twenty years later, she picked up a keyboard and started mashing her fists on it and created the monster known as the Lovely Vicious series. Her newest series is the Ruthless Song trilogy, coming 6/5/2018. She lives in San Diego with two cats, a crippling-yet-refreshing sense of self-doubt, and not enough fruit tarts ever.



Noteworthy experiences while reading this book:

I wasn't sure if I was going to like this one going in. But man o man was this one amazing! This book is a title full of the snarkiest characters I have ever read! With witches a few bits of very bloody tears and some breathtaking outfits this one blew me away! I really wonder why this book wasn't called Heartless because I think it would have fit so much more. But I fully understand that with a few books out with that title this one makes it stand out.
Do I Recommend this book? YES!
Notes and Opinions: This book has to be the best of 2018! It has that original fantasy storytelling feel to it. And really reminded me of a mash-up of evil queens and princesses. As well as old storybook stories such as little red riding hood and more with also having zombies. Yes, I said zombies. Zera and her fellow Heartless can only eat raw meat or this thing they call the hunger will take them over totally and they will in effect be full on zombie and pretty much rip everyone to shreds. I really loved the aspect of the enchanted jars. Jars are something that are supposed to be fragile and incorporating them into this story for holding the hearts of the Heartless was beautiful and very lyrical if you ask me.
This book was so funny and snarky all the way through. Zera and the rest of the cast were always going with the wit and it made the story flow and feel very fast paced. I never knew if I was going to be laughing or crying or scared and it really kept me on the edge of my seat the whole way through. It was one amazing journey that is not over because this folks is NOT a stand alone!! The rest of the characters in this one were so good!! We have some great strong females that don't take anyone's crap as well as unending friendships and some other people that will really surprise you. One of which when this story started I was not too sorry for the prince losing his heart at all. But as the story progressed and you really got to know the characters that all changes.
The world building was perfect for this one it was all storytelling/fantasy and it was perfect! Think back to the old children's stories of Little Red Riding Hood, the Evil Queen and more and that will get you where you understand this world. I really loved every bit of it!! It came alive for me and made the book that much more living. I really loved that their world was full of the non-stereotypical females. I loved that Zera and other girls in this story were warriors who loved weapons and amazing outfits with snarky attitudes.
The only issue for me that really wasn't one at all but I wanted to mention it is. Is that I had a feeling that this book was going to end this way. I won't go into it because I don't want to spoil anyone but the ending was slightly predictable but in the end, it still shocked the crap out me!! So although it felt slightly predictable it was still mind-blowing.
By the end of this one, I about died. Even with the ending being kind of predictable that I slightly saw coming, I was still blown away by how this ended. I really can not wait for book two and I can fully say that I am now heartless!! I do not have book hangovers very often but this one gave it to me in spades. I just couldn't put it down and neither will you. This is one epic story tale fantasy that you totally need to read right now!
Go Into This One Knowing: Slightly Predictable, Sassy Characters, Warrior Women with Fabulous Outfits, and One Epic Cliffhanger that WILL have you crying for book two!
Disclaimer:
"All opinions are 100% honest and my own."
Thanks to Goodreads and Amazon for the book cover, about the book, and author information. Buying via these links allows my site to get a % of the sale at no cost to you.
FTC Guidelines: In accordance with FTC guidelines regarding endorsements and testimonials for bloggers, I would like my readers to know that many of the books I review are provided to me for free by the publisher or author of the book in exchange for an honest review. If am compensated for any reviews on this site I will state that post has been sponsored.
Comments are DELICIOUS! and now that were using this new format for comments the TOP 3 Commenters will all win bookish goodies each month! So that is just one more reason to comment! This is open to everyone! So get commenting!
Don't forget to check out our Facebook, Twitter, Instagram, and Pinterest!